Being the coach of the local team at any institution, you're going to get a lot of heat. At Ohio State, Urban Meyer isn't free from the Twitter fingers — even during an open week.
Intro
Without a Big Ten road night game to complain about or hasty fans to get on Papa Urbs for calling dimes while up five scores, the wastelands of Urban Meyer Twitter was less than normal, though still full of gold.
@OSUCoachMeyer 2020 bid? pic.twitter.com/3d7C6XYS20

— cat (@caiteydewmelon) October 18, 2017
Pure gold election yard sign there. Let it be known that when Ohio's governor runs for election in 2020, I am going to be making GIFs of all of Urban Meyer's opponents peeing themselves.
Also let it be known that's the coolest Ohio State-related Halloween set up I've ever seen in a front yard. Care to share the address? I promise I won't take your wireless Beats and $100+ Nike pullover.
I am in favor of high school-aged Urban Meyer pictures popping up in Urban's mentions.
I'd settle for this pic.twitter.com/ZQYcSy9N3E

— Mark Larson (@TheMLBaby) October 21, 2017
Probs a better qb than Barrett

— OSU B2B NOT CHAMPS (@BuckeyeTrash) October 18, 2017
I am also a better quarterback than Joe Thomas Barrett IV, according to some, probably.
Nothing prompted this one, just ole' boy named Comrade Dingus telling the ball coach to drink some bleach.
@OSUCoachMeyer pic.twitter.com/l9eX4eNKA5

— Comrade Dingo (@ZacharyJ_MI) October 18, 2017
It's okay pal, I'd get really bitter and tweet things at Urban Meyer if I loved Vladimir Putin, Russian music and didn't know how to spell Detroit either.
And finally, the question of the century:
@OSUCoachMeyer Question: when tossing a football back & forth, is it acceptable to call it playing pass? Or should it only be called catch?

— SWISHER (@ShaiannL) October 21, 2017
It's catch — or tossing the pigskin, rifling a dead hog, or heaving a screaming mimi. Whatever you prefer.
More Jersey Shenanigans
Yeah folks I don't like the jerseys either. I think they'll be better in person, I just wish they had more red to them.
Like this commenter's design: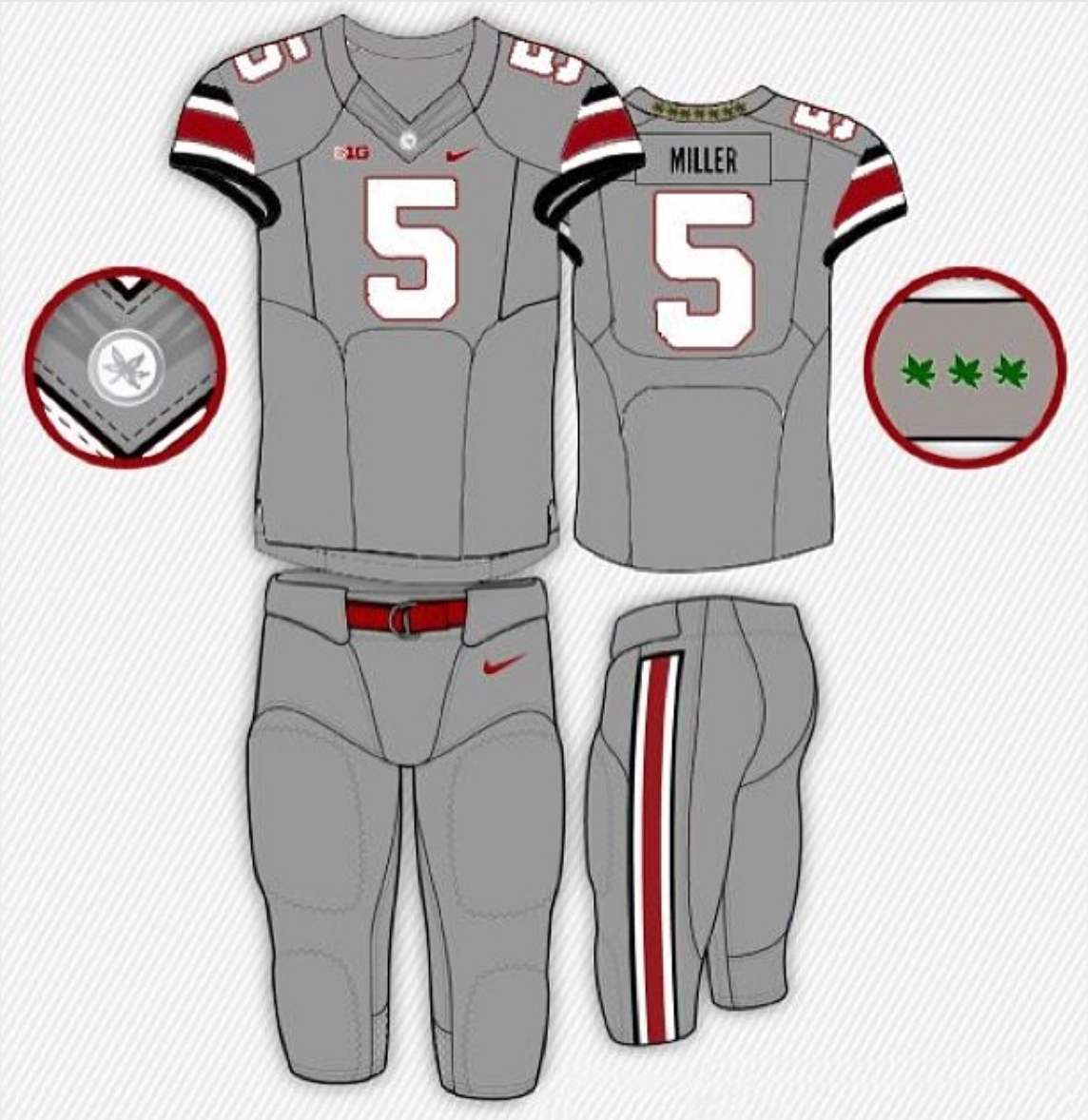 But alas, people still think that Urban is taking things into consideration.
Ole' Victory Bell
I'd be remise if we didn't include my mans VictoryBell. 
@OSU_AD @OSUCoachMeyer https://t.co/tV4rMIBSl3

— Buckeye (@TheVictoryBell) October 18, 2017
@OSU_AD @OSUCoachMeyer Wear the regular uniforms against Penn St!

— Buckeye (@TheVictoryBell) October 18, 2017
But not even VictoryBell's takes border this one:
Stop the uniform nonsense, Urb. Ohio State used to pride itself on being traditional. Damaging the OSU brand and elite-ness of the program.

— YeomenRon (@YeomenRon) October 20, 2017
I can promise that the brand and the elite level of performance isn't determinant based upon gray threads and splotchy helmets.
Please Don't Disrespect My President
It all started after Penn State took Jim Harbaugh's band of Wolverines, stuffed them into a cannon and fired them into the sun. James Franklin apparently whipped up some amnesia pie and forgot the Nittany Lions are coming to Columbus this week. Fatal, fatal mistake. 
James Franklin pretending he has no idea who's on his schedule next week. pic.twitter.com/LErD4RJwtb

— Eleven Warriors (@11W) October 22, 2017
I always love when fans do their duty and make sure Urban knows on Twitter. Thanks guys.
Please play this on a loop in @Ohio_State @OSUCoachMeyer locker room. #GoBucks https://t.co/9cX8VkSmjJ

— Michael Klein (@NAEaglePride) October 22, 2017 
Isn't that cute, just like their coach they seem to just think next week is a breeze huh? Hope you're seeing all this @OSUCoachMeyer

— Mike Hein (@HeinekenMike) October 22, 2017
@OSUCoachMeyer please make sure every player watches this #fueltothefire #beatpennstate https://t.co/IOOFaQFHhi

— Kelly Brown (@DowntownKB3) October 23, 2017
@OSUCoachMeyer Coach #Franklin is an ass....don't disrespect my #Buckeyes! https://t.co/DqJabmnOXs

— Terry Boggs (@NYR99NHL) October 22, 2017
And let's be real — James Franklin has been thinking about this game for a while. If you coached at a sub-tier SEC football school, your cold sweat dreams revolve around who's next on the schedule even during the offseason. I doubt he's less concerned about Urban.
See you Saturday, Jim. I can't wait for the tweets.