Ohio State coach Urban Meyer made headlines last week when he advocated during a press conference that there should be a limit on the number of road night games a team has to play each year.
While Meyer advocated for bringing more night games to Ohio State when he arrived in Columbus, Meyer said he believes a rule should be put in place to prevent teams from having to play more than two regular-season road games at night each year, citing the challenges that playing road night games create from a travel standpoint.
"When you start talking about student-athletes, they shouldn't have to play four night games on the road. I talked to (Ohio State athletic director) Gene Smith about it and I'm going to bring it up to our commissioner, we'll find out if we really do care about getting home at 4 o'clock in the morning four times," Meyer said. "There should be a maximum of two on the road in my opinion, very strong opinion, when I start thinking about players and what's expected of them during the week. Because you can't recover, you don't get those hours back. I'm talking about academically, I'm talking about just your body and just the student-athlete welfare."
Meyer's call for a cap on road night games – a sentiment he has also repeated numerous times on his weekly radio show this year – came in the week leading up to Ohio State's 7:30 p.m. kickoff at Nebraska. All three of Ohio State's road games so far this season have kicked off at either 7:30 p.m. or 8 p.m. ET. It remains possible – though yet to be determined – that Ohio State's fourth road game of the season, at Iowa on Nov. 4, could also be a night game.
Ohio State also played three regular-season road games that kicked off at either 7:30 p.m. or 8 p.m. – at Oklahoma, at Wisconsin and at Penn State – last season.
As one of the marquee and most-watched programs in college football, Ohio State is a popular choice to play primetime games, especially when the Buckeyes go on the road, as their games are often the biggest draws of the season for the opposing home teams.
Ohio State is far from the only team, though, that has had to play at night more often than not when on the road.
That prompted fans of some other teams to criticize Meyer's comments last week, suggesting that he was complaining about a situation that their teams had to deal with, too.
Numerous college football coaches asked about the issue by Eleven Warriors this week, however, agreed that the possibility of protecting teams from playing a majority of their road games at night is a conversation worth having.
"Those night games, I know are great for the fans, but it's brutal on the players and it's brutal on the coaches," said Penn State coach James Franklin. "I know after our Iowa game, we didn't get back here until I think 4:30 in the morning, and that's a challenge, that's a real challenge. So I think that's something that would be worth a discussion point after the season, and something to talk about. I know that creates some challenges for the conference and that creates some challenges in general, just from a logistics standpoint, but I understand the sentiment."
While Meyer said he plans to speak specifically with Big Ten commissioner Jim Delany about the possibility of putting rules in place to limit road night games, the issues associated with those for Meyer and his team – specifically, the loss of sleep and time after those games for players and coaches – affect teams all over the country.
Mississippi State's Dan Mullen, a former Meyer assistant at Florida whose Bulldogs will play at least four games that kick off at 6 p.m. or later this year, believes Meyer makes good points that other conferences should consider.
"The hardest thing with that is you start getting back in at 3 or 4 o'clock in the morning on multiple weekends, I don't know that that's really what we should be demanding of players. They are still student-athletes," Mullen said. "I think people should be very cautious in scheduling, and I think the hard part of that is TV pays a lot of bills and TV wants their matchups when they want them, but I think the leagues should really try to protect teams and really try to set schedules or have somewhat of a control over schedules that the different networks show and not just give blanket control to the networks to schedule you whenever they want to schedule you."
"I think that's something that would be worth a discussion point after the season."– Penn State's James Franklin on potentially limiting road night games
Not every coach agrees that there should be a limit on how many road night games a team has to play per season. Oklahoma's Lincoln Riley, whose team beat Ohio State in a road night game earlier this year, says he believes teams should not have to play road night games in back-to-back weeks but that he does not see a need to limit a team's overall number of road night games over the course of a season.
"It's not something I've thought about a lot," Riley said. "I think that's part of the luck of the draw, just kind of how the schedule plays out and I think you got to adapt to whatever they throw in front of you."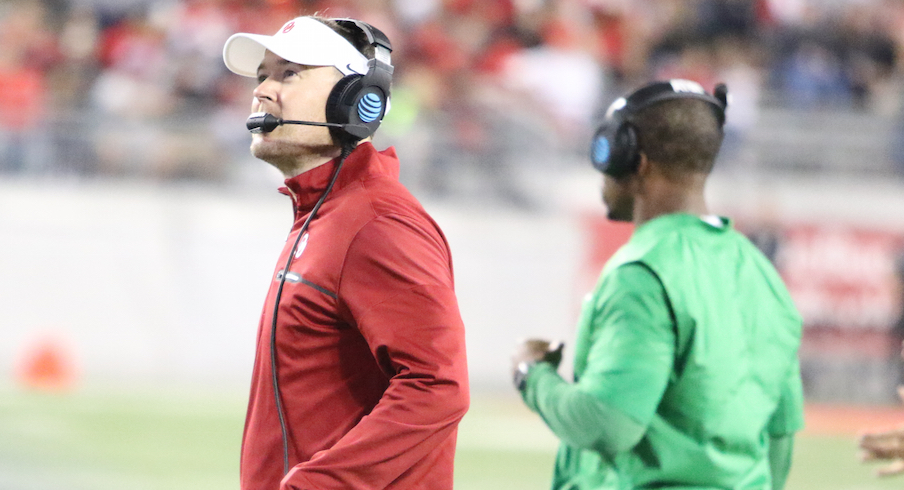 No team has played more night games away from home over the last two seasons than Clemson, which has played eight straight regular-season road games that kicked off at 7 p.m. or later dating back to the start of last season. Clemson coach Dabo Swinney said he doesn't anticipate any changes to how road night games are scheduled, however, because of the TV contracts that Mullen mentioned.
"We've been pretty successful, so it's hard for me to complain, but it is hard," said Swinney, whose team had won 11 straight games away from home – all at night – before losing a road night game at Syracuse last Friday. "I think we got in about maybe 5 (a.m.) last week and it was a short week and it's hard, but I think it just is what it is. If you've got a good team, TV's always going to dictate that type of stuff."
South Carolina's Will Muschamp, whose team has played six road games that kicked off at 7 p.m. or later dating back to the start of last season, also doesn't see anything changing.
"I don't disagree with Urban as far as it is a little straining for a young man. We tee off at 7 o'clock on the road, at Missouri or Texas A&M, and we're getting back at 3 and 4 in the morning and it certainly taxes you as the season rolls there, but I don't see it changing, so I don't know that my opinion really matters," Muschamp said.
Florida State's Jimbo Fisher, however, believes there is value in Meyer expressing his concerns on the issue, even though he also agrees that TV contracts make a cap on road night games unlikely.
"It's primetime, it's network time, that's when (the big games are) going to happen," Fisher said. "I don't know how you could (change) that. But at the same time, I totally understand where it's coming from, and that's the way you get change is to bring awareness to an issue. We got to do what's best for the kids, and that's what we always try to do. So that is a good point. It can be tough, there's no doubt."