When Ohio State unveiled all-black uniforms to wear against Penn State in Oct. 2015, athletic director Gene Smith said the Buckeyes "are going to pick one game every year we are going to [wear alternate uniforms]."
Some fans have been unhappy with the continued break from tradition, as Ohio State has one of the most iconic looks in all of college football. But the Buckeyes, owning one of the richest apparel deals in the country, are contractually obligated to wear at least one special uniform per season. 
Ohio State has worn an alternate uniform every year since 2009, including those to honor the 1942, 1954, 1961 and 1968 national championship squads, the 1950 Snow Bowl and the 1916 Big Ten champions; chrome helmets; and black from head-to-toe. The uniforms have typically maintained a more traditional look, but still find a way to appeal to recruits.
So how is that accomplished? 
Well, the typical design process takes two years, with coaches, players and members of the athletic department collaborating with Nike to create the perfect look. It's necessary for this back-and-forth to take place, as one of the first sketches of the black uniforms actually used gray numbers. 
That means that although it may not be 100 percent complete in the design lab, the staff already knows what alternate look the Buckeyes will don this fall. 
So what could it possibly be? We present a few different options:
COLOR RUSH
Having worn all-black and all-white (sans helmet), next logical step has to be an-all gray look that could be worn on the road. It's probably the only look that would appease both traditionalists and the younger demographic.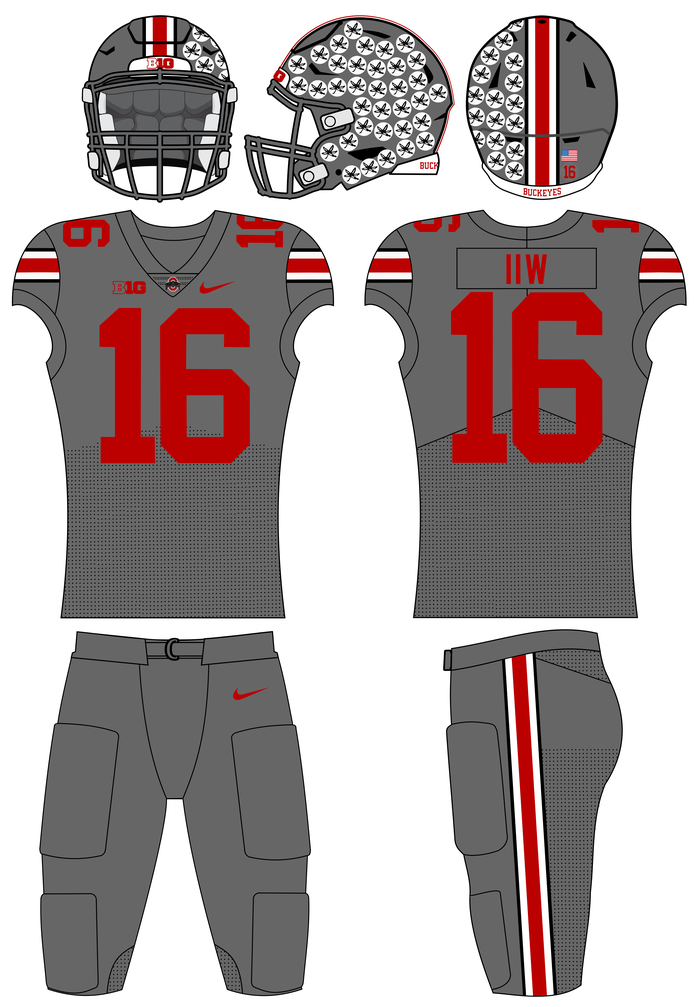 RED HELMETS
It wasn't the most successful two-year stretch at Ohio State, and one that would certainly cost a coach his job in today's college football world, but this look would symbolize the last time the Buckeyes did not regularly wear a silver helmet (1966-67).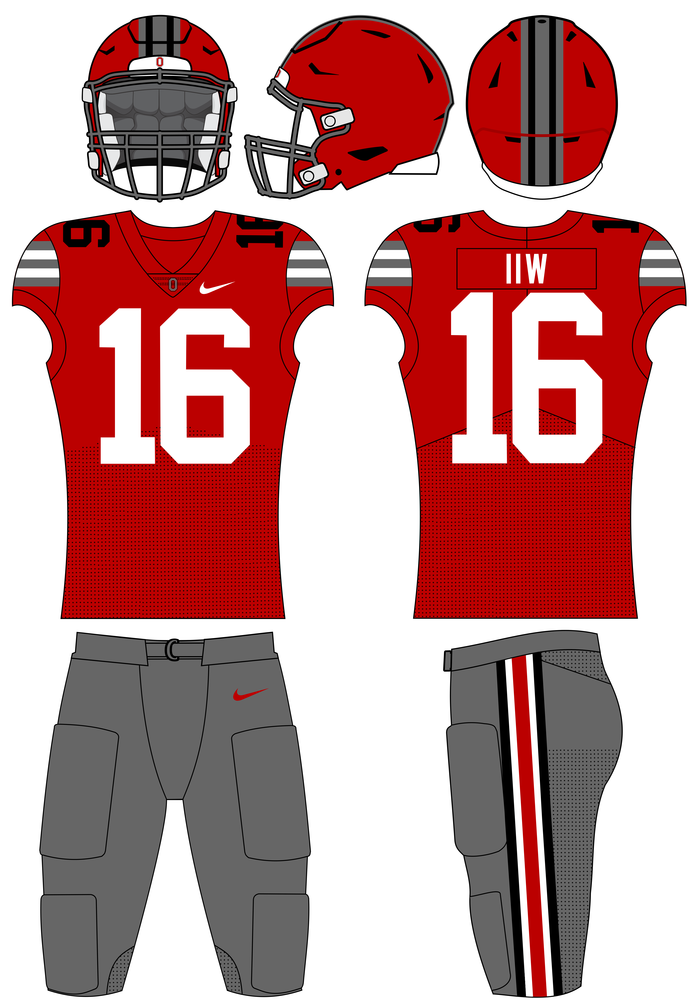 ARCHIE'S HEISMAN 
Having honored past conference and national championship-winning teams, as well as Chic Harley's All-American campaign, Ohio State would be wise to honor its only two-time Heisman Trophy winner. The uniforms won't change much, but using enlarged numbers and helmet stickers would make this look pop.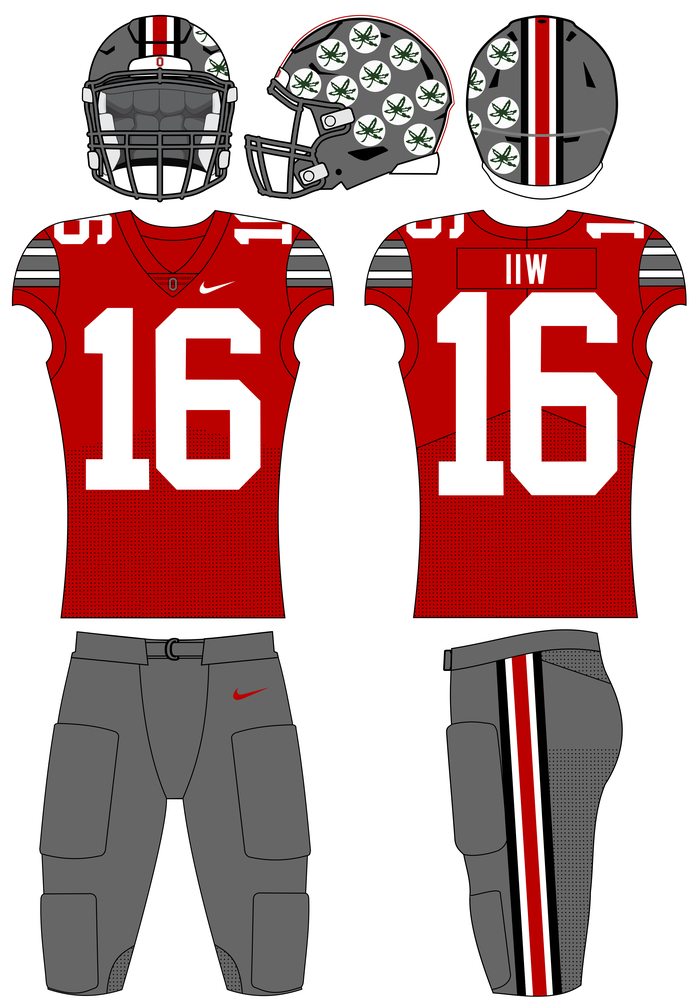 BAND TRIBUTE
Why not do something off-the-wall? They're called the Best Damn Band in the Land for a reason, and with Nike's ability to use sublimated designs, this wouldn't be a difficult look to pull off. Only issue? We're not sure Urban Meyer would outfit his Buckeyes in blue.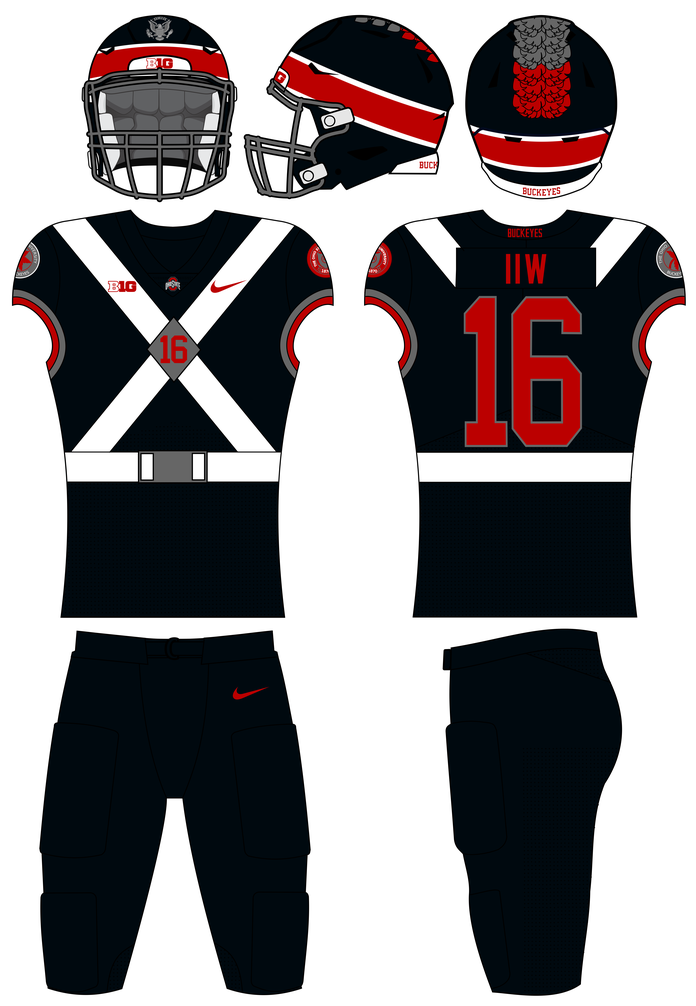 Thoughts?