At least in terms of returning starters, Ohio State doesn't need much help on its offensive line. But that doesn't mean a pair of standouts from the recruiting trail can't figure into its future plans.
"Josh Myers is competing already," head coach Urban Meyer said on National Signing Day.
Myers is one of three offensive linemen in Ohio State's 2017 recruiting class. The others — Wyatt Davis from St. John Bosco in California and Thayer Munford from Massillon Washington — are set to arrive on campus this summer. Davis played tackle in high school and is a five-star prospect, a top-25 overall player and the highest-ranked offensive guard in the country according to 247Sports. A signing day addition, Munford plays tackle and is a four-star recruit.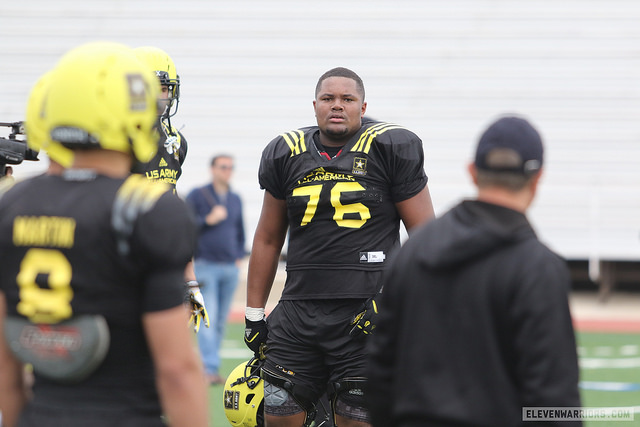 Myers isn't far behind Davis on the guard rankings — he is slotted at No. 2. He played tackle at Miamisburg High School but projects on the interior at the next level because of his documented struggles in pass protection at the US. Army All-American Bowl and other camps.
That part of his game must be developed before anything can happen for him on Saturday afternoons in the fall. He didn't really have to do it much in high school, though. The Vikings would just get behind him and run the ball down their opponent's throats.
While Munford can certainly turn into a fine player at the next level, the light shines brighter on Davis and Myers because early projections have them at guard. And for the simple fact the Buckeyes haven't signed a pair of linemen as highly rated as they are in nearly a decade. Mike Adams and Michael Brewster were both five-star prospects in 2008.
Ohio State only lost one offensive lineman from its 2016 unit, when All-American center and Rimington Award winner Pat Elflein graduated. Billy Price is moving over from guard to fill in for Elflein, so that leaves one vacant spot up front. Right tackle Isaiah Prince is back for his junior season, left tackle Jamarco Jones is set to play out his final year of eligibility and 2016 commit Michael Jordan will be involved.
There are a slew of other names in the program that inhabit Greg Studrawa's meeting room. But like a year ago when Jordan became the first offensive lineman to start from the get-go since the great Orlando Pace in 1994, Davis or Myers could be next. Why? Ready-made frames.
"They're both very disciplined, mature people. Man, they're blessed," Meyer said. "They're big. They're not — usually, guys that big are fat-big, but these guys aren't fat-big. They're big-big."
Ohio State listed Myers at 6-foot-6 and 306 pounds and Davis at 6-foot-4 and 310 pounds in its signing day press release announcing the 2017 recruiting class. According to Meyer, the former is "absolutely killing it" in workouts with Mickey Marotti and Co. Of course, this is something he has been doing for a while now. Let's not forget the time he power-snatched 155 pounds with one arm or flipped a 1,000-pound truck tire.
"He's going to be in the mix," Meyer said of the Ohio product and early enrollee.
Meyer says that often about a bunch of his new players and does so annually. How the 2016 season ended gives weight to it this time, however.
After Jordan injured his left ankle on the third drive of Ohio State's eventual 31-0 loss to Clemson in the Fiesta Bowl, Studrawa tapped Demetrius Knox to replace him.
Knox missed two months of the season with a broken foot (the second of his career), yet he was seen as the first option off the bench. Not Matthew Burrell, Evan Lisle, Kyle Trout or any other interior lineman Studrawa had at his disposal. Studrawa hasn't been made available to the media since that game to provide insight on what went into that decision but the soon-to-be second-year line coach clearly is searching for something more.
Ohio State underwent a coaching staff overhaul on the offensive side of the ball after that game. Studrawa is back and his unit must play better for the Buckeyes to return to the Big Ten Championship Game and College Football Playoff in 2017.
"Usually, guys that big are fat-big, but these guys aren't fat-big. They're big-big."– Urban Meyer on Josh Myers and Wyatt Davis
Davis and Myers have college-ready bodies, as Meyer said, and the latter is set to get a jumpstart on his development when spring drills open in Columbus on March 7. Davis' high school highlight tape speaks volumes on the blend of strength, agility and speed he brings to the fold. He also comes from one of the premier prep programs in the nation. St. John Bosco owns a bevy of championships and makes sending football talent to the Division I level an annual occurrence.
"I don't want to say he's ready-made because that's not fair for him, but that's how much respect we have for Bosco football program," Meyer said.
Meyer knew he wanted Davis when he went and saw him practice in California. Myers enrolled early in order to get a head start on his career as a guy Ohio State expects to produce quickly.
Ohio State has an open vacancy on the interior of its line. If either Myers or Davis fills it this fall, their development in high school and mammoth frames will play huge roles as to why.