COLLEGE PARK, Md. —  Urban Meyer hopped around, slapped players and coaches on their rear ends, waved his arms in the air and sprinted through warmups while the sun set behind the west side of Maryland Stadium as if he were the one wearing a helmet and shoulder pads. Loose, confident and knowing what his team did against a top-10 opponent a week earlier, Meyer looked more than ready for Ohio State to thrash Maryland.
"I think we played defense two weeks in a row like that and the guys are playing really hard and we have a good rotation of guys on the defensive line," Meyer said after the Buckeyes throttled Maryland with ease Saturday afternoon 62-3. "We're going to find out now but our offensive line is playing much better in the last two weeks and we know exactly what's coming down the road."
What is coming down the road is a high noon affair at Michigan State next Saturday, the only team the Buckeyes failed to beat during a 2015 season where its roster held 12 eventual NFL Draft picks. The Spartans are tasting the other end of the spectrum these days, having only picked up their first Big Ten win of the season on Saturday (against lowly Rutgers) but the Buckeyes are rolling and rolling fast. Back-to-back 59-point victories—first in a game against a top-10 team and now against one where a performance was expected—show Meyer's group is hard charging through its schedule at the right time.
"It's November and Coach Meyer said we made a choice and had to follow through today and do what we did last week That's what we did," defensive end Sam Hubbard said. "This is our time to show, make our case for the postseason."
"We're just going to go out there and play our best. If we play our best, I think the score happens to be like that."– J.T. Barrett
As long as the Buckeyes keep winning and meet an undefeated Michigan in two weeks at Ohio Stadium, the winner will play in Indianapolis for the Big Ten Championship. The Buckeyes certainly looked the part earlier in the day, outgaining Maryland 581-176 and putting together 10 scoring drives. The Terrapins only managed 10 first downs in the entire game.
Maryland lost some of its best players earlier this season to injuries and are years behind Meyer and Co. under first-year coach D.J. Durkin. So an outcome like Saturday was what many on the outside thought would happen.
"We weren't going to worry about expectations," quarterback J.T. Barrett said. "We're just going to go out there and play our best. If we play our best, I think the score happens to be like that."
Barrett threw two touchdowns and ran for two more, finishing with 300 total yards before coming out of the game in the third quarter. Joe Burrow entered and the scoring didn't stop. With so much young talent seeping through the cracks and gaining more experience, it isn't a shock anymore when freshmen find the end zone.
Ohio State was deeper, faster, stronger and just flat out better than Maryland. With how bleak things looked offensively a month ago in the stunning 24-21 loss at Penn State, the polar opposite happened in back-to-back weeks.
"Nothing in life is given to you at all. A win in the Big Ten is not given to you at all," right guard Billy Price said. "So to be able to actually come out here, execute week after week now, had a little shake up against Penn State, refocused, got the team focused and that's what we're happy to see."
Fans expressed their concerns with the offense and lack of things opening up in the deep passing game. Barrett seemed off, the timing wasn't there and the line failed him in State College. Through it all, the quarterback stayed the course with the media and believe it would click.
It has since the calendar flipped to that month Meyer stressed championships are won.
"I wasn't sweating it like you could tell. I wasn't sweating it at all," Barrett said. "When it comes to November we want to play our best ball and that's what we're doing right now."
Meyer challenged his players all week to come out and piece together another complete performance, doing so each week regardless the opponent. With players like Curtis Samuel (three touchdowns on nine touches), Barrett and Mike Weber (12 carries for 93 yards) coupled with a defense that flies around and takes the ball away consistently, the Buckeyes should be able to play that way against an overmatched opponent.
Especially with a talent like Samuel running free and beating defenders with ease.
"I was just going up to make plays," he said. "Whatever the defense gave me I took, whether it was sitting in the zone or beating someone one-on-one I had to take advantage of every opportunity."
With only two regular season games left on the schedule, the Buckeyes are peaking at the right time and have one more speed bump before the annual regular season finale against their arch rival.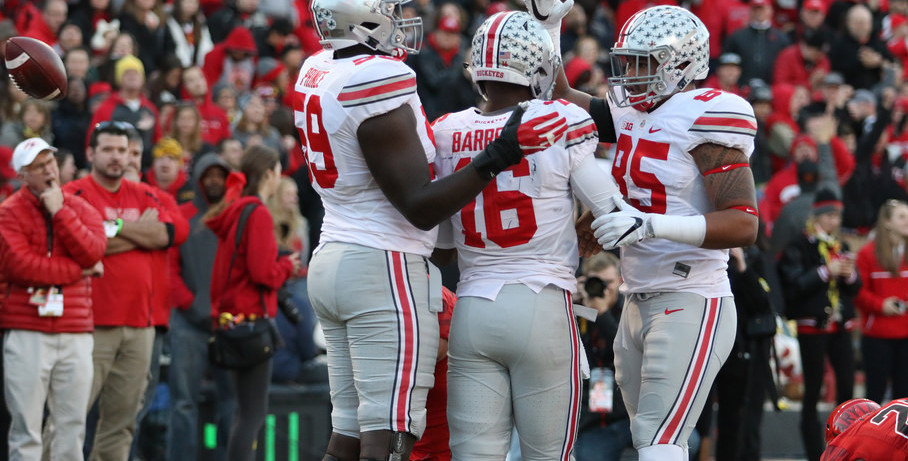 "It's just confidence," Price said. "It's like a shark in blood."
"I think we're spreading the field and guys are making plays. High execution by our players. And we're not just relying on one guy," offensive coordinator Ed Warinner added. "Our team was energized for this game. We got some momentum last week and carried it throughout practice, got off to a good start. Defense playing well."
Everything clicked a week ago for a statement win on national television. Saturday against Maryland carried a different feel but it didn't matter for Ohio State. It left Meyer in a lighter mood than normal, joking about not getting Samuel enough touches postgame even though his star hardly played after halftime.
"Doggone it, we gotta do a better job," Meyer joked. "That's ridiculous."
Young talent flooded the field like Demario McCall and Binjimen Victor, two true freshmen who each found the end zone once. Victor's score is the first of his young career and came when he fought through pass interference to reel in a 25-yard strike from Burrow.
The Terrapins continued to lose up front even when Luke Fickell cleared his bench and put freshmen in on defense like Keandre Jones, Joshua Alabi and Malik Harrison. The latter thwarted a 4th-and-1 quarterback run in the fourth quarter. If you didn't know it, those Ohio State players that got on the field in the fourth quarter were playing as if they started the game and the score was tied at zero.
That type of focus is what Meyer wants and what Meyer knows he has with his group. It was apparent in pregame drills. It was apparent in postgame.
And as long as it continues, Ohio State is dangerous.
"November's here and we have a big one coming one week from today," Meyer said.