Urban Meyer took a lighthearted approach with the media when reminded of the last time his Ohio State team played against Nebraska. The Buckeyes hung 63 points on the Cornhuskers that night, a thorough stomping that included touchdowns in all three phases of the game—offense, defense and special teams.
Braxton Miller and Carlos Hyde combined to score six times and rush for 326 yards in October 2012, an explosive display that included more than a handful of plays that went for more than 30 yards. Since a quick 3-0 start in 2016, plays like have been few and far between for Meyer's offense. Questions on the issues bring with them a cloud of concern among fans of the program despite the Buckeyes sitting at 7-1 and ranked No. 6 in the country.
Which is why Meyer cracked jokes often in his press conferences, including on Wednesday after practice when a reporter reminded him of that 63-point outburst and asked if he felt such a performance coming from his current team.
"I'm ready if you are," Meyer said with a smile. "Just, unfortunately, playing a very good defense."
The College Football Playoff committee slotted Nebraska 10th in its initial set of 2016 rankings on Tuesday night. Mike Riley's Cornhuskers enter Saturday's showdown with Ohio State with a 7-1 record. They suffered their first loss of the season last week at Wisconsin in overtime. After a few trying seasons in their first four years as a member of the Big Ten—which still included one trip to the conference title game in 2012—Nebraska finally looks like the team many expected to when they represented a pillar of the league's expansion. At least on paper.
"It's Nebraska, a tradition-rich program," Meyer said. "I remember the first time I coached against them was our first year here. Just see the white helmets of Nebraska, I grew up watching Coach (Tom) Osborne. Ohio State versus Nebraska, obviously the whole country will be peeking in on that one because it's two top-10 teams."
Osborne won three national titles at Nebraska in the 90's, 13 Big Eight or Big 12 titles and 12 bowl games. Since he retired in 1997, however, the Cornhuskers haven't shown the same kind of consistent dominance. Nebraska fired Bo Pelini after the 2014 season because it got tired of going 9-4 every year.
Riley replaced him and went 6-7 in 2015. His team is much more consistent in Year 2 and leading the Big Ten West. A loss on Saturday night, however, could doom its chances of making it to Indianapolis because of tiebreaker scenarios with Wisconsin.
It doesn't figure to be easy in Ohio Stadium, and Riley knows what he is up against.
"I haven't been in it very long here, nor have I ever been to Columbus, but I've had a lot of respect for what they've done and obviously their recruiting has been outstanding and they coach them well and they play good football and they've won a lot of ball games," Riley said on Monday. "They've been that team in the league lately that's set the bar."
Nebraska Breakdown
An argument could be made that Nebraska's best win in 2016 came against Wyoming, when the Cornhuskers beat the now 6-2 Cowboys 52-17. The Cornhuskers narrowly slipped by Oregon at home a week later when the Ducks were ranked in the top-25. They now sit at a woeful 3-5.
Riley's team also won at Northwestern and Indiana but didn't exactly dominate Big Ten bottom-feeders Illinois and Purdue in Lincoln. And in its toughest test last weekend at Wisconsin, Nebraska came up just short.
The No. 10 ranking by the Playoff committee shows a wait-and-see approach with the Cornhuskers. Can they pull off the upset on Saturday, their second road night game in as many weeks and this time against a team that's lost just five times in the last five seasons? Doing so would show Nebraska to be a legitimate national threat.
"They're kind of a different animal, Ohio State," Nebraska senior wide receiver Jordan Westerkamp said this week. "They've been so good for so long. This is a huge game for us. We know how good they are — but they're beatable."
"We've got to go out there and play our best game. And nothing's going to be given," added De'Mornay Pierson-El, another wide receiver. "You stated their past history. We're talking about right now. They're a good team — a bunch of good individuals — but we still have to come out and play. It's still a game to be won."
Penn State proved the Buckeyes are nowhere near indestructible in State College two weeks ago, pulling a stunning 24-21 upset. If Nebraska is to follow a similar script and spoil Ohio State's lone home night game and biggest recruiting weekend of the season, its passing game with Westerkamp, Pierson-El and quarterback Tommy Armstrong Jr. will need to perform better than it did a week ago against the Badgers.
2016 Statistical Comparison
 
OFFENSE
42.6
10th
POINTS FOR
32.0
49th
272.4
8th
RUSHING OFFENSE
204.0
40th
220.5
77th
PASSING OFFENSE
225.6
74th
492.9
20th
TOTAL OFFENSE
429.6
48th
.500
7th
3rd DOWNS
.491
12th
.878
46th
RED ZONE
.818
78th
DEFENSE
15.1
6th
POINTS ALLOWED
18.4
15th
124.4
25th
RUSH DEFENSE
136.8
38th
171.1
9th
PASS DEFENSE
205.4
36th
93.6
3rd
PASS EFFICIENCY DEFENSE
107.9
14th
295.5
6th
TOTAL DEFENSE
342.1
20th
.317
14th
3rd DOWNS
.330
24th
.708
11th
RED ZONE
.813
47th
SPECIAL TEAMS
5.6
88th
PUNT RETURN
9.7
43rd
23.6
26th
KICKOFF RETURN
25.9
14th
42.7
4th
NET PUNTING
31.7
127th
MISCELLANEOUS
+ 1.3
4th
TURNOVER MARGIN
+ 0.6
24th
7.3
94th
PENALTIES
5.8
47th
14
EDGE
4
Armstrong Jr. completed only 12-of-31 passes for 153 yards in that game. He also threw two interceptions. His final attempt fell helplessly to the turf in the end zone as the Badgers sealed their overtime win. It feels like the quarterback he has been in Lincoln forever, playing considerable snaps as a freshman in 2013 with Taylor Martinez injured and being the man since.
Armstrong Jr. is extremely turnover prone, throwing 45 interceptions against 63 touchdowns in his career. But he is protecting the ball better this season and is a legitimate run threat in Riley's hybrid spread attack. Armstrong Jr. leads Nebraska with seven rushing touchdowns this season and is second only to Ohio State's J.T. Barrett in rushing yards by Big Ten quarterbacks with 419.
"Obviously, he's an incredible player," Meyer said.
"He's a very dynamic football player," cornerbacks coach Kerry Coombs said. "He can run, he can throw, he scrambles, he does everything well. Probably has the strongest arm of any of the quarterbacks we've seen so far this year."
Current Ohio State quarterbacks coach and co-offensive coordinator Tim Beck recruited Armstrong Jr. to Nebraska, where he worked under Bo Pelini from 2008-14. Meyer said he spoke to Beck about Armstrong Jr.'s athleticism and tendencies this week to get a general idea of what the Buckeyes are facing before they installed a game plan.
Beck's insight doesn't hold all that much weight in terms of scheme, however, because Riley runs a different system than Pelini. Riley simplified the approach in recent weeks even further, giving Armstrong Jr. simple run-pass reads from a spread look while also having his offense line up in the I-formation.
"I had [Armstrong Jr.] when he was a lot younger, he was a redshirt freshman, so he's grown up a lot and he's playing really well for them," Beck said on Wednesday. "I'm proud of him and he's obviously changed in their system and stuff so it's a different time and a different offense so it's a lot harder to say, 'This is what he does.'"
But Armstrong Jr. must be the man for Nebraska to have a chance at upending the Buckeyes. He is known to take some chances and trust his arm a little too much but appears more comfortable in his second year under Riley. The Nebraska wide receivers don't have Earth-shattering numbers (Stanley Morgan Jr. leads the team with just 329 receiving yards) but have a penchant for grabbing big chunks of yards when given the opportunity.
Morgan Jr. and Westerkamp are two of five wideouts with at least 10 catches on the season that average at least 14 yards per reception, mostly on plays where Armstrong Jr. breaks contain and makes a play.
"He scrambles a lot. He's a mobile quarterback so he'll be a nice challenge for us because a lot of quarterbacks that we faced this year are pocket quarterbacks," Ohio State cornerback Gareon Conley said on Wednesday. "It'll be a good challenge for us."
Coombs said the way Armstrong Jr. spreads the ball around makes it impossible to key in on one guy as a secondary. His running ability adds another element the Buckeyes haven't seen often this year from opposing quarterbacks.
"Very talented group of receivers so we know that we've got to do everything we can to try and contain him in the pocket, try to make sure we have on body coverage," Coombs said. "But then we also have to stop him when he runs the ball."
Riley said he believes the Cornhuskers will have the services of starting sophomore linebacker Dedrick Young against Ohio State even though he hurt his elbow in the Wisconsin loss. Young is one of four Nebraska players with at least 45 tackles and is an integral part to what it does defensively.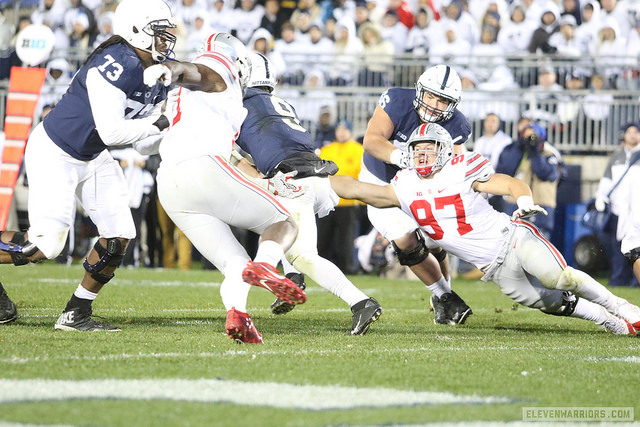 The Cornhuskers will be without starting right guard Tanner Farmer, however, out with a high ankle sprain. Farmer is part of a group that paves the way for Nebraska's rushing attack, which averages 204 yards per game, fifth-best in the Big Ten. Senior running back Terrell Newby leads the team with 120 carries and 588 yards to go with four touchdowns on the ground but Riley likes to use true sophomore Devine Ozigbo plenty too. Ozigbo has 87 carries for 353 yards and five touchdowns this year.
But Armstrong Jr. is the difference maker, capable of springing big gains on the option should he slip past a defender in the box and cut upfield. Bringing him down is essential for Ohio State when it reaches the quarterback behind the line of scrimmage.
"Watching him in the game last weekend and previous games before, he's a great athlete," Ohio State defensive end Jalyn Holmes said. "He can get outside the pocket and make things happen. We just have to be the best Ohio State Buckeyes and try to challenge him to make tight throws, and we'll see how it goes."
A wild card on Nebraska's roster is Pierson-El, a junior and star special teams player. His numbers are not that spectacular this season (144 receiving yards, 145 punt return yards, one total touchdown) but he averaged more than 17 yards per punt return on his way to three punt return touchdowns in 2014. He missed the majority of the 2015 season with an injury but is someone the Buckeyes must account for in that part of the game. Plus, Nebraska's special teams units rank in the top-40 nationally.
Northwestern wide receiver Austin Carr connected with quarterback Clayton Thorson last Saturday for a handful of 3rd down conversions that extended drives and kept the Wildcats in the game. Nebraska is significantly better on 3rd down than Northwestern this season, converting on 49.1 percent of tries to rank second only behind Ohio State in the Big Ten.
"Time management, we can't be on the field all game so on the third downs we have to get them off and really do our jobs on third down so we can get off the field and have the offense come on and score points," Marshon Lattimore said. "It's very important.
Thorson and Carr picked on Damon Webb and Damon Arnette, Ohio State's starting safety and slot corner often in that game. Westerkamp and Co. can pose similar problems and will no doubt notice on film the success the Wildcats had in that area of the field.
Coombs is well aware.
"I guess I'm much more positive. Do I wish that we were [scoring] 56 points and all those kind of things? Sure. But we're a work in progress."– Urban Meyer
"We gotta get better. Those are challenging throws and challenging positions," Coombs said. "For a guy to come in on 3rd down (Arnette) and play over and over again is a hard thing to do. He didn't have his best game. There's no doubt about that. He knows that, we know that. We had a great conversation with him. I can tell you this: He will be better and I'm looking forward to watching him play."
Whether or not Armstrong Jr. can make plays in the passing game and protect the football will go a long way to determining if Nebraska can hang with Ohio State. The Buckeyes rank first in the Big Ten in time of possession. Nebraska is second.
Controlling the clock and cashing in on opportunities when they present themselves is something Nebraska focuses on each week, Riley said. He and the Cornhuskers feel like they let one get away last week at Wisconsin but sense a huge opportunity on Saturday night.
"As we head into these last ball games, the standing, obviously this is a real understatement, but you know, it becomes more real," Riley said. 'It's better to be where we are right now with the lead, and then we've got to fight like crazy to keep it."
Buckeye Breakdown
In what is becoming a recurring theme, all anyone wants to talk about in Columbus with regards to Ohio State football is the lack of explosive plays on offense and non-existent downfield passing game. Meyer took a loose approach with the media this week when again asked about it, either to exhibit confidence in his guys or because he is tired of talking about it considering his team's nearly perfect record.
"I guess I'm much more positive," Meyer said. "Do I wish that we were [scoring] 56 points and all those kind of things? Sure. But we're a work in progress."
Ohio State gutted out a victory against Northwestern last weekend, making enough plays on both sides of the ball to avoid losing back-to-back games for the first time since the 2013 season. Luke Fickell's defense stood tall near the goal line once again to force a late field goal that preserved a 4-point lead, then J.T. Barrett and the offense sealed the win with a pair of third-down conversions on the ensuing drive to run out the final 3:31.
"I don't think you want to be content at all as far as the way we played," Barrett said this week of the offense. "We always want to progress and get better but I think it's at a good spot."
Barrett's statistics aren't mind blowing the last few weeks—he failed to score a touchdown against Northwestern for the first time in his what is now 25 career starts —but he is still averaging more than 230 yards passing since tallying only 93 in a win over Indiana last month. The wide receiver play still isn't great, the offensive line's ability to protect is inconsistent and Barrett is not connecting (or even throwing) much down the field.
But the quarterback sucks it up and keeps answering questions about those things even though his frustration is apparent. He, Meyer and the other players involved with the offense credit defenses for playing Cover 3 and taking away the deep part of the field. There hasn't been much adjustment from Ohio State to combat that, however, as it is instead fine with taking the underneath throws and putting together lengthy drives as long as they end in the end zone.
"I think when it comes to passing it comes to a point where you don't want to force things," Barrett said. "There are times where we force things but there are a lot of times where we play-action pass on 1st-and-10 and you check it down and let one of our playmakers go make plays and break tackles, make them tackle us."
Outsiders are used to 40- and 50-point outputs like what Ohio State posted earlier in 2016. But tough road games at Wisconsin and Penn State plus a battle with an improved Northwestern club resulted in 30, 21 and 24 points for the Buckeyes. But they don't care, because Ohio State was in perfect position to win each of those games.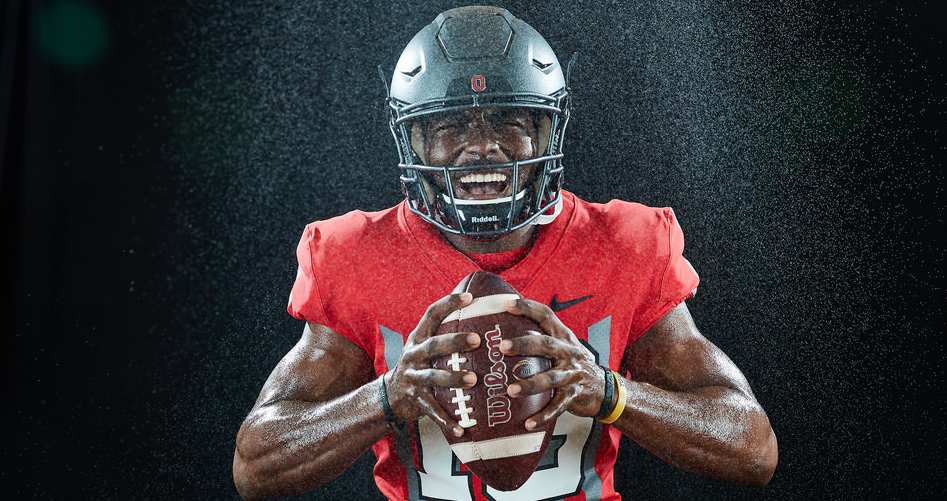 "The game changes every year so you can't expect things to be as they were in 2014 as things evolve and the game changes," right guard Billy Price said. "That's why things are a little bit different. Fans have their opinions and they're able to assess things. 'Hey, you should be here.' And they're right, but we're a work in progress and we're going to execute every weekend."
Nebraska presents another formidable defensive challenge for Barrett and the Buckeyes, ranked fourth in the conference in points per game allowed and total defense. The Cornhuskers, however, do allow an average of 205 passing yards per game.
But Meyer still sees Nebraska's defense as "very good" and it is hard not to at least feel that way about senior free safety Nathan Gerry. He is tied with fellow safety Keiron Williams for the team lead with four interceptions and is second on the team with 50 tackles. Gerry has 13 career interceptions.
"Great player," Meyer said of Gerry. "Fast, tough. Tim was telling us about him. Got our scouting report on him. He's a draftable player, very draftable player and just real fast and physical."
Gerry is the back end's point man on a unit that leads the Big Ten with 15 picks, two that it returned for touchdowns. Nebraska forced 16 total turnovers in its first eight games, tied with Ohio State for second in the conference. The Huskers make plays on the ball, and Gerry is the ringleader.
"I think he's smart, I think he's fast and processes things on the fly very well," Barrett said. "As a safety, I think that's something you have to do so he's going to be somebody that's going to be watching me so I have to control him with my eyes and things like that. He's a good ball player."
Barrett is doing an excellent job taking care of the ball and the Buckeyes are as a team in recent weeks. The quarterback's interception in a brief downpour at Wisconsin represents Ohio State's lone giveaway over the last three games.
Tale of the Tape

|   | Ohio State | Nebraska |
| --- | --- | --- |
| All-time wins | 882 (5th) | 887 (4th) |
| National championships | 8 (6th) | 5 (9th) |
| Conference titles | 38 (4th) | 46 (1st) |
| Consensus All-Americans | 81 (2nd) | 54 (8th) |
| Heisman Trophy winners | 7 (1st) | 3 (5th) |
| NFL first-round draft picks | 69 (2nd) | 34 (15th) |
| Weeks ranked in AP poll | 864 (1st) | 723 (7th) |
Such play has been needed, however, with how the Buckeyes are grinding out yards and slapping together just enough points to put themselves in a position to win. Meyer admitted this week that his team is not as explosive on offense as it has been in years past, both a product of new and young faces still meshing with one another and a tough schedule.
"We have talented guys. And in practice we see them improving," Meyer said. "And like anything, it takes—throwing the football is timing. We're seeing a lot of press coverage.
"I do see [big plays] coming."
Barrett does too. So does Price, Beck and top receiver Noah Brown. Execution is a buzzword floating around the program in earnest, from everyone to the guys up front, Barrett and the receivers doing a better job getting open. One top receiver, Parris Campbell, left the Northwestern game with a high ankle sprain. Meyer said on his radio show on Thursday that Campbell "might go" against the Cornhuskers.
Outside of that, there aren't any injuries aside from the normal pounding that comes with the calendar flipping to November. Instead, fans clamor for star H-back Curtis Samuel to get more touches in the offense. But Meyer believes Samuel is having "a helluva season" as Ohio State's best playmaker.
"We're facing some pretty good defenses. To start worrying about those types of things, it just takes away from the flow of the game a little bit," Meyer said, though he admitted he does try and make sure Samuel is always involved. "It's just, let's get first downs, we've got a young team, let's get better and get first downs."
Ohio State is still very much in the Big Ten title race and College Football Playoff picture, checking in at sixth in the first set of rankings. But it won't stay that way if it doesn't start playing better across the board.
"It's not going to change the way we work," Meyer said when asked about the rankings. "And I'm sure we'll be somewhere around there. But we've got to improve and play well Saturday against a very good team."
How It Plays Out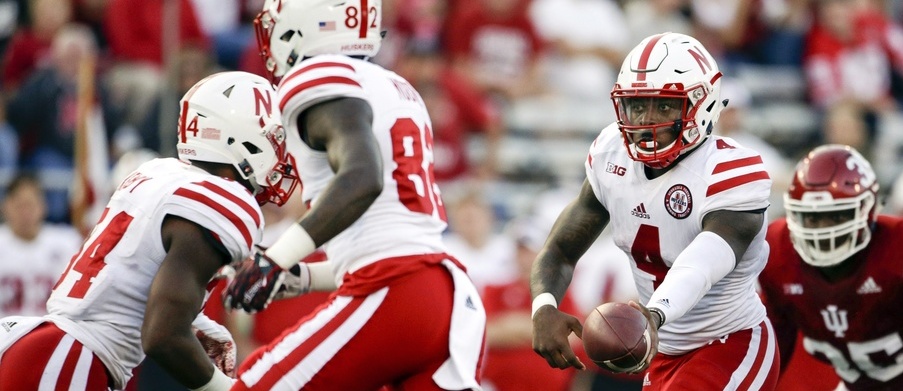 Nebraska lost a ridiculous five games in the final seconds last season, falling to BYU, at Miami (FL), at Illinois, Wisconsin and Northwestern by a combined 13 points. In 2016, the Cornhuskers are having more success in close games, besting Indiana by five and Oregon by three. The overtime loss at Wisconsin a week ago is the lone blemish on an otherwise perfect record.
"A top-10 team, top-10 talent," Urban Meyer said of Nebraska on Thursday. "One of the top quarterbacks in the Big Ten. Their defense is playing outstanding."
Accounting for Tommy Armstrong Jr. at all times is imperative for Ohio State if it wishes to protect home field and beat Nebraska on Saturday night. Meyer knows that too, and understands how critical this game is not only for his team to keep progressing but potential future players.
"We have a slew of recruits coming in and it's going to be a busy weekend," he said.
The Buckeyes plan to wear alternate uniforms that pay homage to Chic Harley and the 1916 Ohio State team that won the program's first-ever conference championship. A sign honoring late Nebraska kicker Sam Foltz—who tragically lost his life in a car accident in July—is slated to be above the visiting team's locker room. The Ohio State Marching Band and student section have things planned to commemorate Foltz as well, like most opponents of the Cornhuskers have done all season.
Nebraska is much improved and still looking for a signature win this season, its second under Mike Riley. He spent 14 years at Oregon State compiling a 93-80 overall record before coming to Lincoln ahead of last season.
The matchup is only the fifth between the two memorable programs, which combine for 13 national championships, are fourth and fifth on the all-time wins list and sport multiple Hall of Fame coaches in their history. Ohio State's defense isn't turning opponents over at the rate they were in September. Armstrong Jr., while protecting the ball better, is prone for a bad throw or two throughout the course of a game.
Ohio State's offense is still struggling to create big plays but for the most part is doing enough to put its team in a situation to win, like last week when it iced the game against Northwestern with a final drive that ran out the clock. Meyer called that series of plays "magical," and credited J.T. Barrett for orchestrating it properly. Neither team can afford to lose another game if it wishes to make it back to Indianapolis and the Big Ten Championship Game. The game all but serves as a College Football Playoff elimination game.
Plenty is riding on the top-10 showdown for both teams with Nebraska coming off a loss and Ohio State searching for consistency. The Buckeyes own the advantage playing at home under the lights for the first time all season. Which team controls the clock best and avoids the big mistake will likely determine the outcome.
"I think our team actually will be mad. You can be sad, or you can be mad and have a chip on your shoulder and know we can be better and go play hard, which we'll have to play hard and well to win the game," Riley said. "That's the approach I think our team will take."
For Meyer, he urges his team to block out the outside noise circling around about the lack of big plays, the Big Ten scheduling Friday night football games starting next season and just focus on getting better and adding another check in the win column. No matter how it looks.
"We've gotta find a way to beat Nebraska," Meyer said. "That's it."
---
ELEVEN WARRIORS STAFF PREDICTION: Ohio State 34, Nebraska 20