Wayne Woodrow Hayes was introduced as Ohio State's 19th head coach on Feb. 18, 1951. There were questions about his hiring and many believed his tenure would be short.

Hayes was born on Valentine's Day 1913 in Clifton, Ohio and played high school football at Newcomerstown High School. Upon graduation, Hayes took his talents to Denison University where he played tackle and served as team captain. 
Hayes started his head coaching career at New Philadelphia High School and compiled an 18–11–1 record over three seasons. In 1941, he left coaching to enlist in the Navy. While serving as a Lieutenant Commander during World War II, Denison reached out to Hayes about its head coaching ahead of the 1946 season. 
The future Hall Of Fame coach went undefeated in two of his three years with the Big Red. After the 1948 season, Hayes left Granville for Miami University. In 1950, he guided the Red Men to a MAC title and a 34-21 victory over Arizona State in the Salad Bowl. 
The day of his hiring at Ohio State, Hayes held an overall record of 33–11, two conference championships and a bowl victory as a college head coach. However, nobody anticipated that the worshiper of tough men, education and self-reliance would complete his career 27 years later as the face of Ohio State football.
Here is a look at the first one of legendary Ohio State coach's tenure.
The 1951 Buckeyes
Record
4–3–2
B1G Record
2–2–2, 5th
Coach
Woody Hayes (1st year, 4–3–2)
Captain
Bob Heid
Games of Note
September 29th • SMU • Ohio Stadium
Hayes introduced his T-formation offense in front of 80,735 fans, a record for a season opener. Those expecting offensive fireworks from the No. 3 ranked team in the nation left disappointed. 
The only points scored that afternoon came in the third quarter, when Tony Curcillo completed a 21-yard touchdown pass to Bob Joslin. Hayes became the 17th Ohio State coach to win his inaugural game, but the Buckeyes fell four spots in the AP Poll.
1951 Schedule

| DATE | OPPONENT | LOCATION | RESULT |
| --- | --- | --- | --- |
| SEP. 29 | SMU | OHIO STADIUM | W, 7–0 |
| OCT. 6 | NO. 1 MICHIGAN ST | OHIO STADIUM | L, 20–24 |
| OCT. 13 | WISCONSIN | CAMP RANDALL | T, 6–6 |
| OCT. 20 | INDIANA | OHIO STADIUM | L, 10–32 |
| OCT. 27 | IOWA | OHIO STADIUM | W, 47–21 |
| NOV. 3 | NORTHWESTERN | OHIO STADIUM | W, 3–0 |
| NOV. 10 | PITTSBURGH | PITT STADIUM | W, 16–14 |
| NOV. 17 | NO. 3 ILLINOIS | OHIO STADIUM | T, 0–0 |
| NOV. 24 | MICHIGAN | MICHIGAN STADIUM | L, 0–7 |
|   |   |   | 4–3–2, 109–104 |
October 6th • #1 Michigan State • Ohio Stadium
This marked the second time the Spartans and Ohio State battled on the football field. Michigan State won the first meeting 35-20 at Ohio Field in 1912. 
Clarence Munn's top-ranked Spartans were an independent team when they came to Columbus. Both teams battled throughout and Ohio State led 20-17 late. But the Buckeyes fumbled at their own 45-yard line and Michigan State recovered. That's when Munn called upon the "transcontinental pass" to secure his team's victory. 
From The Official Ohio State Football Encyclopedia:
MSU was soon faced with a fourth-and-six at the OSU 28-yard line, as Munn insterted reserve quarterback Tom Yewsic, a sophomore, at left halfback. Quarterback Al Dorrow lateraled to Yewsic, who ran to his right – stopped suddenly – then passed back across the field to Dorrow, who eluded two Buckeye defenders before falling into the end zone with the winning touchdown.
Michigan State gave Hayes his first loss as Ohio State's head coach with a play that Munn drew up on the sideline.   
The game-winning pass provided by BTN:
October 13th • Wisconsin • Camp Randall
The heartbreaking loss to Michigan State knocked the Buckeyes to No. 9 in the rankings. Hayes and his team didn't have much time to dwell on the loss when they traveled to Madison for the Big Ten opener.
The T-formation had little success against the Badgers' defense. Ohio State trailed 6-0 in the fourth quarter when Vic Janowicz found Ralph Armstrong for a four-yard touchdown pass to tie the game.
CUMULATIVE RECORD VS. OPPONENTS

| OPPONENT | STREAK | RECORD |
| --- | --- | --- |
| SMU | W1 | 1–1 |
| MICHIGAN STATE | L2 | 0–2 |
| WISCONSIN | T1 | 12–6–3 |
| INDIANA | L1 | 20–10–3 |
| IOWA | W2 | 8–5–2 |
| NORTHWESTERN | W3 | 19–9–1 |
| PITTSBURGH | W4 | 12–3–1 |
| ILLINOIS | T1 | 22–15–3 |
| MICHIGAN | L2 | 12–32–4 |
Unfortunately, the snap from center on the ensuing extra point was poor and Janowicz missed the kick. Through three games, Hayes already had his first win, loss and tie as Ohio State's head coach. A week later, he suffered his first home loss when Indiana pounded the Buckeyes 32-10. The 22-point loss was the largest margin of defeat for Ohio State until 1960 and knocked the Buckeyes from the rankings.
November 17th • #3 Illinois • Ohio Stadium
Wins against Iowa, Northwestern and Pittsburgh preceded a visit from No. 3 Illinois for Ohio State.
Illinois (7–0), winners three of the last five games in the series, was a heavy favorite to win this contest. The Ohio State players sensed the importance of the game and held a private, players-only meeting in the locker room before it.
The meeting worked. Ohio State's defense shut out a high-powered Illinois offense and the game ended in a 0-0 tie. The tie served as the lone blemish on an otherwise perfect season for the Fighting Illini.
November 24th • Michigan • Michigan Stadium
Ohio State had not beaten the Wolverines since 1944, and Hayes did not end the drought in his first year. His first Michigan game was one to forget. 
The only score in the game came from Michigan's Don Peterson, who raced in from six yards out. Ohio State's offense never made it past the Michigan 24 and committed eight turnovers in the 7-0 defeat. 
The Cleveland Plain Dealer focused on Ohio State's recent troubles against Michigan:
Since 1944, the closest Ohio State has come to victory over Michigan -- under four different coaches, Carroll Widdoes, Paul Bixler, Wesley Fesler and Woody Hayes -- was the 7-7 ties here in 1949, a "moral victory" for the Buckeyes that gave them a share of the Big Ten title and a place in the Rose Bowl.
The loss to a struggling Michigan team hit Hayes hard — the Wolverines finished the season 4–5, while Ohio State went 4–3–2.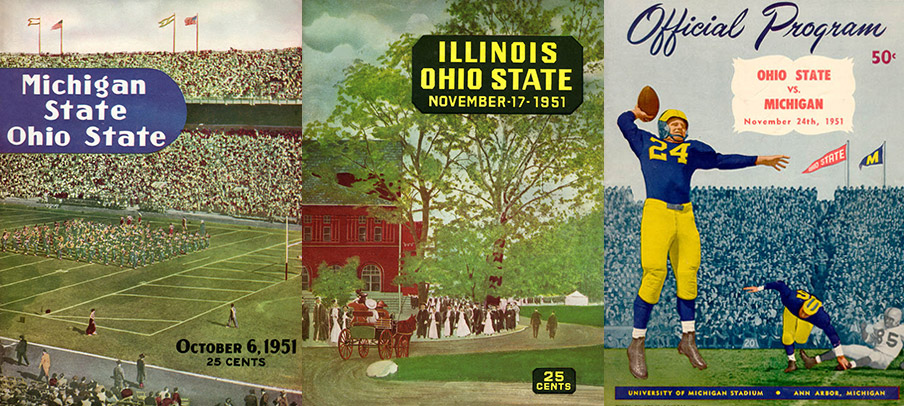 1951 Recap
Ohio State named Wayne Woodrow Hayes its 19th head football coach.
The Buckeyes started the season ranked No. 3 and defeated SMU in the season opener.
Top-ranked Michigan State gave Hayes his first loss at Ohio State.
Ohio State defeated Pittsburgh on a late Janowicz field goal for its final victory of the 1951 season.
The Buckeyes played determined football in a 0-0 tie of No. 3 Illinois.
Michigan kept Ohio State from a win in the rivalry for the seventh consecutive season. 
Ohio State finished the season unranked in the AP Poll.
Joe Campanella, Vic Janowicz, Sonny Gandee, Dick Logan, Steve Ruzich, Julius Wittman, Dick Doyle and Walt Kievay were selected in the NFL Draft.
---
The Hayes era started with a mediocre 4–3–2 record and a loss to Michigan. During the offseason many around Columbus discussed their disappointment that Paul Brown, Sid Gillman and Don Faurot were not hired. In fact, Faurot agreed to take the position until he backed out at the last minute.
Questions loomed before the 1952 season, Hayes eventually proved he was the right man for the job.