The 1941 season marked the 50th for Ohio State football. A new era was about to begin with the hiring of Norwalk, Ohio native Paul Brown.

A Stark County man of slight stature was named Ohio State's 15th coach on January 14, 1941. Paul Brown had a great high school career, but would that translate to success at Ohio State?
The 1941 Buckeyes
Record
6–1–1
B1G Record
3–1–1, 2nd
Coach
Paul Brown (1st year, 6–1–1)
Captains
Jack Stephenson
The Miracle Man from Massillon
The Ohio State Athletic Board was persuaded to go with Brown, an Ohio high school coach, because of pressure and persistence from the in-state newspapers, Ohio High School Football Association and fans. 
Brown had been the coach at Massillon Washington High School in northeast Ohio's Stark County for nine years. During that time, he accumulated an 80–8–2 record. His teams were smart, fast, disciplined, and loved to hit.
"Precision Paul" was known for his detail-oriented practices and his drive for perfection. His players were thoroughly coached on the hows and whys of the game and it showed. Brown stressed the fundamentals and created a football machine that started preparing players in Massillon's junior high school.
Brown was also an innovator. Among the wrinkles he added to the game were the playbook and sending in plays to his quarterbacks using signals from the sideline. 
Ohio State's selection committee was not only persuaded by the local support for Brown, but they were also wowed by his impressive track record, particularly what he had been able to do over his final six seasons at Massillon.
"I never even discussed money. I never asked them what the Ohio State job paid. I didn't care. I just wanted to go there and have the job."– Paul Brown
Brown's Tigers were 58–1–1 during that span, outscoring opponents 2,393 to 168. The turnstile at Massillon's new stadium was also on far. Over 116,000 fans showed up for the Tigers' final seven games in 1940.
Brown accepted the Ohio State job in January 1941, getting the nod over finalists Don Faurot (Missouri), George Hauser (Minnesota) and Alan Holman. He went to work immediately, implementing his system in Columbus.
"I never even discussed money. I never asked them what the Ohio State job paid. I didn't care. I just wanted to go there and have the job," Brown would later say.
To say that Brown was a transformative coach would be an understatement. He changed the face of the program during his brief, but successful stint as the head coach of the Buckeyes.
Games of Note
September 27th • Missouri • Ohio Stadium
The 25,000 fans who showed up at the spring game told you all you needed to know about the excitement accompanying Brown's first season as Ohio State's head coach.
In his first real game, he'd face Missouri, coached by Don Faurot, a finalist for the job that eventually went to Brown.
The 49,671 in attendance watched Brown and the Buckeyes were on their feet early after halfback Tom Kinkade broke loose for a 34-yard touchdown in the first quarter. After a quick huddle, the officials ruled that Kinkade had stepped out at 17 and the Buckeyes would end the drive without points.
1941 Schedule

| DATE | OPPONENT | LOCATION | RESULT |
| --- | --- | --- | --- |
| SEP. 27 | MISSOURI | OHIO STADIUM | W, 12–7 |
| OCT. 4 | USC | MEMORIAL COLISEUM | W, 33–0 |
| OCT. 18 | PURDUE | OHIO STADIUM | W, 16–14 |
| OCT. 25 | NO. 13 NORTHWESTERN | OHIO STADIUM | L, 7–14 |
| NOV. 1 | PITTSBURGH | PITT STADIUM | W, 21–14 |
| NOV. 8 | WISCONSIN | OHIO STADIUM | W, 46–34 |
| NOV. 15 | ILLINOIS | OHIO STADIUM | W, 12–7 |
| NOV. 22 | MICHIGAN | MICHIGAN STADIUM | T, 20–20 |
|   |   |   | 6–1–1, 167–110 |
In the second quarter, fullback Jack Graf plunged into the end zone from two yards out on 4th down to give the Buckeyes a 6-0 lead. Graf would add another score in the third quarter and the Bucks held on to win, 12-7.
October 4th • USC • Memorial Coliseum Stadium
In 1937 and 1938 Francis Schmidt had two shots at USC and lost them both. Now, Brown had a chance to not only defeat the Trojans for the first time, but to also give Ohio State its first win in California.  
His troops were ready.
Les Horvath played well in his first serious action as a Buckeye, while Graf, Charlie Anderson and Dick Fisher rushed for touchdowns to give the Buckeyes a 20-0 halftime lead.
Ohio State continued to dominate in the second half, scoring two more times. First, Graf connected with Bob Shaw on a 48-yard touchdown toss. The final points came when Fisher rushed over the goal line for his second touchdown of the afternoon.
Brown and his Buckeyes had stunned the more than 60,000 who had shown up to the Los Angeles Coliseum to the tune of 33-0. It was the first time the Trojans had been shutout in over a decade, since getting blanked by Notre Dame in 1930.
Nearly 20,000 fans greeted the victorious Buckeyes when they returned home. Katy Brown, wife of the head coach, was presented with 33 roses, one for each point scored against USC.  
CUMULATIVE RECORD VS. OPPONENTS

| OPPONENT | STREAK | RECORD |
| --- | --- | --- |
| MISSOURI | W2 | 2–0 |
| USC | W1 | 1–2 |
| PURDUE | W2 | 8–1 |
| NORTHWESTERN | L2 | 12–7–1 |
| PITTSBURGH | W2 | 4–2–1 |
| WISCONSIN | W2 | 7–4–2 |
| ILLINOIS | W7 | 16-12-2 |
| MICHIGAN | T1 | 10–25–3 |
October 25th • No. 13 Northwestern • Ohio Stadium
Ohio State followed up the thumping of USC with a 16-14 win over Purdue in Ohio Stadium and were sitting at No. 10 in the AP Poll when they welcomed No. 13 Northwestern to town.
Future NFL Hall of Famer Otto Graham led the Northwestern backfield and provided a potent air attack, while Bill DeCorrevont was the running hammer for the Wildcat offense.
The Buckeyes weren't ready for them.
Graham finished the game with 114 passing yards and two touchdowns, while DeCorrevont ran for 99 yards and the powerful Wildcat offense totaled 368 yards on its way to a 14-7 victory.
"We were beaten today by a much better team," Brown said following the loss. "Their backfield running had great power. They were quick and strong. Even when tackled on the line of scrimmage, they kept moving. Our line had to fight for its life—and did put up a grand fight."
November 8th • Wisconsin • Ohio Stadium
Ohio State bounced back from the loss to Northwestern with a 21-14 win over Pittsburgh at Pitt Stadium. Next up: a battle of Massillon men.
Like Brown, Wisconsin's head coach Harry Stuhldreher had also grown up in Massillon and to honor the occasion, the university made it "Massillon Day" at Ohio Stadium. The Massillon Washington band was on hand and spelled out "Paul" and "Harry" at halftime to honor the two coaches.
The game itself was also entertaining. On this cold day, Ohio State's defense gave up 36 points, which would normally constitute a loss; but the 58,519 on hand witnessed the Buckeyes erupt for 44 points of their own. Graf had another strong performance as he scored three times. 
The 80 combined points are still the most scored in a game played between Ohio State and Wisconsin. 
November 15th • Illinois • Ohio Stadium
Now ranked again at No. 20, the 5–1 Buckeyes welcomed Illinois to Ohio Stadium.
This game would be the last the Buckeyes would play against an Illinois team coached by Robert Zupke. After 29 seasons, the Hall of Fame coach was calling it a career. Six-straight losses against Ohio State and a failure to win a conference game in over a year were all the old coach needed to know it was time to hang them up.
The Fighting Illini did just that in their coach's last stand against the Buckeyes. In front of an Ohio State homecoming crowd of 41,554, Illinois drew first blood in the first quarter to take a 7-0 lead. Brown's squad struck back when Fisher connected with Shaw for an impressive 72-yard touchdown pass. The point after was missed and Ohio State trailed 7-6 at halftime.
Late in the third quarter, the Buckeye defense forced a key fumble deep in Illinois territory. Jim Daniell jumped on the free ball at the eight. A few plays later, Graf found the end zone and Ohio State took a 12-7 lead that they would not relinquish.
After losing his last seven games against the Buckeyes, Zuppke ended his career with an 11–16 record in the series.
November 25th • Michigan • Michigan Stadium
The previous three Ohio State coaches – John Wilce, Sam Willaman and Francis Schmidt – defeated the Wolverines the first time they faced them in Michigan Stadium. Brown and his boys would have their work cut out for them against Fritz Crisler and his team, ranked No. 5 in the nation at the time.
Graf, who had struggled with an injured leg for half of the season, put the first six points on the board. The team MVP would later leave the game in the third quarter with face lacerations on his nose and forehead. Lacerations. Let that sink in.
After three quarters of play, the Buckeyes and Wolverines were knotted up at 14. However, Michigan was driving and found itself inside the Ohio State 10-yard line. That is when Brown's disciplined defense buckled down. The Wolverines were held on downs and the Buckeyes took over on their own four yard line.
Graf watched Ohio State lose to Northwestern in his absence; however, he was not going to watch another loss from the sidelines. With a mangled face, Graf returned to the game with a giant bandage. He then guided the Buckeyes down the field and capped of the 96-yard scoring drive with a 45-yard pass to Fisher. Ohio State led 20-14 after John Hallabrin missed another extra point.
Unfortunately, the lead would not hold as Michigan took the ensuing kick and drove down the field. This time, the Wolverines would not be denied inside the Buckeye 10. Bob Westfall scored from three yards out and tied the game. The only thing left was for Bill Melzow to make the point after. However, like Hallabrin before him, Mezlow was unable to convert.
There was still 6:40 remaining in the game, but neither team was able to score. The Cleveland Plain Dealer's account of the clash in Ann Arbor: 
The game closed with all the red-shirted Ohioans and blue-garbed Michigan players milling around on the field. Evidently, it was just a battle for the ball, but it looked like a free-for-all Donnybrook. Even from the height of the press box, you could see a few haymakers kissing Buckeye and Wolverine chins. There is no kiss-and-make-up in this series.
A free-for-all Donnybrook is the way every Ohio State-Michigan game should end. The tie was the first in The Game in 31 years. Ohio State now trailed in the series 10–25–3.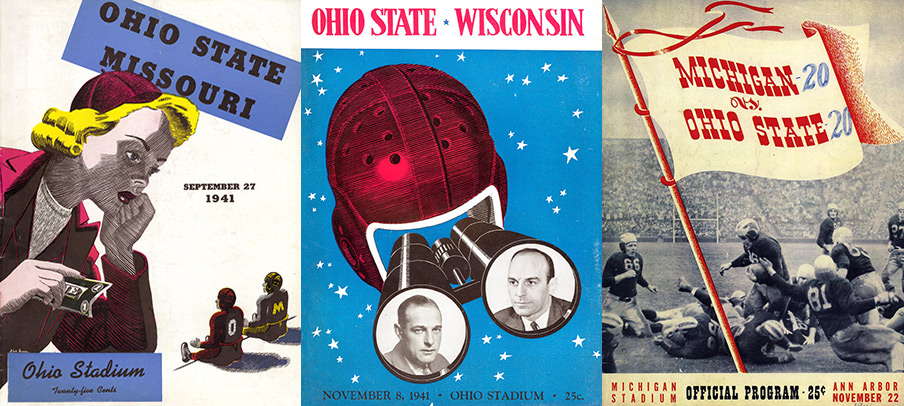 1941 Recap
The 1941 season marked the 50th of Ohio State football.
Paul Brown was hired as Ohio State's 15th head coach.
Missouri's head coach, Dan Faurot, faced Brown in the opening game of the season after he was a finalist for the Buckeyes' coaching job. 
Ohio State earned its first win over a California team with a 33-0 win over USC in Los Angeles.
Northwestern and Otto Graham handed Ohio State its only loss of the season.
The Buckeyes beat the Wisconsin, 44-34. The 80 combined points are still the most scored between the two schools.
Ohio State defeated Illinois for the seventh-straight time in Robert Zuppke's last season.
The Buckeyes and Wolverines tied for the first time since 1910.
Ohio State finished the season ranked 13th in the AP Poll.
No Buckeyes were named an All-American.
Jim Daniell, Tom Kinkade, Dick Fisher and Jack Graf were selected in the NFL Draft.
Brown's discipline and attention to detail were welcomed by the team and the fans, leading to big wins, like the 33-0 laugher over USC. The teacher at heart finished his first year with a 6–1–1 record and had his dominating system in place.
However, world events were about to change the face of the 1942 season. Precision Paul's team was about to be depleted for the war cause.