Thomas Johnson was born in Detroit on July 29, 1964. The legacy he would start in the game of football resonates at all levels from high school to the NFL coaching ranks.
The kid who would grow up to be known as "Pepper" —  nicknamed by his aunt after a penchant for putting pepper on his breakfast cereal — turned heads at MacKenzie High School in Detroit, where he was all-state as a senior. He was such a force in high school that he was later named to the state's all-decade team for the 1980s. A multi-sport star at MacKenzie, Johnson was also a captain on the school's baseball and basketball teams.
Years before Kerry Coombs would become King in the North, Earle Bruce reached into the Mitten State and snagged Johnson for the Buckeyes in 1982. 
That was a rarity back in the day. By 11W records, he was just the fourth Detroit player to commit since 1970.
Johnson was a fearsome hitter, who leveled ball carriers and receivers like a runaway truck. He arrived in Columbus in 1982 and lettered all four years of his collegiate career. He achieved this despite enrolling somewhat undersized at 6-foot-3 and 218 pounds. He filled out his frame in the weight room, topping out at 248 pounds — quite large for a linebacker then —  without sacrificing his movement or speed.
Freshman Year
Young Pepper didn't see much time as a freshman. He was buried on a depth chart that included luminaries like Marcus Marek, Glen Cobb and Rowland Tatum, who combined for 397 tackles during the 1982 season. Those three linebackers finished first, second, and fourth, respectively, among Buckeye tacklers.
Johnson did get on the field sparingly and finished the year with six tackles. He compensated for the lack of playing time by soaking up knowledge from the players ahead of him on the depth chart.
Like the majority of Bruce's teams, the 1982 Buckeyes finished 9-3 on the season and 7-1 in Big Ten play. A crippling three-game losing streak early in the season proved costly, and the 6-0 home loss to a mediocre Wisconsin team was especially costly (Stanford and Florida State were the other losses).
A scheduling quirk cost Pepper Johnson a chance at the Rose Bowl his freshman year. Ohio State played just eight conference games while Michigan played all nine teams in the league that year. Michigan clinched the Rose Bowl berth ahead of Ohio State before the Wolverines traveled to Columbus to play the Buckeyes. Michigan lost at Ohio State, 24-14, and then lost by the same score to UCLA in the Rose Bowl. Ohio State crushed BYU in the Holiday Bowl, 47-17.
Sophomore Year
It may have taken him a year to get a notable amount of playing time, but Johnson saw the field plenty as a sophomore. He did this despite a linebacker rotation that featured Clark Backus and Byron Lee. Pepper finished third on the team in tackles, with 92 (38 solos). Johnson also tallied two tackles for loss, two sacks, three pass breakups, a fumble recovery, and intercepted a pass.
The Buckeyes again went 9-3, but all three losses came in conference play. Ohio State fell at No. 7 Iowa (20-14), at No. 19 Illinois (17-13), and at No. 8 Michigan (24-21). Just 16 more points could have provided a special season, but instead Ohio State finished fourth in the Big Ten, before beating No. 15 Pittsburgh, 28-23, in the Fiesta Bowl.   
Junior Year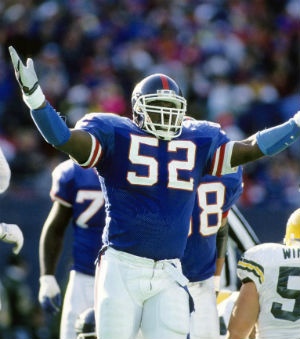 Johnson finally became a full-time starter in 1984, leading the Buckeyes in tackles, with 140, including 77 solo stops.  He made plays all over the field, registering five tackles for loss, a sack, three interceptions, five pass breakups, three fumble recoveries, including a touchdown.
He also took on a leadership role as a junior. Johnson was a team captain and his teammates voted him Ohio State's defensive MVP. He was a first-team All-Big Ten selection, as well.
Once again, an Earle Bruce team finished 9-3. The team went 7-2 in conference play but still won the Big Ten outright, a full game ahead of Illinois and Purdue. The Buckeyes were ranked No. 2  in the country when they lost at Purdue, 28-23, and later fell at Wisconsin — Bruce's personal bugaboo — 16-14. Johnson and Co. beat Michigan at home, 21-7, and went to California to play No. 18 USC in the Rose Bowl. The Trojans nipped the Buckeyes, 20-17. It was Johnson's first bowl game loss.
Senior Year
Johnson saved his best for last as a senior. He had a career-high 141 tackles, 74 of which were solos. He led the Buckeyes in tackles for a second straight year. He also added five tackles for loss, two sacks, a pass breakup and a fumble recovery to his stat sheet as a senior.
He served as captain again for the 1985 Buckeyes and earned team defensive MVP honors for the second straight season. He picked up broader conference and national accolades too. Johnson ended his collegiate career as a first-team all-Big Ten selection and a first-team All-American.
Pepper's Buckeyes finished 9-3 again. Then-No. 5 Ohio State fell 31-28 at Illinois after opening the season with a three-game winning streak. Five consecutive wins later, the Buckeyes had risen back to No. 3. However, they lost 12-7 at home against Wisconsin on Pepper Johnson's senior day. The Buckeyes lost the next week at No. 6 Michigan. A 5-3 conference record meant a tie for a fourth-place finish in Big Ten play. At season's end, the Bucks went to Orlando, where they beat BYU 10-7 in the Florida Citrus Bowl.
Legacy
Pepper left Ohio State as the school's fourth all-time leading tackler, with 379. He is still in the school's top 10 in that category, at No. 6. His 190 solo tackles are also 10th on Ohio State's all-time list. Johnson's Buckeye teams went 36-12 (.750) in his four seasons in Columbus. He split the four games against his home state school, Michigan, going 2-2 in The Game, and he finished 3-1 in bowl games.
Over his final two seasons in 1984 and 1985, he and Chris Spielman combined to give Ohio State one of the country's best linebacker tandems, and perhaps the best in OSU history. He made Ohio State's all-century team in 1999. Johnson was elected to the Ohio State Athletics Hall of Fame in 2001.
Johnson's son, Dionte, played four seasons as a fullback for Ohio State from 2004-07. Dionte was a team captain in 2007, making Pepper and son the school's third father-son combination to serve as captain (Jim and Kirk Herbstreit and James and Jeff Davidson).
The League
Pepper Johnson thrived as a college football player, but his legacy in Ohio State football lore was forged with his transition the professional ranks. He has left quite the mark in professional football as both player and assistant coach.
Johnson was a second-round pick (51st overall) of the New York Giants in the 1986 NFL Draft. He experienced professional success immediately. Johnson did not start as a rookie, but contributed 23 tackles and two sacks for a defense that featured Lawrence Taylor and Leonard Marshall.
The 1986 New York Giants posted a 14-2 record and cruised through the playoffs en route to Super Bowl XXI. The Giants beat the Broncos, 39-20. Pepper Johnson was already a Super Bowl champion as a rookie.
He was a full-time starter for the Giants defense the next year.
The Giants struggled to repeat the success the team had during Pepper Johnson's rookie season. It failed to make the playoffs the next two years and lost in the divisional round to the Rams in 1989.
Pepper Johnson had a special season in 1990. He was already a fixture on Parcells' defense. He started all 16 regular season games in 1990 and finished second on the team with 115 tackles. He also added 3.5 sacks and three forced fumbles. His individual efforts led to the first of two Pro Bowl selections in his pro career.
The Giants also experienced team success in 1990. The Giants routed the Bears in the divisional round, earned a hard-fought victory against the 49ers in the NFC Championship Game, and beat the Bills 20-19 in Super Bowl XXV.
The Giants failed to make the playoffs the next two years and Johnson left the Giants after that 1992 season. He joined his former defensive coordinator, Bill Belichick, in Cleveland where he played with the Browns for three seasons. He proved a durable and reliable contributor to the Browns for his three seasons. He missed just five games over three seasons (all in 1993). He even made the Pro Bowl in 1994 after a season in which he had 95 tackles. Neither he nor Bill Belichick followed the franchise to Baltimore when the Browns relocated.
Johnson finished his playing career over the next three seasons with the Lions and the Jets. He retired after the 1998 season after a 13-year career in which he missed just 15 games total.
It wasn't all great, however. Pepper was the victim of some Buckeye-on-Buckeye crime when he took this block from his college teammate Keith Byars:
Life After Football
Johnson retired from football after the 1998 season, but he never left the game.
We may best known Pepper Johnson as one of the longest-serving assistant coaches for Bill Belichick, under whom he played in New York and Cleveland. Belichick pegged him as a former player and aspiring coach he could entrust as an assistant linebacker coach in 2000 when Belichick started his tenure with the Patriots. He promoted him to inside linebackers coach in 2001, just in time for the Patriots' first Super Bowl win.
Johnson stayed with the franchise for 14 years. The Patriots appeared in five Super Bowls over that stretch, winning three. The Patriots also posted an undefeated regular season in 2007, a season in which Johnson was coaching a defensive line anchored by Jarvis Green, Ty Warren, and Vince Wilfork.
Johnson left the Patriots after the 2013 season. He coached a year with the Bills before returning to the New York Jets franchise as defensive line coach in 2015. He coaches there today.
---
Pepper Johnson's legacy at Ohio State extends to all levels of football. He was an all-decade player in the 1980s as a high schooler. He was an All-American as a college player. He was a two-time Pro Bowler, a durable multi-year starter, and two-time Super Bowl champion as a professional player. He's a three-time Super Bowl champion assistant coach and one of the most respected defensive line coaches in the NFL. 
Few players in Ohio State's vast lore can make the claims to success that Pepper Johnson had and is still having in the game of football.