Standing in the locker room of University of Phoenix Stadium with a pair of Beats headphones resting atop a Fiesta Bowl Champions cap, Ohio State's Torrance Gibson rehashed one of the more difficult periods of his life.
"This season, it was a little bit difficult with the ankle injury," he said. "Then having to bounce back."
Gibson was a huge part of Urban Meyer's 2015 recruiting class, an extremely highly touted athlete out of South Florida that spurned the southern schools to suit up for the man who won the inaugural College Football Playoff National Championship. He played quarterback at Heritage High School, amassing ridiculous numbers that included a staggering 72 career touchdowns.
Many thought he'd contribute immediately at Ohio State, especially after he spoke with Meyer and elected to try his hand at wide receiver early in fall camp. With J.T. Barrett and Cardale Jones manning the quarterback duties — and other signal callers on roster — the opportunity for Gibson to play the position was essentially zero.
But an ankle injury hindered his development at the position, and frustrated Gibson. That, coupled with some immaturity resulting in him not taking care of his business in the classroom kept the star freshman from even dressing for some home games and ultimately redshirting.
"It was hard to bounce back, because the ankle was really in a lot of pain," Gibson said. "But I overcame it and I'll be healthy. I'll be good."
Gibson told cleveland.com's Doug Lesmerises following Ohio State's 44-28 victory against Notre Dame New Year's Day that he'll "for sure" be in Columbus next season, because he has faith in his head coach with regards to his future.
"Why would I leave Columbus? It's an easy question to answer," Gibson said. "Urban Meyer, I trust him with my future. I'm going to give him 110 percent on the field and I hope he believes in me."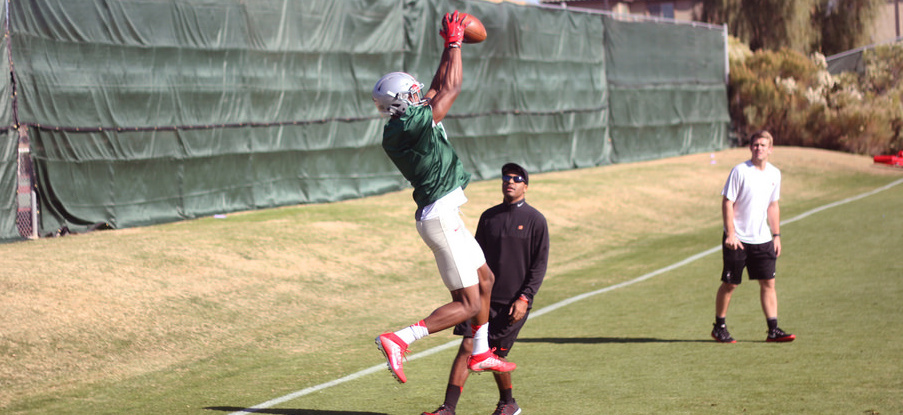 Gibson practiced exclusively with the Ohio State wide receivers late in the season and during Fiesta Bowl preparations, but said he hasn't lost the itch to be a quarterback.
"Always," Gibson said. "When I watch film, high school film, I always think about, 'Wow. It went by fast.'"
His freshman year at Ohio State did too, but there is one guy who has been in the shoes of someone struggling in the transition to life as a college student a long way from home.
"TG, he's something else. My guy," Barrett, who is from Texas, said during Fiesta Bowl week. "His first year, that first year is rough being in that transition and then moving from quarterback to receiver. He's never played receiver before like those guys that did it in high school and all that."
Barrett is correct there, as the wide receivers and H-backs on the 2015 team all played some form of the position for the majority of their life, except for Jalin Marshall, who played quarterback at Middletown High School.
A depleted Ohio State wide receivers corps after injuries to Corey Smith and Noah Brown had many believing a talented athlete like Gibson would step in and contribute as a freshman. His injury and off-field issues prevented that from happening, however.
The 6-foot-4, 205-pound smooth athlete feels he took steps in the right direction at wide receiver this past season, however.
"I made some strides. Michael Thomas, Jalin Marshall, those guys have been teaching me a lot about being a receiver," Gibson said. "Receiver just came naturally to me. I just played it a few times in seven-on-sevens, so I was just used to it."
Gibson said in his heart he is still a quarterback, but could see himself at either position in 2016.
"Maybe a wildcat quarterback, something like that. You never know," Gibson said. "Keep your eyes open."
With his mind on the future and confidence in his abilities, Gibson expects to be part of an offense that expects to experience losses at the skill positions. Regardless what spot.
"I gotta work on a few things, but I'll be ready next year. Guarantee I'll be ready," Gibson said. "During the summer, I'll be working my ass off — excuse my language — to get on that field next year."