GLENDALE, Ariz. — With his offensive most valuable player trophy gleaning next to him, J.T. Barrett sat in between his head coach and teammate Eli Apple as a Notre Dame reporter mistakenly identified him as star running back Ezekiel Elliott.
"Excuse me?" Barrett asked tongue-in-cheek.
"That's not Zeke, sir," Apple, the Fiesta Bowl's defensive most valuable player, quipped with a smile, as Urban Meyer quickly snapped his neck around with a perplexed look on his face.
The reporter eventually got Barrett's name right, but after the quarterback dashed and passed his way through and over the Fighting Irish defense all afternoon Friday, it knew the exact difference between he and Elliott. The two combined for 245 rushing yards, while Barrett tacked on another 211 through the air in Ohio State's firm 44-28 victory at University of Phoenix Stadium.
"That's what we do as far as an offensive line," Barrett said. "That's what we strive to do, is definitely dominate the line of scrimmage, those guys definitely did that, which opens up our whole offense when you're able to do that."
Ohio State did so early, with Barrett acting as the catalyst with his precise execution of the zone read and quick tosses to the outside for touchdowns on each of its first two drives of the game. The Buckeyes scored touchdowns on four of their five drives in the first half, if you omit Barrett's kneel down with under 30 seconds to go and his team leading 28-14.
"That was kind of our challenge," Meyer said. "I tucked every guy in last night. I just remember looking them all right in the eye and saying, 'We need a fast start.' That is the reason we did it."
Ohio State raced out to a 28-7 lead behind a trio of touchdown runs from Elliott, the Big Ten's Silver Football winner. He finished with 149 yards on 27 carries and four scores, a fitting and dominant end to a career that includes 12 postseason touchdowns in four games.
"I'm honored to continue the running back pedigree at Ohio State," Elliott said after. "I'm honored to be thought of as one of the best running backs to come through here. When you look, you think about the great running backs that came through here — Archie Griffin, Eddie George, Beanie Wells — just to be mentioned with those names is a dream come true and I'm honored."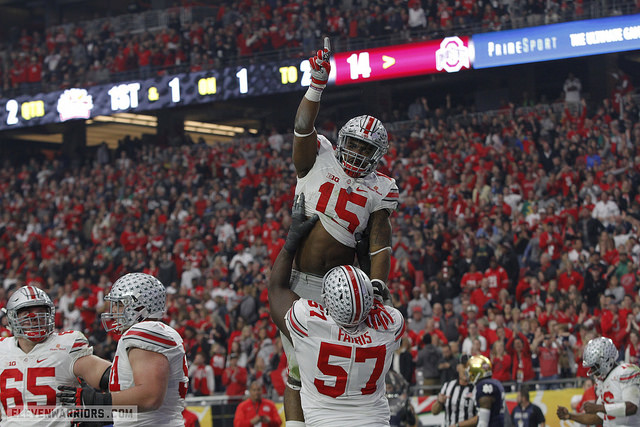 Notre Dame struck back after Barrett's lone mishap of the day, when quarterback DeShone Kizer floated a beautiful pass to the corner of the end zone to senior wide receiver Chris Brown that made it 28-21. The Irish drove quickly down the field after Barrett's arm was hit as he threw on the previous drive, and the ball fluttered into linebacker Joe Schmidt's hands. It appeared the Irish might be able to hang around for the duration, finding success against and Ohio State defense without three starters on the defensive line — Adolphus Washington (suspension), Tommy Schutt (injury) and Joey Bosa, who was ejected in the first quarter for targeting.
But a quick answer by Elliott in the form of a 47-yard scamper right up the gut of Notre Dame's depleted front seven — even further shorthanded after the loss of All-American linebacker and Butkus Award winner Jaylon Smith — put the Buckeyes out front by double digits for good.
"We were able to get some momentum going early, our kids played well, we got in a rhythm and got some tempo going," offensive coordinator Ed Warinner said.
A trio of field goals by Sean Nuernberger in the fourth quarter put the Irish away despite Kizer and star wide receiver Will Fuller's best efforts, with the early scoring hole proved too large for Notre Dame.
The first two Ohio State drives had everything that was supposed to be present all year for Ohio State. A quick pass to Michael Thomas here, a sweep to Braxton Miller for a big gain there, followed by methodical touches on the ground for both Elliott and Barrett.
"Those first two series were kind of in our mind our top plays going into the game and we were able to boom, boom, boom, jump around and keep them off balance and execute at a high level. Get a lot of people involved and then go from there."– Ed Warinner
"Those first two series were kind of in our mind our top plays going into the game and we were able to boom, boom, boom, jump around and keep them off balance and execute at a high level," Warinner said. "Get a lot of people involved and then go from there."
The Buckeyes finish out the 2015 campaign with 12 wins, the fourth consecutive year they've at least reached that mark.
Meyer is an astounding 50-4 at Ohio State, notching a national championship last season and a Fiesta Bowl crown this year, although with so much talent back 2015 was meant for something much larger.
A 17-14 loss to Michigan State in the home finale kept that from happening, but on this day, the Buckeyes weren't to be denied behind a stellar offensive group that finished with 496 total yards and went 10-of-18 on third down.
"We executed the offense the way it is supposed to be executed and that's why we scored fast and kept putting points on the board," said Jalin Marshall, who had five catches for 29 yards and returned four punts for 73 more.
Added Michael Thomas, who had seven catches for 72 yards and a touchdown: "We won the whole thing last year so we had the target on our back. A lot of wrinkles this season, we didn't really know what to expect. Like I always tell people, coach can't call the right play and call the right defense. Sometimes you just have to go out there and figure out how to win and that's what we've been doing."
A season littered with mountainous expectations following a national title, staff changes and a quarterback battle that just wouldn't die prevented Ohio State from achieving its ultimate goal of a repeat.
The indecision and inconsistencies on offense cost the Buckeyes against the Spartans, but the talent was always there — and it showed in a 42-13 trouncing of Michigan Nov. 28 and then Friday against Notre Dame, both games Warinner took over play calling duties and sat in the press box.
"We nearly had 500 yards of offense, very balanced. Nowadays, you have to do that," Meyer said. "We have too good of skilled athletes. Today's game was a little more conducive of what we're trying to be."
The Buckeye offense tried to reach the top of that proverbial mountain all year long, reaching it two games too late. It cost the team a chance at a Big Ten championship and College Football Playoff berth, but the team's final act was a pretty steady display of what this team was meant to be when the season began.
"We think we should have been (in the Playoff), but we controlled our own destiny and we shot ourselves in the foot," All-American left tackle Taylor Decker said. "I do believe we're one of the best teams in the country, but it was our own fault that we weren't in there."
That much is certainly true, but on New Year's Day in the desert, Notre Dame found out the exact breadth and talent that existed on Ohio State's offense in 2015.
"After we lost to Michigan State, that was something that we could have controlled," Barrett said. "Losing kind of put our destiny in somebody else's hands. We put that on ourselves and used it as a growing opportunity. I definitely feel like we grew for the better of this organization.
"Going up to Ann Arbor, playing a good game, then coming here to the Fiesta Bowl, great atmosphere on New Year's, putting a good game together as well. With that, we just live and we learn. I feel like we're better as a team for what happened."
For Ohio State, that's good enough.
"Those who know me, I can't let go of things," Meyer said. "I've let go of that. We just won the Fiesta Bowl."