Following a 33-day Buckeye football hiatus things are about to get real for the final time this season as Ohio State gets set to take on the Notre Dame Fighting Irish in BattleChoads Fiesta Bowl. 
Riding a three-game winning streak against the Golden Domers thanks to thorough beatdowns handed out in 1995, 1996 and 2006 spearheaded by some legendary individual Buckeye performances, Ohio State will look to keep the streak alive on the way to the program's 50th win over the four seasons. 
To get your mind right for the showdown in Glendale we welcome 11W oracles Johnny, Tim and Kevin to this week's roundtable. 
---
The biggest question heading into the Fiesta Bowl is whether or not Ohio State will play as if they're excited to be there. What should we expect from the Buckeyes? Will they be dialed in or going through the motions? Why?
Johnny: This is the aspect of the game that I'm worried about the most. My feeling is that the team thought that they had punched their tickets to the playoffs simply by being awesome, and when the Michigan State game bit them in the ass it changed the outlook on the rest of the season. It's easy to get up for a rivalry game on the road when you're good and angry about a loss the previous week, it's much more difficult to get up for what is somewhat of a letdown game against a team that the Buckeyes haven't played in almost a decade.
With that said, Urban Meyer is notoriously good at coming up with ways to get his players motivated to play against pretty much anyone, and given that Notre Dame is coached by a grouchy toad with a penchant for tantrums, the prospect of making him upset is pretty good motivator.
Kevin: I think they will be ready to play. Of course this isn't the game they wanted or expected to be playing, but it's still a heavyweight match-up and a chance to end the season with a statement. There's still plenty to be excited about and I think the players realize that.
Tim: I think it's impossible to tell, honestly. Ohio State's players and coaches will say all of the right things, but it's really hard to know how hard they prepared for this game. Once the game starts, the Buckeyes will obviously want to win, but a lot falls on preparation and if Ohio State didn't prepare the way it needed to because this wasn't where it really wanted to end up, it could be in trouble.
With Adolphus Washington and Tommy Schutt unavailable for the game, what kind of success will Notre Dame have up the middle? Do you expect Bosa to slide over and play inside for the bulk of the game? How effective can the trio of Joel Hale, Michael Hill and Donovan Munger be in holding down the fort?
Kevin: I don't think there is much of a drop off between Tommy Schutt and the three guys behind him. I think they'll be about as effective without Schutt as they would be with him, they just won't have depth. 
However, I do expect Bosa to play inside a lot. He's played inside a few times throughout the year and it's been quite successful in passing situations. I'm not sure how effective it will be against a run up the gut, but I'm not betting against Joey Bosa regardless of where he lines up.
Tim: I think Bosa may see a few more snaps inside, but I certainly wouldn't count on him spending the majority of his time there or anything like that. Notre Dame should, in theory, be able to run the ball up the middle a bit more than Ohio State is used to allowing, but Hale, Hill and Munger will make some plays, as well.
Johnny: I think that it'd be a mistake for Notre Dame to try and win the game by challenging the Buckeyes up the gut, even with the injuries/suspensions, mostly because Hale, Hill, and Munger should be reasonably effective at acting as fireplugs in the interior of the line. By that same line of logic, it'd also be a mistake for Ohio Sate to move Bosa to the middle of the line, because the lack of a pass rush could end up hurting Ohio State as the game goes on.
To be blunt, I'm simply not worried about an Irish rushing attack accomplishing much of anything through the middle of the defensive line, even with Josh Adams' 168 yard performance against Stanford in the final game of the season. I'm fully prepared for this confidence to bite me in a few days, but the Irish rushing attack has been way too inconsistent this season to give me too much pause.
In a topsy-turvy season of output from the quarterback position, J.T. Barrett eventually seized the job but didn't perform as consistently as we saw a year ago before lighting up Michigan to end the regular season. What do you expect to see from Barrett against Notre Dame?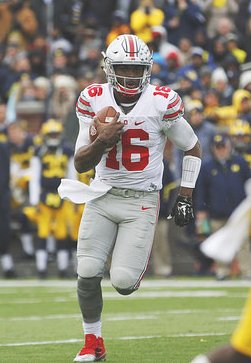 Tim: J.T. is a guy I wouldn't worry about if I were an Ohio State fan. He's coming back next season and he's likely to have prepared for this game the way he has all season. With him not looking ahead to anything, I'd expect Barrett to have a solid performance against a questionable Notre Dame secondary.
Johnny: J.T. Barrett, Distributor and Glorified Running Back. If Barrett is asked to throw for 300 yards, then something has gone seriously wrong with the running game. If he can get the ball out in the flat to the likes of Mike Thomas and Braxton 15-17 times for 225 yards or so, while also maintaining a solid 75+ yard presence on the ground, Ohio State should be sitting pretty. A lot will depend on the blocking that he gets from the offensive line; if they struggle early, Barrett and the offense may never find a rhythm and the game becomes very difficult for the Buckeyes.
Kevin: I don't believe he "lit up" Michigan. He completed nine passes for just over 100 yards - that's far from his best passing performance. Most of his damage came from the veer option that the Fighting Khakis had no answer for. I'm sure we'll see a lot more read option stuff Friday, because that's where Barrett excels and it forces the defense to account for both him and Ezekiel Elliott.
As far as the passing game, I hope to see the team air it out. Notre Dame is down two defensive backs and Ohio State has one of the best receivers in the country. I love to see Zeke get fed, but I'd really like to close out the season with a solid passing performance when we really haven't seen that all year.
Braxton Miller is playing his last game for the Buckeyes after an outstanding career that saw him fail to be much of a difference maker at receiver. Will he be a factor against the Irish? What's your favorite Miller memory?
Kevin: Believe it or not, my favorite Braxton Miller memory is the 2011 Michigan game. I think that was the game when I realized "this guy is really, really good."
From what I remember about that game (mind you, my memories are selective based on the result), he pretty much put the team on his back. As far as I could tell, he had one audible which basically meant "I'm running this myself, everyone else block," and he used it about 45 times throughout the game. Michigan couldn't stop it even though they had to know exactly what was coming.
My favorite moment was on Ohio State's last drive. It was 4th and 6 with the game on the line, and Braxton Miller got flushed from the pocket, forcing him to scramble for the first down. He got outside and had one man between him and the first down and had run out of space on the sideline. Braxton dove upwards, reaching the ball behind the Michigan defender's back, and somehow held onto the football for the first down (start at 31:13 mark). 
Of course that drive was ultimately unsuccessful, but I couldn't be too upset knowing that guy was going to be playing quarterback on an Urban Meyer coached team for the next three seasons.
Johnny: He'll likely be just as anonymous in the Fiesta Bowl as he's been most of the season, which is a shame because he's played as hard on every single play as anyone could ask of an oft-injured former quarterback. He's thrown blocks, run decent routes, fought hard on every play, and has been largely ignored in the course of the playcalling. As much as I'd like it to, that probably won't change on the last game of the season.
My all-time favorite Miller memory is Braxton beating Wisconsin on a Hail Mary that should've never worked, followed up by the most smug, shit-eating grin I've ever seen. Braxton Miller in one hilarious, awesome nutshell.
Tim: Braxton Miller has been nearly impossible to predict all season because a lot of his success seems to be pre-determined by the staff with an effort to get him involved. He's been hit or miss all season it seems like. As far as a Miller memory, I don't think I'll ever forget being in the press box at Lane Stadium this season for his first game in nearly two years when he displayed his spin move and announced his return to the college football world.
A host of juniors are likely playing their last game for the Buckeyes before moving on to the NFL. Of the names not yet confirmed to turn pro, in your mind, which player should definitely come back for another year of seasoning and why?
Johnny: Darron Lee is one of the iffiest players to go pro, but given his relatively lackluster junior year, he still has a lot to prove to NFL GMs. There are still many areas of his game that can develop, and given that he's not ideally sized for the NFL, he really can't afford to have many (if any) gaps in his game.
Tim: I think Bosa, Elliott, Bell and Thomas are ready right now. I think Lee could benefit from another year in college — who couldn't, I guess — but I also think he'd be fine right now should he choose to declare. Apple has a lot of the measurables NFL scouts are looking for with his size, speed, etc., so while he could also use another year I think he's likely to leave, as well. Marshall would probably be the one I'd say would benefit most from returning for another year. 
Kevin: Honestly, none of them. They should all go pro. There aren't many viable reasons to stay in college when you're all but guaranteed a spot on an NFL roster. But, I'll play the game. 
For me, it's Michael Thomas. In his case, I think the talent he possesses far outweighs the accolades he's earned. In my opinion, he's the most talented wide receiver in the country but all he has to show for it is a B1G third-team all-american selection. He has all-american and Biletnikoff Award level talent, I think one more year would get him a tree in Buckeye Grove.
Of course, this season didn't hurt his draft stock. If anything, it bolstered it. He's very high up on every draft board and will certainly find a home in the NFL if he chooses to go that route, but I think he has some unfinished business.
Oftentimes, a month of bowl practice affords a young player or two the opportunity to make a case for playing time and he capitalizes on it in the game (Vonn Bell against Clemson comes to mind as a recent example). Maybe it's a player like Parris Campbell who battled injury for much of the season? Who is a player fitting that mold that could make some noise against Notre Dame?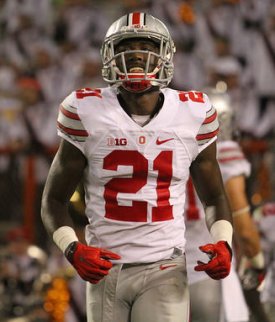 Tim: Yeah, it's probably Parris Campbell or one of the young defensive tackles — Hill, Munger or even Tracy Sprinkle. Jamarco Jones' name came up a lot this week as a young guy who impressed during bowl practice, but it's hard to see him getting on the field for any meaningful snaps in this game.
Kevin: I'd say Parris Campbell has the best chance to be that guy this year. With Notre Dame being down two defensive backs and Ohio State being rather depleted at the receiver position, I think he'll be one of the few young players to get a chance.
Realistically though, not many of the young guys will see the field Friday, simply because that means taking touches away from guys like Ezekiel Elliott, Braxton Miller, Michael Thomas and J.T. Barrett. 
Johnny: Zeke is going to get the lion's share of the carries and attention in the Fiesta Bowl, but I truly believe that Curtis Samuel will be the low key focus of this game for Ohio State offensively. With Notre Dame focusing of Elliott, Thomas, Miller, and even Marshall, Samuel has the opportunity to make a lot of noise, particularly on screens and those little pop passes that Urban is so fond of. Samuel currently owns the best YPC on the team (7.8), and while next year will truly be his showcase, the Fiesta Bowl will be his coming out party.
Beyond the potential lack of motivation, what facet of Notre Dame's team concerns you the most and why?
Kevin: Notre Dame's deep threat receiver, Will Fuller, scares me. Ohio State's defense has been rock solid all season, but about once a game it allows a big play. Big plays are Fuller's specialty.  
I'm sure there is a game-plan for him and I'm sure the secondary is prepared, but Buckeye fans know very well what a game-breaking deep threat receiver can do to a game after watching Devin Smith do it last season.
Johnny: Will Fuller is really, really, really good. At some point he is going to make a member of the Ohio State secondary look terrible, and there's a pretty high chance that it will involve him catching a touchdown pass about 50 yards downfield. If the Buckeyes can limit that type of play to the bare minimum, they should be good to go. But if Fuller hits the Devin Smith button on his cleats and starts making ridiculous play after ridiculous play, start to worry. 
Tim: Notre Dame has really talented players and DeShone Kizer to Will Fuller is as deadly a combination as there is in college football. Fuller's speed could cause some issues for Ohio State's secondary if it's not careful.
Ohio State is looking for their fourth straight win over the Irish. How does it play out? Give us a final score and game MVP prediction.
Johnny: On paper this game shouldn't be particularly close. Notre Dame doesn't have a great defense, especially against the run, and every significant Irish weakness plays in to the hands of Ohio State's personnel.
My reason for concern is that games aren't played on paper, and more than anything, the 2015 Ohio State Buckeyes have shown that they are not comfortable playing as significant favorites. This game will be a significant test of their patience and maturity, as it could take a half or more for the overall depth and talent of the Buckeyes to being to win out on the scoreboard. If there are turnovers, wasted drives, or excessive penalties, the Fiesta Bowl could slip through their hands.
I don't see that happening, but I do see this game being a struggle for at least a half. On the back of Ezekiel Elliott in his last college football game, the Buckeyes pull away in the 4th quarter, 35-32.
Tim: I picked Notre Dame to win 31-28. Bowl games are so difficult because you never really know what's going on over the course of the month leading up to them. I just think some of Ohio State's player may be looking ahead to what's next and the Irish win a close one.
Kevin: Ohio State is going to win by a lot. The seniors (and juniors) are going to go out in style.
My MVP is Braxton Miller. It's his last college game and his last chance to get the post-season win that has alluded him thus far. I think he's going to find that extra gear that he seemed to have in the Virginia Tech game.
31-13, Buckeyes.
Happy New Year, everyone.