The football coaching carousel is an annual and volatile occurrence, with top names changing zip codes and conferences once the season nears its end.
Urban Meyer lost a second top assistant in as many seasons Monday, as defensive coordinator and safeties coach Chris Ash bolted from Ohio State to officially become the next head coach at Big Ten East foe Rutgers. The news was first reported Saturday.
Meyer didn't confirm Ash's exit Sunday because it wasn't "official yet," but wasn't shy about speaking on how important the coach is to his staff.
"I love Chris Ash, he was an impact hire when we brought him in here. He's done a marvelous job of being a co-coordinator of the defense," Meyer said. "One of the best coaches I've ever been around."
Ash isn't leaving Ohio State's division, but he is leaving Columbus to start his own head coaching career after orchestrating a complete overhaul of the Buckeye defense. Meyer brought Ash in repair a woeful unit after losses in both the 2013 Big Ten Championship and Orange Bowl, and he did more than did that with his aggressive press quarters scheme.
The Buckeye defense finished fourth in scoring defense among Big Ten teams in 2014 and second this season, allowing a meager 14.0 points per game. Along with linebackers coach and co-defensive coordinator Luke Fickell, the unit is as crucial a reason as any for Ohio State's improbable run at the first-ever College Football Playoff national title last January.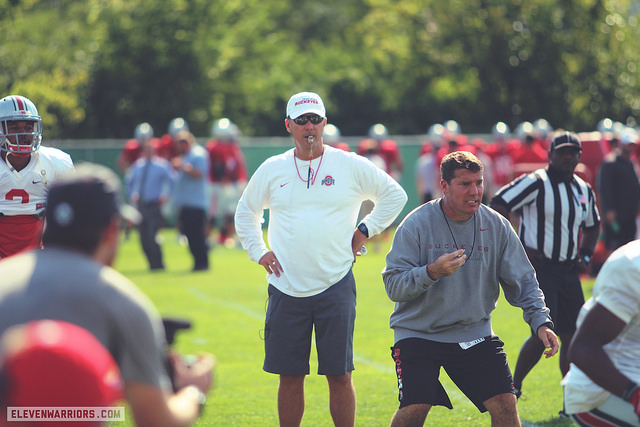 Ash's loss is arguably as big as the departure of former offensive coordinator and quarterbacks coach Tom Herman. Herman left Ohio State following the 2014 national title season and tallied a 12-1 record, American Athletic Conference Championship and a New Year's Six bowl berth against Florida State in the Peach Bowl during his first year at Houston.
It's unclear if Ash will have that sort of success in the dumpster fire that is Rutgers — the Scarlet Knights fired coach Kyle Flood and athletic director Julie Hermann the day after Thanksgiving — but the need for Meyer to find an apt replacement is obvious.
So who will Meyer phone to fill the gaping hole on his staff? We've got some ideas.
JEREMY PRUITT, GEORGIA DEFENSIVE COORDINATOR
Pruitt's old boss, Mark Richt, lost his job as head coach of the Bulldogs last week. Alabama defensive coordinator Kirby Smart is replacing Richt at Georgia, while Richt is now the head coach at Miami (FL), his alma mater.
Pruitt, 41, was a finalist for the 2013 Broyles Award as the nation's top assistant coach and has four BCS national championship rings (Alabama: 2009, 2011-12, Florida State: 2013). He's from Alabama and played football there for two seasons after transferring from Middle Tennessee State. Due to those ties, there is some speculation Nick Saban could bring him back to his alma mater.
However, Meyer could eye Pruitt's success in the SEC and try to sway him to a new challenge in the Big Ten. He did the same with Ash, pulling him from Bret Bielema's clutches after one year at Arkansas. Signs point to Pruitt staying in the south, but crazier things have happened.
CHUCK HEATER, MARSHALL DEFENSIVE COORDINATOR AND SECONDARY COACH
Heater is a Michigan alumnus, rushing for the fifth-most yards in program history in the early 70s playing for Bo Schembechler. He's been an assistant coach at 10 universities and is currently the defensive coordinator at Marshall University. And, unlike Pruitt, has ties to Meyer.
Heater was on the same Colorado State staff as Meyer from 1991-92, where he served as defensive coordinator. Before then, Heater was Earle Bruce's defensive backs coach at Ohio State from 1985-87 — Meyer was a graduate assistant on the same staff from 1986-87.
The two crossed paths again throughout Meyer's entire tenure as head coach at the University of Florida. Heater served as Meyer's cornerbacks coach, assistant defensive coordinator and later safeties coach from 2005-10 before heading to Temple and now Marshall. The connections between the two men run deep, complete with winning multiple championships at past jobs.
Heater was born West Virginia, however, but was raised in Tiffin, Ohio (h/t reader Susan). He could elect to stay with the Thundering Herd and continue coaching under Doc Holliday.
PAUL RHOADS, FORMER IOWA STATE HEAD COACH
The lone name on our list that's currently unemployed, Rhoads also has ties to Ohio State, though not directly to Meyer. He lost his job as head coach of the Cyclones Nov. 22 after seven seasons, then lost to West Virginia in the regular season finale, 30-6, to complete a 3-9 season.
Rhoads was a graduate assistant in Columbus for the 1991 season. He has coached on the defensive side of the ball his entire career save for 1994 when he was the passing game coordinator at the University of Pacific. Two years prior, in his first year at Pacific, Rhoads helped the Powercats (!) rank 20th nationally in pass defense, allowing just 152 yards per game.
Rhoads was 32-54 overall at Iowa State, but is available should Meyer show interest. One potential negative? Rhoads isn't regarded as a dynamic recruiter, which is traditionally a necessary skill for Meyer assistants.
MEL TUCKER, ALABAMA DEFENSIVE BACKS COACH
Tucker is finishing his first season in Tuscaloosa, helping put the Crimson Tide in position to compete for a national title after Nick Saban poached him from the Chicago Bears.
Seen by some as Saban's most important hire, Tucker was tasked with turning around a struggling pass defense that Cardale Jones and Ohio State torched in the Sugar Bowl last season. Alabama finished 59th in the country at defending the pass in 2014 and is 16th this season.
While the chances are slim Tucker quits working for Saban in favor of Meyer — Saban gave Tucker his first coaching job at Michigan State in 1997 — the defensive backs coach has Ohio ties. Born in Cleveland, Tucker coached alongside Jim Tressel from 2001-04, winning a national title along the way. He also won a national title with Saban at LSU in 2000 and has NFL experience not only with the Bears, but the Cleveland Browns and Jacksonville Jaguars.
Tucker, 43, is also a young, hot name in the coaching ranks just like Ash was. He's not likely to leave Alabama, but it wouldn't be surprising if Meyer made a call to gauge his interest in coming home.
DAVE ARANDA, WISCONSIN DEFENSIVE COORDINATOR
This is a bit of a long shot, considering how Aranda is in the same conference as Meyer's Buckeyes, but he's a name that creates some buzz in the coaching world.
Aranda's unit was lit up for 59 points in last season's Big Ten Championship Game by Meyer and Ohio State, but the Badgers allowed a Big Ten best 267.1 yards per game in 2015. They also led the conference in scoring defense (13.1 points per game allowed), narrowly besting Ohio State.
Aranda shifted Wisconsin's defense from a 4-3 to a 3-4 upon his arrival in 2013, but has experienced a bevy of success outside of last year's Big Ten title game.
ANTOINE WINFIELD, FORMER OHIO STATE CORNERBACK
This probably won't happen considering he doesn't have coaching experience, but Winfield's ties to Ohio State speak volumes. One of the best defensive backs in Buckeye history, Winfield won the Thorpe Award in 1998 under John Cooper.
Winfield's son, Antoine Jr., camped at Ohio State this summer trying to earn a scholarship offer, but it looks like he'll go to Minnesota. Who Meyer hires will undoubtedly need defensive backfield experience, which Winfield certainly has.