"I can't go there and take penalties for something I never did."
Ohio State is a great program. I'm just not sure how long it will take them to recover. I want a solid, grounded coaching staff with a safe environment. Where there aren't such tough questions.
That's Lakewood St. Edward high school senior Kyle Kalis in July of 2011, parroting the recruiting pitch relayed by Brady Hoke and his staff throughout Ohio. Kalis was the face of Ohio State's recruiting class until he abruptly took on the same role in Ann Arbor.
I believe the Michigan-Ohio border is now open. I think you're going to see eight or nine guys from the state of Ohio going over to Michigan this year.
While Kalis was running away from Columbus, there were several players who were running toward it - and today they beat Michigan for the fourth time in four tries. They deserve some recognition for their courage, commitment and their resolve.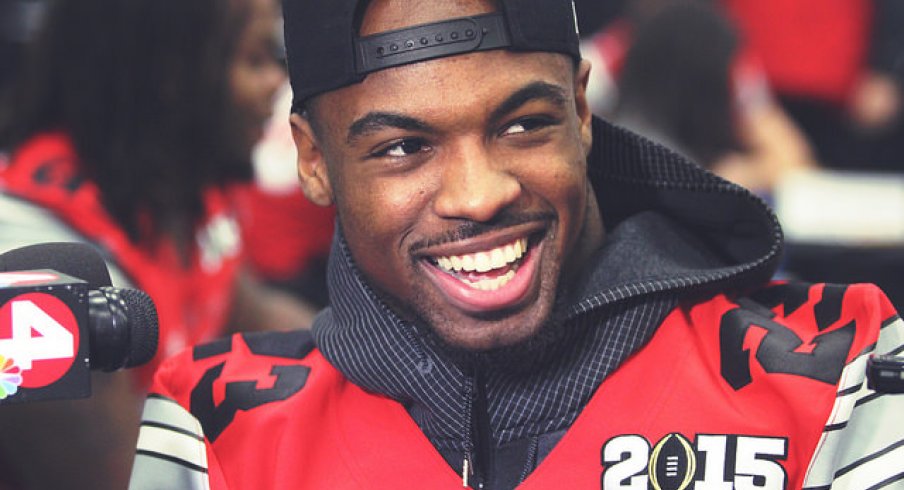 The first commit from the Class of 2012 who stayed was Joshua Perry. Warren Ball and Jacoby Boren followed him. Cardale Jones then committed, taking a year prior to college to play at Fork Union Military Academy with Michael Thomas who would pledge while Luke Fickell was still coaching the team. Devan Bogard gave his word as well.
Tyvis Powell committed the week Jim Tressel resigned. Two weeks later, Pat Elflein gave his pledge. Those players stuck with the program when it was literally the most unpopular thing to do in college football - in the face of every rumor about Ohio State being cratered by the NCAA and in spite of recruiting pitches both from and exactly like the one Kalis heard from Hoke.
Adolphus Washington, Tommy Schutt, Taylor Decker, Camren Williams, Armani Reeves and Kyle Dodson verballed after Urban Meyer was hired, and Brionte Dunn reaffirmed his commitment. They all stayed after the NCAA punished the program with a postseason ban and they're all with the program this afternoon, following Ohio State's fourth straight win over Michigan.
As for Kalis, shortly after making his switch to Michigan he gave Steve Lorenz his vision of what The Game would look like from his vantage point:
[Lorenz]: Give me your dream scenario in (the Ohio State/Michigan) game.

[Kalis]: A pancake on every play of the game, us putting up a ton of points on them and once again, a jersey drenched in red.
Here are two Kalis highlights from this afternoon where he attempted to block two of his would-be teammates:
Thankfully there was no blood spilled.
Thank you, Seniors. Your courage, commitment and resolve made today and the last four years possible. Go Bucks.