It took nearly six games, but finally, Joey Bosa executed a shrug that stuck.
Ohio State led Maryland, 35-21, in the fourth quarter Saturday at Ohio Stadium and the junior defensive end ripped around left end and took down quarterback Perry Hills. It was Bosa's first solo sack of the season that wasn't negated by penalty, and he didn't miss an opportunity to enact his trademark celebration.
There it is... \_()_/ pic.twitter.com/0oCZPkXYAb

— Eleven Warriors (@11W) October 10, 2015
"It's nice to finally get there and get it out of the way. It's been what, five games coming or six games coming?" Bosa said Monday. "I'm not really worried about it as long as our defense is playing well."
Bosa's 1.5 sacks is good for fifth-best among Buckeye defenders, behind a pair of linebackers — Darron Lee and Joshua Perry — and young defensive ends in Tyquan Lewis and Sam Hubbard. Through six games in 2014, Bosa had 5.5 sacks to his name en route to a stellar sophomore season that earned him All-American honors.
He missed Ohio State's season opener at Virginia Tech, serving a one-game suspension for violating an athletic department policy. Teams are rightfully giving him plenty of attention, throwing two and sometimes three blockers his way on passing downs. As he stated before, Bosa's not really concerned about his low sack totals as long as the unit as a whole is doing what it's supposed to be doing. He does, however, feel like he's even playing better in 2015 than 2014 despite the low sack numbers.
"I had four hurries this last game. I think I'm getting to the quarterback a lot," Bosa said. "Maybe not bringing him down, it's been pretty annoying getting there so many times and not coming up with the sack or the sack and a half, whatever it is. I think I've been playing well. I've been grading out a champion."
"He is playing better and I'd imagine you keep swinging and those sacks will come. He's certainly creating issues for the quarterbacks and they're stepping up."– Urban Meyer
He's received champion grades from his coaches since returning from suspension, but it could seem odd that someone who was an All-American last year is playing even better this season.
"Me watching myself, it's different than other people watching. They don't see what I see when I'm watching myself," Bosa said. "But that's across the board with all the other D-linemen. Coach (Larry) Johnson's amazing in the way he's working our hands and our hips and getting us better every day. It's night and day."
Bosa's efforts haven't gone unnoticed by his head coach, either.
"This time last year he was making some mistakes in run fits and missed assignments," Urban Meyer said Tuesday on the Big Ten teleconference. "We don't see those this year. Those are very few."
Bosa's 20 tackles are eighth best on the team and his six tackles for loss rank second behind Lewis. He's still getting the job done, even if that doesn't equate to sacks.
"He is playing better and I'd imagine you keep swinging and those sacks will come," Meyer said. "He's certainly creating issues for the quarterbacks and they're stepping up."
Hills burnt Ohio State on scrambles outside the pocket Saturday, running for a game-high 170 yards and two touchdowns. Ohio State's defensive line depth is also allowing for Bosa to be on the field less and remain fresh for late-game situations if he is needed — just like the walk-off sack he had at Penn State last season.
The Nittany Lions visit Ohio Stadium Saturday night.
"Probably the longest, hardest fought game I've ever played," Bosa said of Ohio State's 31-24 win in State College last fall. "Double overtime, just a really a war the whole game."
Bosa had six tackles and 2.5 sacks against the Nittany Lions one year ago, and is anxious for the chance to get after quarterback Christian Hackenberg Saturday. Hackenberg is more of a pocket passer, quite different than the more fleet-footed signal callers the Ohio State defense faced the past two weeks.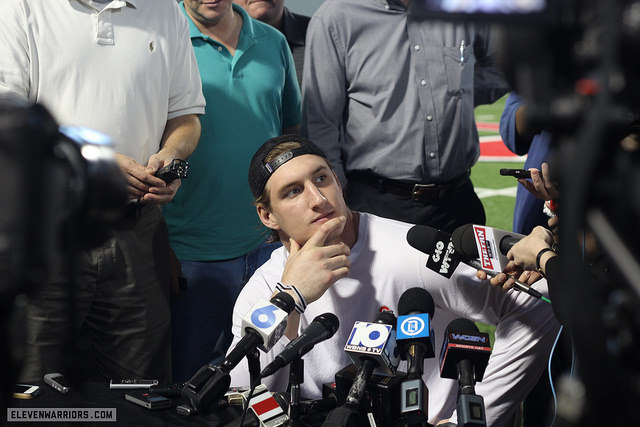 "He's a great passer, a pro-style quarterback, sit back there and he's not as afraid from pressure as the last few quarterbacks," Bosa said. "Last few quarterbacks, they see pressure, they're out of the pocket like right away. Hopefully he sits back there a little bit longer than this week."
The chances for that happening are good, though Hackenberg did rush the ball nine times for 21 yards and two touchdowns in a 29-7 win against Indiana Saturday. If Bosa and crew are able to get to him, though, it'll go a long way to deciding who comes out on top this weekend.
And, if more shrugs are displayed.
"I remember watching them their first game this year and it's nowhere close to where they're looking now. They're finally getting it together and look like a really good team," Bosa said of the Nittany Lions. "Of course, with the quarterback they have, who's being talked about one of the top picks in the draft. It's Penn State, so they're going to get their stuff together and it's always a big game."