The 2015 Buckeye offense still belongs to 12 Gauge.
You are free to disagree with that decision. You're also allowed to admire it - but wonder aloud why so many plays seem to end up with Cardale Jones running the ball laterally. It's the most futile decision since the Maurice Wells inside hand-off. It shouldn't happen.
You are free to believe the problem is not with Jones, but the play-calling - which is to say it's the coaching. It's Cardale's timing with receivers; the blame for which goes two ways. It's the right side of the offensive line, or perhaps the left - possibly the center. It's the pressure of being both the defending champ and the prohibitive favorite simultaneously.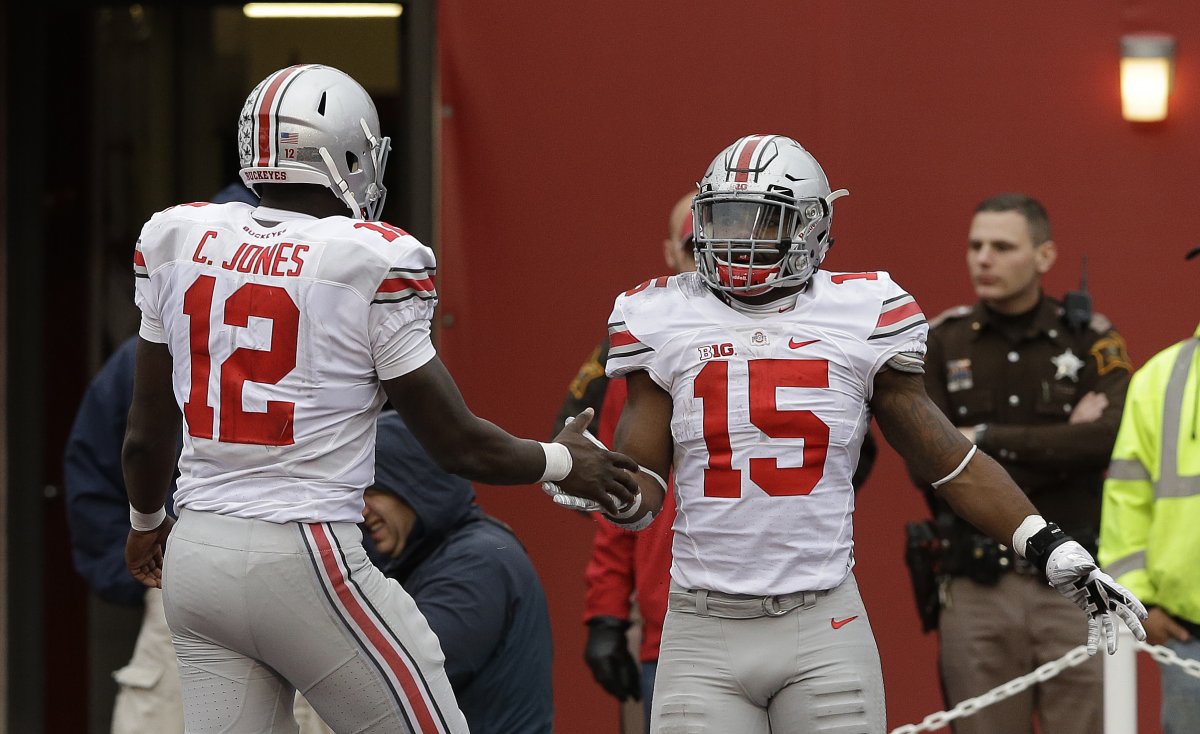 You're also allowed to not know what the problem is. But this, the largely-intact 78th-ranked FBS passing offense that set the sport on fire only 10 months ago with him as its emergency caretaker is now indefinitely Cardale's. If it is to be, it is up to he. Zeke can't do it all alone. (You're allowed to believe he can)
Cardale is like a tank equipped with a large cannon. Both are designed to move and fire north-south. They're not as cut out for east-west anything but fortunately just about every non-tank Cardale lines up with is unencumbered directionally. You're allowed to think the commander of the offense just might be trying too hard.
This wasn't the case when it was humming. When the offense first landed in his lap last November the guy he was taking over for gave him some pretty good advice as to how it should be run:
"Don't try to do it all yourself," (J.T.) Barrett said when asked what advice he would give to Jones. "With myself and Cardale, we've got people around us we can hand the ball off like I said or throw it around. We don't have to win the game so just go out there and just play his game."
Cardale's offense rampaged through the subsequent playoff games on a wave of surprise (wow, a 3rd stringer who can actually throw) offensive line cohesion (wow, the Slobs are dominant) veteran wide receivers (wow, so that's why Evan Spencer never leaves the field) and Ezekiel Elliott (just, wow). 
You're allowed to believe Cardale just needs to dial it down and become the game manager Barrett suggested he should be. He's done it before. Of course he can do it again. You're supposed to believe that. You're allowed to have doubts.
---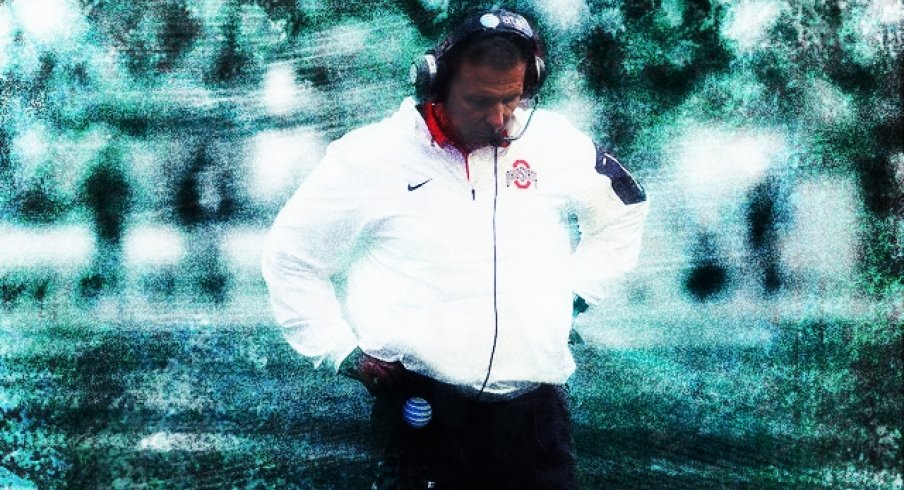 The 2015 Buckeye offense still belongs to Urban Meyer. 
You are free to disagree with that notion. You're also allowed to question it - and wonder aloud why it has shifted philosophically from what worked so well when Tom Herman was still in the coach's box. Remember, scheme is overrated. It's trust and unity that win championships. You're allowed to roll your eyes at that.
You are free to make parallels to Meyer's tumultuous post-championships history (his recurring, turbulent title defense seasons that would be the envy of any coach, anywhere) where he lost coordinators to promotions and fell in love with arms over legs.
Sure, Tim Tebow couldn't throw at all - but everyone followed him. After him came Jeff Driskel's rocket arm and significantly less success. Sure, Barrett throws well enough - and is Ohio State's first-ever sophomore captain. And now the Buckeye offense belongs to Cardale. You're free to torture yourself with parallels.
"Urban Meyer Promises Ohio State Repeat Attempt Won't Be Miserable" was the headline during the Big Ten Media Days.
You can declare the Buckeyes' perilous 5-0 start exhausting and lament over the drop-off in your personal satisfaction between blending Oregon into a delicious pâté and squeaking out a win in Bloomington. You are allowed to be miserable. Unfortunately some of you also feel free to be awful fans. That's your option. Blah.
Expectation is the root cause of all disappointments. The Buckeyes' head coach learned that lesson at Florida, twice. Urban Meyer Promises Ohio State Repeat Attempt Won't Be Miserable was the headline in July during the Big Ten Media Days. While we were overdosing on championship highlights and fantasizing over what was next, Meyer was making far less-sexy promises you probably forgot about during the NIU game:
Last year was The Chase. This year is The Grind. And not surprisingly, The Grind is nowhere near as fun as The Chase.

"I can tell you which is more enjoyable and that's the run up the hill," Meyer said Thursday at Big Ten media days. "I'm sure every player would say that, too."
He was...expecting this? He was expecting this.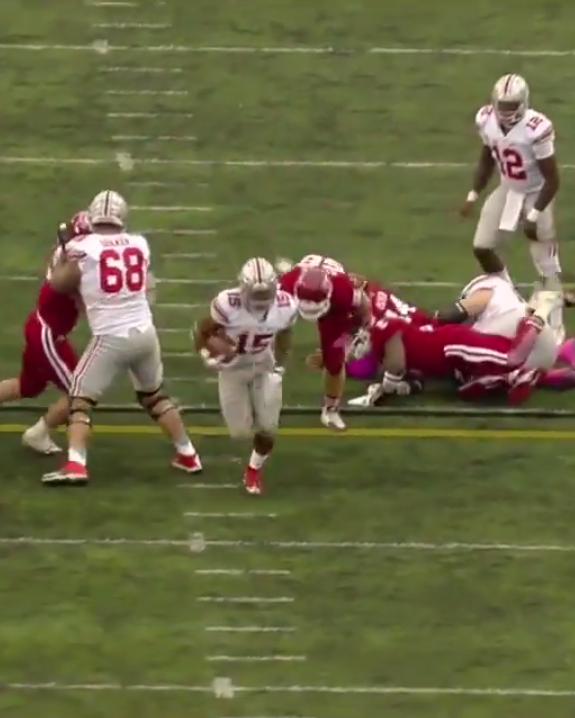 You're allowed to believe the Buckeyes aren't currently a national championship-caliber team any more than they were the first week of October 2014 when they were ranked 20th in the country. They weren't a national title team the week they played Indiana late last November either. Ohio State was sloppy, turnover prone and took bad angles defensively - in two consecutive layup games against Indiana. You're allowed to reluctantly enjoy those parallels.
The Buckeyes faced unprecedented adversity last season and The Grind has manufactured a lesser version of it to the tune of a pitiful red zone offense, plenty of turnovers and 3rd damn down. You're allowed to subscribe to the conspiracy this is deliberate in order to prepare the team for stiffer competition yet to come. Jet fuel can't melt Ohio State's 3rd down conversions either.  
Winning 18 games in a row - and 15 on the road - is rare, difficult, historic and above all else, exhausting. It's to be celebrated and cherished independent of how those wins are delivered. You're allowed to be grateful. 
This team entered the season looking like a fully-grown adult. We've abruptly realized it's really just a large, overgrown and awkward child in the throes of puberty. The difference between 2014 and 2015 is the difference between an old man and baby new year. It's still growing and should - should - crack adulthood shortly.
In the meantime you have the right to buck the trend where victorious misery is concerned. Take it from a well-respected college football historian:
.@ramzy @mgoblog After a certain level, winning becomes a curse. As I've often said: Every victory is merely a loss avoided. No joy.

— John U. Bacon (@Johnubacon) October 4, 2015
Meyer learned that lesson in joylessness before. That's why he's hell-bent on keeping winning fun, even if you choose to be miserable over football problems that are entirely fixable - and he's going to fix them with an offense that belongs to Cardale.
You are free to disagree with that decision. You're also allowed to admire it.