When Frank Beamer led his Virginia Tech Hokies into Ohio Stadium last September, not many national pundits gave them much of a chance against Ohio State. Even though the Buckeyes worked their way past Navy's deceptive triple option attack a week earlier without star quarterback Braxton Miller, those on the outside looking in didn't see a scenario where Beamer's gang of Hokies would leave Ohio Stadium and Ohio State's home opener happy, under the lights no less.
Then, it happened.
Beamer and defensive coordinator Bud Foster implemented their vaunted 46 Bear Cover 0 defense, sometimes putting as many as nine Hokies in the box defensively and daring J.T. Barrett to beat them throwing the ball. It was just his second start and stood behind an offensive line that was inexperienced and inconsistent. The results were ugly.
Couple that with Michael Brewer's unwillingness to yield on third down and plenty of hard hits from Joshua Perry, Joey Bosa and company, and the Hokies left Columbus under a chorus of A-C-C chants from their fans after posting a 35-21 victory.
It proved to be the high point of Virginia Tech's season. The Hokies slipped and stumbled their way to a .500 regular season record, dropping games to East Carolina, Georgia Tech, Pittsburgh and Boston College all by seven points or less. Beamer's gang then ended up on the wrong side of a 6-3 double overtime laugher in the season finale against Wake Forest — a game that was scoreless at the end of regulation.
Virginia Tech saved face and topped Virginia, 24-20, to become bowl eligible in their 12th game of the year, then beat Cincinnati, 33-17, in the Military Bowl. Meanwhile, Ohio State steamrolled through the rest of its schedule on the way to winning the first national championship in the College Football Playoff era, shedding the looming cloud of the SEC that sat above the sport with a defeat of Alabama, then dispatched Heisman Trophy winner Marcus Mariota and Oregon in the title game.
The Hokies blossomed into perennial powers under Beamer in the late 1990s with the Vick brothers — Michael and Marcus — electrifying defenses at quarterback and "Beamer Ball," dominating games on the other side of the ball in addition to special teams. The Hokies are just 44-23 in the last five years, though, while Urban Meyer's led the resurgence of an Ohio State program and only lost three times in his first three seasons in Columbus.
Still, one of those is to Beamer last season, and the rematch has been circled on calendars ever since the clock hit all zeros last September. A Labor Day Night affair where Hokie students don't have class and can get to Lane Stadium with plenty of liquid courage in their bodies sets the stage with a national audience and ESPN's College Gameday making a special appearance.
"We understand the challenge, we understand that games like this don't come along very often," Beamer said Wednesday, adding that the matchup is the biggest in Lane Stadium history. "There's a lot riding on it."
OPPONENT BREAKDOWN
Virginia Tech embarrassed Ohio State last season in Columbus with a terrific game plan both offensively and defensively, thwarting Barrett and the Buckeye offense by making them beat the Hokies through the air. Ohio State's wide receivers and offensive line couldn't get it done, so the outcome was not what they wanted.
Beamer and offensive coordinator Scot Loeffler used a battery of running backs while also rolling the pocket for Brewer to give him more options in the passing game. Nine players recorded rushing attempts against the Buckeyes last season, and seven guys caught passes from Brewer. Neither touchdown pass went to a wide receiver, instead to fullback Sam Rogers and tight end Bucky Hodges.
Welcome to Beamer Ball.
The Hokies saved their best game for Ohio State last season. The stats, at least offensively, support that. Where Virginia Tech ranked nationally at the end of 2014:
96th in scoring offense, 24.1 points per game
99th in total offense, 365.3 yards per game
14th in scoring defense, 20.2 points per game allowed
21st in total defense, 343.8 yards per game allowed
The Hokies continue to be one of the best defensive teams the sport has to offer, with Foster leading the way with his blitz-happy scheme and willingness to change drastically in order to get a win.
Virginia Tech forced 22 turnovers last season, including 12 interceptions to add to their already impressive nation-leading pick total of the last 14 years (271 interceptions since 2000). Star cornerback Kendall Fuller is a big reason why, the latest in a long line of family talent to come through Blacksburg before heading to the NFL.
The Bear defense put the Buckeyes in a bind last season with an inexperienced quarterback and young wide receivers who struggled to get open against press-man coverage, a staple of Hokie defense under Foster.
BUCKEYE BREAKDOWN
Though the Buckeyes will be without five starters — four skill players and All-American defensive end Joey Bosa — due to suspension or injury (Noah Brown), it's hard to find a more complete and deep team in college football this season.
As overstated as that might sound, it's not a notion many are going against. The Buckeyes return 15 starters from a team that won it all in 2014, with a pair of quarterbacks that could vie for Heisman Trophy positioning depending who wins the job, as long as they produce when the ball's not in the hands of Heisman favorite running back Ezekiel Elliott.
Attention's been circulating ever since Meyer raised the College Football Playoff trophy above his head in Dallas late on Jan. 12. The Big Ten Network completed a three-part documentary series of training camp Wednesday, one that was produced and formatted solely for Ohio State.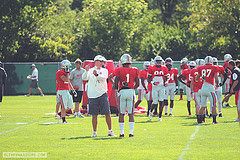 Meyer and the biggest names on his team have been all over the country, taking in the ESPY awards in Los Angeles, speaking at events in Cleveland, Bowling Green, Sandusky and Ashtabula, Ohio, and ESPN even ran its own show on Elliott's rise to fame in August.
Through it all, Meyer's maintained to the media that his message for his team is the same thing.
"We don't use the word defend. I would be disappointed if I heard that from anybody involved our program," he said this week. "It's about playing nine units strong and it's about everybody being accountable to the unit."
Ohio State also has a new toy for its offense that wasn't available last year: Two-time Big Ten Player of the Year Braxton Miller, who switched from quarterback to H-back this offseason with his surgically repaired right shoulder not fully healed. 
Meyer called Beamer "a friend" in the coaching ranks Tuesday, and even though he won't reveal who his starting quarterback for Monday will be until his team's first offensive snap, make no mistake: He will have his team ready. He and the Buckeyes feel like the Hokies took something from them last season.
"They learned the lesson last year, not learned the lesson, but they did it as well as any team I've ever been around and and that's just handling the business within your unit," Meyer said. "If our nine units play strong, we've got a real good chance of winning. If we don't, we probably won't win the game."
HOW IT PLAYs OUT
As much as Ohio State doesn't want to use the words revenge, repeat or defend either for this game or at any time during 2014, the terms will continue to flutter through the air as long as it keeps winning.
With such high expectations, perhaps the biggest storyline with the team this year outside of its quarterback situation is how the team defies complacency.
Lane Stadium is a raucous place to play — Beamer's only lost 39 times there in what is now his 29th season — and night games on national television speak for themselves.
The Hokies will be amped, but so will the Buckeyes. Regardless which quarterback Meyer uses — he also said this week he could use both — it is hard to see Ohio State dropping its second game to Virginia Tech in as many seasons.
Beamer Ball could provide some fireworks, but in the end Ohio State's depth defensively coupled with a more experienced offensive line and bruiser in Elliott make a Buckeye win likely.
---
ELEVEN WARRIORS STAFF PREDICTION: Ohio State 35, Virginia Tech 20