Mike Weber's a serious soul. Football, and more importantly, his impact at running back is life. He's his own person, a reason he isn't the always fond of getting compared to other great backs in Ohio State history.
"On the team, everybody calls me 'Baby 'Los,' Carlos Hyde," Weber said Sunday at Ohio State media day, before cracking a massive smile for the first time since beginning to speak with reporters a few minutes earlier. "I guess at running back that's my running style. Zeke is more elusive."
Ezekiel Elliott is who the Buckeyes leaned on during their historic three-game stretch to dominate Wisconsin, top Alabama and beat down Oregon in the postseason to eventually win the first-ever College Football Playoff. Elliott romped for 696 yards and eight touchdowns in those three games, becoming a preseason 2015 Heisman Trophy favorite.
Hyde won't soon be forgotten by Buckeye fans. He ran for 16 touchdowns and finished 30 yards shy of 1,000 in 2012 — Urban Meyer's first year on campus — before tallying 1,521 yards the next year as the first back ever to eclipse the 1,000-yard plateau under Meyer. The former Buckeye also added 15 touchdowns in 2013 at a stunning 7.3 yards per carry clip. He dominated defenders with enough speed and power that made him tough to bring down.
Clearly, being compared to either Elliott or Hyde is a compliment for anyone who plays the position. Weber, though, just wants to be known as himself.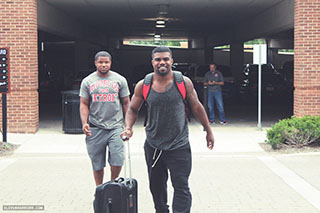 "I mean, I like Mike Weber better," Weber said. "But that's what they call me, so that's what it is."
'Baby 'Los' was blossoming at Ohio State fall camp before suffering a torn meniscus Monday, becoming the second freshman to lose the black stripe off his helmet and "officially" become a member of the team behind only Isaiah Prince.
"Being in the top-2 of doing it, being the second person to get it. When he called me up, I had a real good practice, like I was running real good," Weber said. "When he called me up it was a real good feeling."
Weber hails from Cass Tech High School in Detroit, one of three Buckeyes on roster from the institution (others are Damon Webb and Joshua Alabi). The running back's recruiting story, though, provided one of the biggest tiffs in Ohio State's 2015 class.
Weber initially committed to Michigan before flipping to Ohio State on National Signing Day, even though he said he went to bed a Wolverine the night before inking his allegiance to the Buckeyes.
Barely a day later, Stan Drayton, the man who headed Ohio State's recruiting efforts to pry Weber away from Michigan and Jim Harbaugh, bolted from Columbus to join the staff of the NFL's Chicago Bears. Chaos ensued, with Weber's high school coach Thomas Wilcher laying into Meyer and the Buckeyes for what he felt was a quick move by Drayton.
"I can tell you right now Mike Weber's not happy, Mike Weber's family is not happy," Wilcher said Feb. 6.
"He's a tough nut. He's a guy that has been doing very well."– Urban Meyer on Mike Weber
Weber went as far as to tweet he was "hurt as hell" when he learned Drayton was heading to Chicago.
All wounds were healed, though, and after the addition of Tony Alford  — who recruited Weber while he was at Notre Dame — to replace Drayton, the running back cleared the air and decided to get to work.
But he admits it wasn't easy.
"It was tough because I had a good relationship with him and everything was going good," Weber said. "I didn't really expect that to happen but it kind of opened my eyes to the situation of it being a business."
Alford reached out immediately to Weber to reassure he'd do everything in his power to make him the best running back possible, especially because he knew the initial pain of Drayton's exit would numb.
"There are business decisions that are made all the time and again it is what it is. Mike's a mature kid. He's gonna be fine. I talked to Mike and he was fine," Alford said this spring. "I think a lot of people, a lot of media was making it bigger than what it really was."
Weber is all in at Ohio State now, and was busting his tail and pushing for playing time prior to his knee injury. At 5-foot-10 and 215 pounds, he's a little smaller than Hyde (6-foot, 235 pounds) but possesses the same great feet and strong running style that got the latter drafted in the second round of the 2014 NFL Draft by San Francisco.
"He's a tough nut," Meyer said of Weber Sunday. "He's a guy that has been doing very well."
"I feel like I can compete with anybody and work hard," Weber added, though he admitted the college game is much faster than he anticipated. "I'm a hard worker, I'm going to make plays, so hopefully I can play this year."
Elliott's got the starting job locked down for 2015, with fourth-year junior Bri'onte Dunn slotted in as backup. Weber, though, isn't letting that or what he calls a "minor setback" deter him from pushing for playing time this fall.
"Coming in, playing special teams," Weber said. "(Elliott) just told me to go real hard in special teams because Coach Meyer is a special teams guy and he's impressed off special teams."
If he gets that done once he returns from injury to earn time on offense, the message is pretty simple from one of the top backs in the country coming out of high school.
"Just hand me the ball," Weber said. "I'm going to make things happen."