Rarely does a team have to be creative in finding ways to get the ball in the hands of a player with over 3,000 rushing yards and 32 touchdowns, yet seemingly here we are.
With the recent announcement that Braxton Miller will be lining up at wide receiver for his final season at Ohio State, the Buckeye coaching staff is now faced with the delightful dilemma of finding ways to include him in their already dangerous offense. Though Miller's shoulder injuries have prevented him from continuing his football career as a quarterback, his talent as a runner had always been what set him apart at the position, making the move seem like an inevitability to many.
However, regardless of how many hours he may have spent catching passes or working with receivers coach Zach Smith behind closed doors, Miller is still learning a new position. Although he's blessed with outstanding athleticism, we shouldn't expect Miller to replace a deep ball threat like Devin Smith right away, if ever. 
The nuances of route-running, tracking a ball in the air, feeling and adjusting to different coverages, and blocking (a prerequisite to seeing the field for Urban Meyer's wideouts) take years to develop. In fact, Miller won't have to look very far to see someone that took a similar path, as fellow slot receiver Jalin Marshall had to make the switch from QB to 'H' receiver (the slot receiver in OSU's offense) after coming to Columbus.
While Marshall also had to make the normal adjustment of high school-to-college, the blue-chip recruit redshirted his first year on campus, and didn't start making a real impact until the second half of the 2014 campaign. Miller doesn't have that kind of time to learn if he or the coaches hope to make any impact with this move.
With fellow 'H' receivers like Marshall, Curtis Samuel, and Dontre Wilson fighting for snaps as well, Miller may only be used in small doses, which isn't necessarily a bad thing. Until Marshall's emergence last fall, Meyer had yet to find a total package at the position since taking over in 2012. Now though, Meyer and Smith are afforded the luxury of choosing the player whose skills best translate to any specific situation.
While Miller will likely get chances to show what he can do with screen passes or the occasional deep route early in the season against non-conference foes like Hawaii or Western Michigan, it's unlikely that he'll become an aerial threat right away. However, when looking at what is asked from the 'H' role specifically when running the football, Miller already has more experience than any of his new peers at the position.
When Meyer came to Columbus and saw firsthand what kind of skills he possessed, it was clear that the same concepts called for Tim Tebow wouldn't fly for Miller. Instead, the former Florida head man and offensive coordinator Tom Herman adapted a pair of schemes for Miller that had previously been called for the 'H' receiver in Gainesville, a position made famous by star pupil Percy Harvin.
Primarily, Harvin was a threat on outside 'Jet Sweeps,' coming in motion from his slot position and taking a handoff immediately after the snap. He would then get to the outside behind two lead blockers (often a running back and tight end), and 'stretch' zone blocking from the line up front. Marshall and Wilson have found some success with the Jet Sweep in Columbus, most notably when the former scored two late touchdowns to cap a huge day against the Indiana Hoosiers last November.
Though he's never lined up in the slot before, acting as the ball carrier in this concept is nothing new to Miller. Meyer and Herman used the exact same blocking setup to take advantage of Miller's athleticism by simply removing the motion, and calling designed sweeps.
The first steps of the offensive line, all moving laterally in the direction of the play, and the blocking paths of the tight ends and running backs in both examples are not just similar, they're identical. The only difference between the 'Jet' sweep with Marshall and the 'QB Lead' sweep with Miller is the addition of a handoff. 
But the play that gave defenses more fits than any other when facing Harvin was the counter trey. First lining up in the slot, Harvin would then motion into the backfield before lining up as a running back. Though he would appear to be to be taking a handoff for another sweep, Harvin would immediately cut back behind a pair of lead blockers, often in the form of a pulling backside guard and tight end or running back.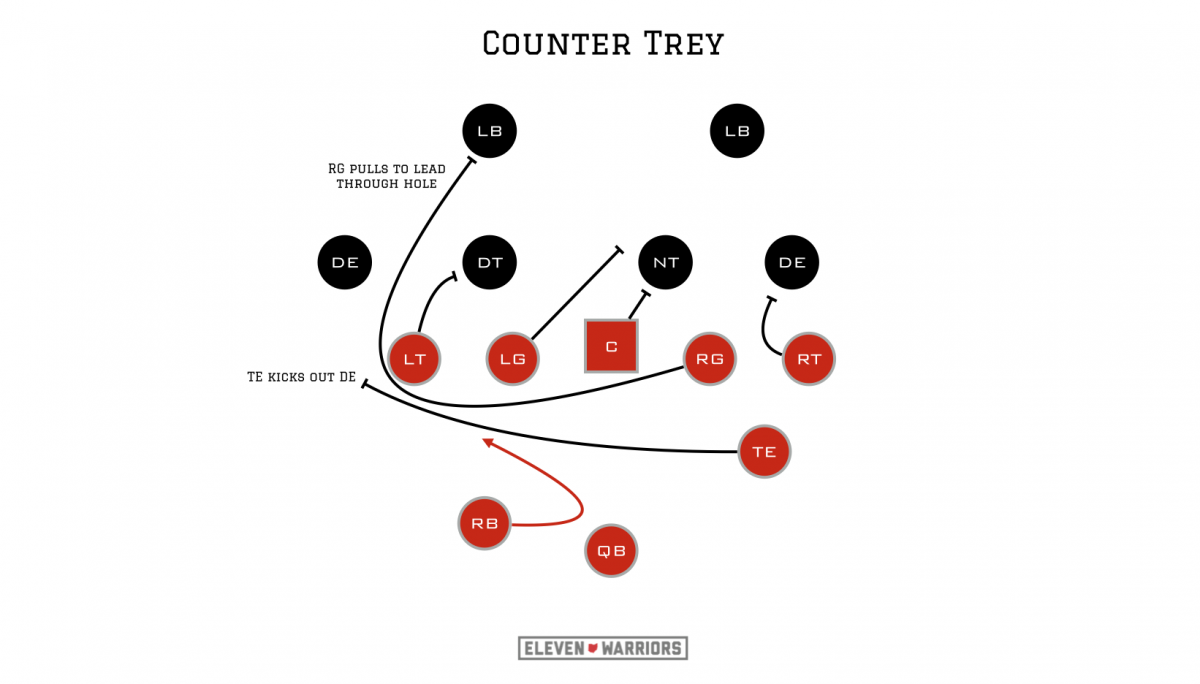 Harvin gashed countless opponents with this concept inside before breaking free downfield.
Once again, Meyer and Herman simply adapted the exact same concept for Miller, calling for the counter trey with the quarterback as the ball carrier. As you may have already guessed, the results have been devastating to defenses. Many of Miller's best highlight runs have come from the concept, surprising only the defenders left in his wake.
With Miller at QB, OSU often had to incorporate some kind of fake into the play, allowing the pulling, lead blockers enough time to set up before Miller could follow. As the running back though, the action of the handoff alone should account for that setup time, as we see in the Harvin examples. Either way, Miller should find himself in very familiar territory when the counter trey is called for him.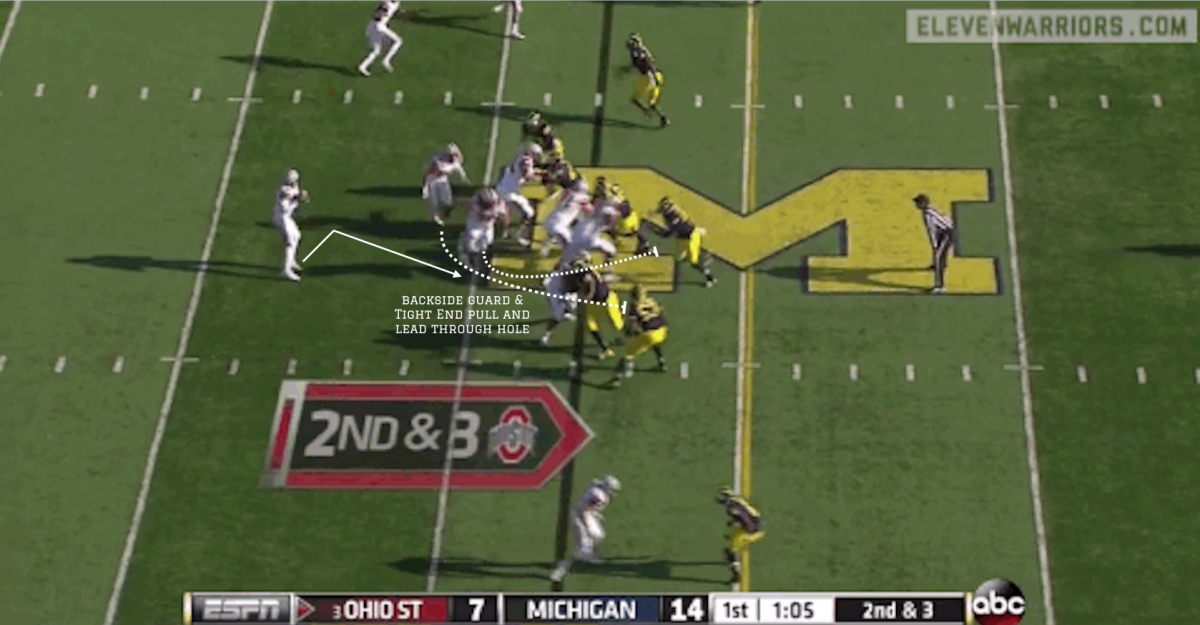 Although these two concepts present some exciting additions to upcoming game plans, Miller's presence alone may be the most dangerous, as he adds an extra dimension to any personnel package. OSU could theoretically use multiple 'H' receivers at once, combining a fake jet sweep with a screen to Curtis Samuel or play-action deep ball to Marshall. They could come out in a 5-wide formation without a traditional running back, and make the defense think a pass is coming before motioning Miller into the backfield for the counter trey. The combinations are virtually endless.
While Miller's move may seem novel to many, in reality the change is just window dressing to get yet another weapon on the field for OSU. Though they may not seem to need it with so many returning weapons, Miller picked up a huge chunk of those 3,000 yards in the same manner that he'll be asked to do so from the slot. With two excellent options left to line up under center, there is a chance we may look back on this decision some day and wonder how it wasn't made sooner.