Hey, did you hear Braxton Miller is transferring from Ohio State?
Of course you heard that. If you listened to anyone on the Internet, Braxton Miller's future was up in the air for months, no matter what he or anyone at Ohio State said.
Those rumors, which have been prevalent since August, are at last on life support. Miller told athletic director Gene Smith he wasn't leaving, and this week Urban Meyer said the same thing. If Miller were going to play at another school as a graduate transfer student, he would have done so during the winter to become more accustomed to the new program. If there was ever a chance he would finish his college career with a different team, there isn't anymore.
Now that this persistent rumor is in its death throes, we have two choices before us: stop talking about this nothing-burger or give it a proper eulogy. I choose the latter.
Harmless at First
The first ever message sent to suggest Braxton Miller would transfer from Ohio State was sent in August 2010. Sports Pickle, a noted sports humor site, used Braxton's commitment to take a shot at LeBron James:
He'll probably transfer to Miami. RT @KingJames #TheOhioStateBuckeyes has done it again with the signing of Braxton Miller. QB at Wayne(OH).

— SportsPickle (@sportspickle) August 29, 2010
All was well: between 2010 and 2013, only ten tweets with the keywords 'Braxton' and 'transfer'/transferring' suggesting a transfer were sent. (Apparently, far more people cared about Toni Braxton's wire transfer legal issues.)
A couple were in response to 2011's Walrusball; most came during Kenny Guiton's surprising Sept. 2013 performance. Few were serious.
Patient Zero
Save for the occasional April Fools gag or delusional Auburn fan, the idea of Braxton Miller transferring was seen as a joke. Even when he re-injured his shoulder in August 2014, few people were calling for him to leave.
It wasn't until October when J.T. Barrett showed he was a capable quarterback that rumormongers started to spread the idea that Braxton would split town or refuse a position change.
The Braxton Miller or J.T. Barrett in 2015 storyline is gaining some steam. One scenario I wouldn't rule out: Miller uses graduate transfer.

— Ben Axelrod (@BenAxelrod) October 4, 2014
Braxton has 4 options: 1. Compete w/ JT, switch pos. if loses 2. Switch to RB/WR now 3. Transfer to play QB 4. Go to NFL. Which do u see?

— LostLettermen.com (@LostLettermen) November 11, 2014
These weren't the first messages to seriously suggest a transfer, but they had consequences. Hasty, half-assed articles like "The writing is on the wall for Braxton Miller to transfer" burbled up on no-name blogs. And as Barrett continued to excel, the chatter intensified.
Rumor mills with slightly more gravitas picked up the story. Pro golfers and FOX Sports figureheads offered unsolicited advice for Braxton. Newspaper hacks demonstrated keen wit, and many strong takes were shared.
Cooler heads tried to defuse more ludicrous rumors like Miller going to Michigan in 2015, but to no avail: Miller was headed somewhere, anywhere, just not Ohio State.
Talk, Talk, Talk
In the last year, over 15,000 tweets have been sent about Braxton Miller transferring. 94 percent of them came in a three month stretch from November 2014-January 2015, and 80 percent came in three two-day stretches.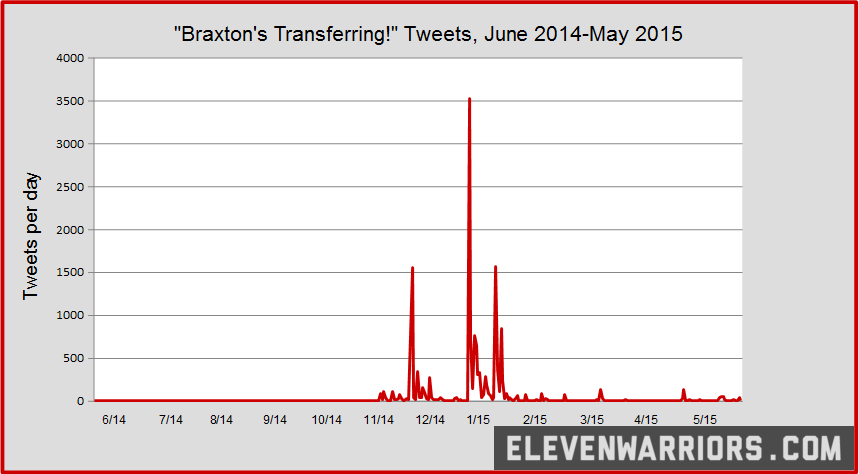 That's either the world's scariest EKG or a chart of all tweets containing the keywords 'Braxton Miller' and 'transfer'/'transferring' from June 1, 2014 to May 30, 2015. As you can see, there are three major spikes in the Braxton speculation.
The first spike came on November 25-26, immediately before Thanksgiving. On the /r/CFB subreddit, an Oregon fan with "insider info" spilled the beans on Braxton's upcoming transfer to Oregon:
I have multiple sources telling me that Urban has told him they will be going forward with Barrett next year. They wanted to give him time to make a decision. Braxton called Oregon to engage with Mark Helfrich and Scott Frost. Frost went to Ohio during our bye week (week before last). Nothing is done or imminent with Oregon.
The report was refuted within a day, but it prompted a dozen news articles. The putrid Matt Hayes baited readers with an anti-Meyer headline and recklessly named four other destinations for Miller. Arguments about who had the bullshit scoop first abounded.
<----- reported this yesterday @ocnnreport: Report: Braxton Miller to Transfer to Oregon Next Year

— Atlanta Sports Guy (@Atlantasportguy) November 26, 2014
The next spike came a few days after Christmas, on December 28-29. A writer for 247Sports' Duke site claimed sources told him Miller "has expressed interest in transferring to Duke". A couple days later, a Florida State beat reporter said Braxton was considering FSU. Reports for LSU followed, and it turned into a huge story. All-around bad person Skip Bayless gave it the usual thoughtful treatment on ESPN.
To make matters short, Urban had conversations with Braxton about his future, but expected him to return. Miller continued to say nothing publicly, since anything he did would be used against him.
No more smoke was produced, but the lack of a second refutation kept the rumor alive.
BRAXTON MILLER HAS BEEN CONNECTED IN TRANSFER RUMORS TO AT LEAST 49 OF 65 POWER CONFERENCE SCHOOLS.
The last spike came in mid-January. Florida State made a final push for Miller, including one of its players publicly recruiting him and an adult film star implying she'd make it worth his while to come to Tallahassee. Not to be outsleazed, a former Oklahoma defensive made an even blunter appeal for the Sooners.
The wooing was of no use; the next time Braxton spoke was on Jan. 24, at Ohio State's national championship celebration, where he said "we've got another year to win a national title." This affirmation didn't end speculation about where he was going, but no more was he in the national conversation.
I've Been Everywhere, Man
There are 65 schools in Power 5 conferences. Braxton Miller has been connected in transfer rumors to at least 49 of them.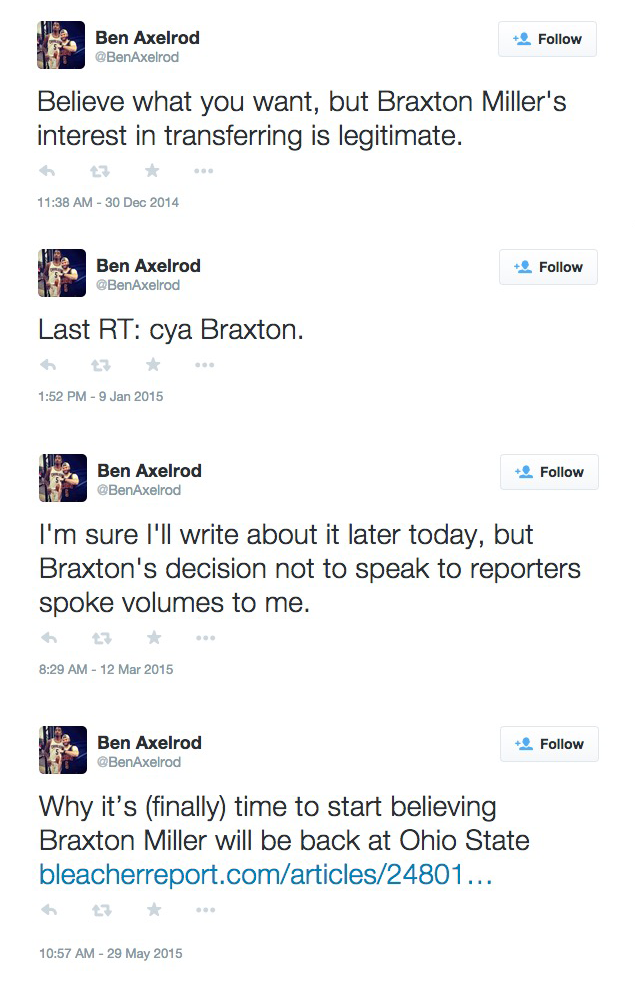 Here's a partial list of places to which Miller was considering or should consider transferring: Alabama, Auburn, Arizona, Arizona State, Arkansas, Boston College, Clemson, Duke, Florida, Florida State, Georgia, Indiana, Iowa, Iowa State, Kansas, Kansas State, Kentucky, Louisville, LSU, Maryland, Miami, Michigan, Michigan State, Minnesota, Mississippi State, Nebraska, Notre Dame, Oklahoma, Ole Miss, Oregon, Oregon State, Penn State, Pittsburgh, South Carolina, Stanford, Syracuse, TCU, Tennessee, Texas, Texas A&M, Texas Tech, UCLA, Utah, Virginia Tech, Wake Forest, Washington, West Virginia, Wisconsin and Ohio State.
Ohio State's inclusion on the transfer list is not a mistake. A site connected to Sports Illustrated asked "Which 10 schools could Braxton Miller transfer to?", and on this groundbreaking list OSU was the tenth school. I'd usually let this slide, but people who turn a top ten list into a ten-part slideshow don't deserve the benefit of the doubt.
Some of these schools hardly register; the one guy to suggest Wake Forest was admirably tongue-in-cheek. Others, like those begging for Kansas or Boston College, were painfully earnest.
Those aren't the only schools Miller was rumored to attend: Houston, Akron, Miami (Ohio), Dayton, Youngstown State and "some FCS school" were other potential locations. Given enough time and access to the right message boards, one could probably find pitches for every school from Columbus to Woolloomooloo.
This much is clear: never in the history of college football has there been a more widely coveted transfer than Braxton Miller.
Lessons Learned
There's been some pretty bad behavior on display through this whole saga. Even now, some fans are convinced Miller is leaving and annoyed he's taking this long. Others are as patronizing as can be:
@BruceFeldmanCFB Braxton not transferring is the worst move I've seen in a long time.

— Lucas Fulmer (@lucasfulmer) May 26, 2015
Let's remember whom the college football world was talking about the entire time: a man who has lived his entire life in Ohio, one who committed eight months before signing day, who enrolled early and got a Buckeye tattoo before he even got to campus, who has a child in Central Ohio to take care of.
Braxton Miller has shown unprecedented loyalty to his team, but his consistent statements that he would be back were never accepted at face value by the public or some media. Whether through some combination of cold feet on Buckeye fans' part or the refusal to take no for an answer by other fans, the transfer rumor simply would not die.
No more. It's done. At long last, it's dead.