As long as Gene Smith's at Ohio State, expect there to be football in Ohio Stadium.
"The thing that would happen, and it would have to be after me because I would never allow it to happen, is if someone would say, 'OK we can no longer invest that number into the annual maintenance of the facility,'" Smith said Thursday in an interview with Eleven Warriors. "I just don't think that way."
It might seem eerie to consider the Buckeyes taking to the gridiron at any place other than The Horseshoe, but college administrators always have to be forward thinking.
That's why the decisions made by Andy Geiger, Ohio State's athletic director prior to Smith from 1994-2005, are essential to the upkeep and push to keep a place like Ohio Stadium operational.
"The stadium renovations that Andy, my predecessor did, and the annual maintenance things that we do, we're spending, in the aggregate it'll be somewhere around $7 million," Smith said.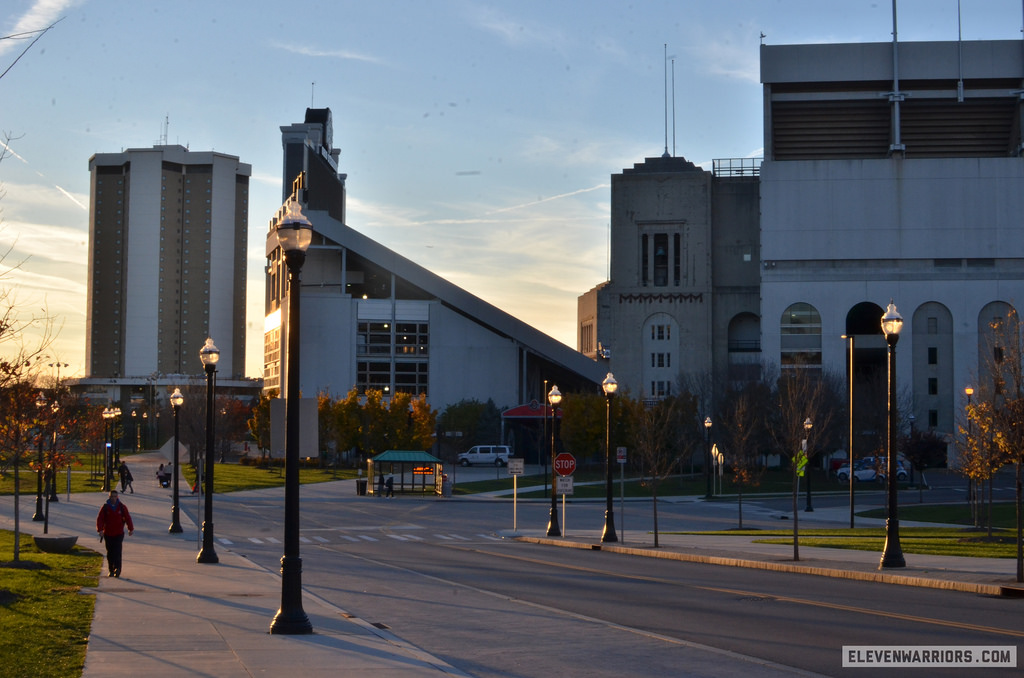 Geiger headed the facelift in 2001, which cost a bit more than $194 million and made the once portable south stands permanent.
Smith was instrumental in adding 2,522 more seats prior to last football season, a project that cost the university $13.7 million. Photos of the renovation process, which created a tunnel effect for players of both teams, can be seen above.
"We have a great facilities team, we have a great annual maintenance plan, I think that's going to last for a long time," Smith said.
Built in 1922 for an original price tag of $1.3 million, The Horseshoe's current capacity sits at 104,944, fourth highest in the country. It is tied for ninth on the list of oldest college football stadiums with the Rose Bowl and Vanderbilt Stadium, so much like anything else, it takes a considerable amount of coin to keep looking sharp.
"Did $3.4 million last year when we stripped the cement, take out the seats, strip the cement, sand blast it, fill all the cracks, all of the little pores things, we sealed it," Smith said. "Next year we'll do it again in the upper areas."
Smith echoed what associate athletic director for facilities Dan Patko said a year ago in regards to further expansion, that it's been brought up but never really explored.
"We have done a few studies for premium seating and things like that, but we really haven't studied it that closely," Patko said last May.
"I haven't even thought about any other configuration that we would create seat-wise," Smith said Thursday. "I think when we added the new seats, I think we were very sensitive to the architecture of the stadium, working with the historical society. I don't have a vision to add any more seats at all."
Ohio Stadium is known to be one of the loudest venues in college sports, a worthy setting for America's favorite collegiate sport. So worthy, Smith said, that it made sense to hold concerts over the spring and summer. The Rolling Stones are scheduled to perform May 30, while the Buckeye Country Superfest is set for June 20-21 and One Direction visits Aug. 18.
"Years ago we said we can't have this asset sit here, and fortunately for us our guys in analytics did a marvelous job of staying on it, keeping on it," Smith said. "And then when stadium concerts came back it was in the mix, a la Rolling Stones."
But as the stadium gets older it will likely require more and more money to keep intact. Smith, though, said not pumping out the cash to do that would be foolish.
"Somewhere along the line, someone might make the decision, 'No we're not going to do that.' To me, that would be a huge mistake," Smith said. "It's an iconic facility, it's on the historical society deal."