Dear Off-Season,
Please don't suck.
I mean, I guess I could just leave this letter at that, but I feel like I should maybe explain myself in a little more depth.
It's bad enough that we have no football for seven more months—that's more than half a calendar year!—but all I'm asking is that you don't make it worse. You're already pushing it with the whole Stan Drayton-to-the-Bears thing and the Marc Loving suspension that isn't being called one for some reason.
Just…let me stop you right there. I'ma let you finish, but I just want to say a few things first.
We're coming off one of the most incredible seasons we've ever seen. It started off with a lot of promise and before the season even started it seemed we had to adjust expectations from dreams of a College Football Playoff appearance to maybe just a pretty good bowl game appearance. And things started off that way with a struggle against Navy and a home loss to Virginia Tech.
Then J.T. Barrett happened.
The redshirt freshman played so well that some people actually forgot that Braxton Miller is a two-time conference player of the year. Fans were shuffling Miller off to Oregon, Florida State, LSU and various other places seemingly without any remorse whatsoever. Even to Duke. DUKE! People were willing to let Braxton freakin' Miller go finish his college career at Duke. SMH.
Barrett took us into Happy Valley and East Lansing and came away with wins. He led our Buckeyes back from behind against our hated rivals from the Mitten State. Then his ankle snapped like a dry twig and we were all like…"WELP!" It was like we were back in the pre-season, hearing about Braxton's shoulder all over again.
But we didn't know Cardale Jones would be who he is.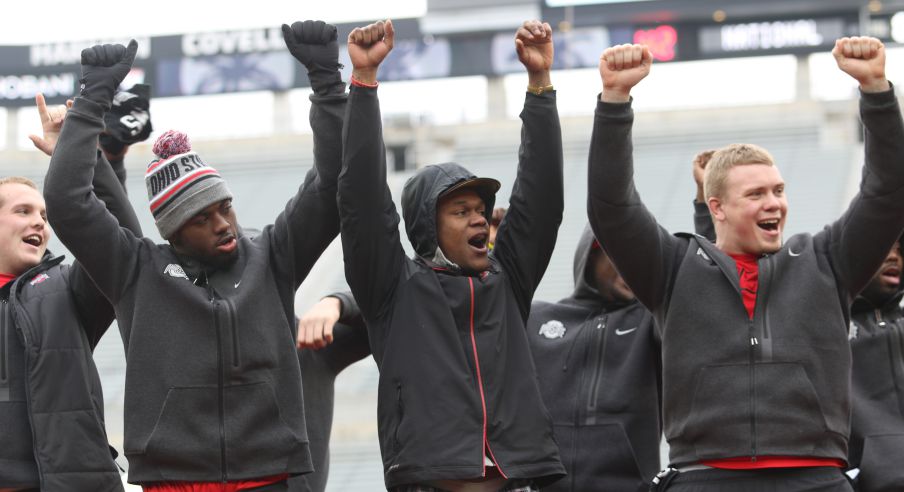 All King Cardale did was play well enough in three games that seemingly more than half of Buckeye Nation is totally OK with him starting over two guys who just about won the Heisman Trophy. Yeah, really. Oh, you were sitting out hurt instead of totally dominating the last game while some other guy did? We want the other guy!
That's what this season did to us.
And we enjoyed it. We really did. It was so unexpected and improbable and so damn joyous that most of us still haven't come down from the high. And we don't want to, so please…just don't suck, off-season.
We've had terrible off-seasons before. We don't want that. We are not ready to give up our high.
So please, Mr. College Football Off-Season, no bad news. Please spare us suspensions, arrests or career-ending injuries. We've had our fill of scandal. Let someone else have a turn. We just want to bask in the glow.
That's all. Just please don't suck.
And if I may be so bold as to ask for one more favor…?
Please go by quickly.
Thanks.
Your friend,
Michael Citro