National championships do something funny to time…they freeze it.
Seasons come and go. Fans enjoy them for what they are, and then they move on. Of course certain games, players and plays are remembered, that's part of the fun of rooting. But, national championship seasons…those are the ones visited again and again. They're the sum total of shared moments frozen in time until fans don't have any time left.
In 2002-03 I was a high schooler. Too young and dumb to realize what fell in my lap as Cie Grant threw Ken Dorsey to the ground and players threw their helmets into the air. I screamed, I yelled, I commandeered kitchen pots and ran into the street banging them together as Hang On Sloopy played out the front door.
It was a moment I'll never forget. But, one I took for granted.
It was the Buckeyes' first title since 1968, but what did that mean to me? I was 17 and would live forever. In that moment, I had no appreciation for the fact that fans alive to see the last championship waited more than double my lifetime to see another.
While it hasn't been 35 years, the last 13 put what happened on Monday into perspective. One year without a title turned to two, two to five, five to ten and ten to twelve. The time away from the mountain-top taught Buckeye Nation a valuable lesson: for even the biggest of big time college football programs national titles aren't a birth-rite. Seeing one, let alone two in a lifetime is right-time, right-place rare air.
That's why fans hang on to national championship season memories with a death grip. It's hard to know when, or (worse) IF they'll ever witness them again. Need proof? Pop your head into any sports bar in Ohio. Chances are there's a picture of Tressel hoisting the crystal football, a framed image of Krenzel perched on the shoulders of fans, or a photo of Clarett pulling away from defenders.
These totems are kept to remind of a time when the Buckeyes beat the odds, when the Buckeyes seemed unstoppable, when the Buckeyes delivered...everything.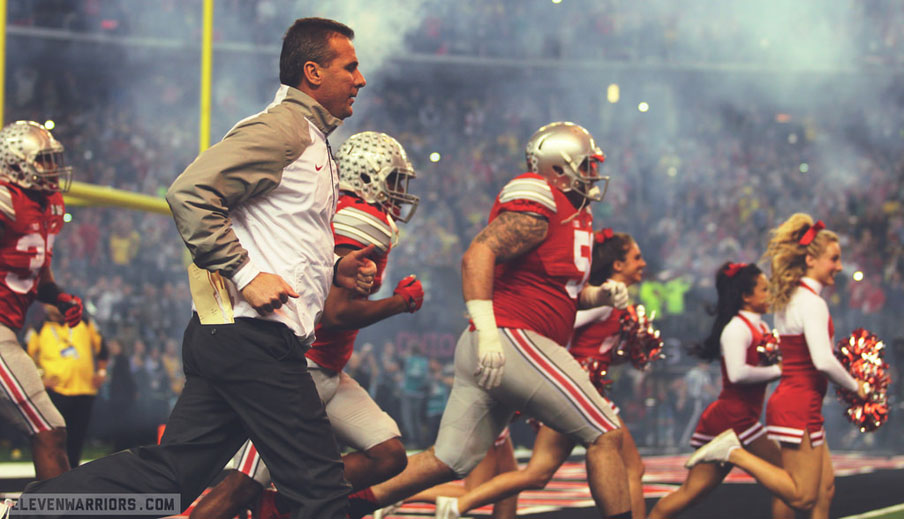 That's exactly what the Scarlet and Gray did this week. They gave you the ultimate gift: a story that will live on until you're done living. You'll always have Holy Buckeye and The Call, but this 2014 team submitted a new set of memories ready to be put on ice and preserved for eternity.
You'll remember where you were when all was lost, when all was truly lost, when Thomas made the catch, when JT turned it on and when Bosa shut it down. You'll remember how it felt when Sparta fell, No.16 fell and Cardale stood. You'll remember Devin devouring the Badgers, Spencer dialing it up and Zeke dialing it in. But most of all you'll remember the incredible feeling this team gave you when it was all said and done.
So pop the champagne, light the cigars and tell your favorite sports bar to clear some room on the wall.
There are a new set of memories to freeze in Ohio.