DALLAS — Fresh off a monumental win against top-ranked Alabama in the Sugar Bowl, Urban Meyer, filled with the kind of joy that can't fully be described by words, nearly sprinted out of his postgame press conference to go watch film of Oregon.
The coach had just learned how Oregon, Ohio State's upcoming opponent in the National Championship Game, dismantled the defending champion Florida State in the Rose Bowl.
"I gotta go," he said, smiling. "We gotta go get ready for that one."
2015 NATIONAL CHAMPIONSHIP
#2 OREGON (13–1, 8–1 PAC-12)
ROSTER | SCHEDULE
---
8:30 PM – MONDAY, JAN. 12, 2015
AT&T STADIUM
ARLINGTON, TX
---
ESPN | VIEWING GUIDE
Of course, Meyer was kidding. But it kind of defined what's been a memorable season for the fourth-ranked Buckeyes, a campaign of many obstacles that's been met with the exhilaration from overcoming them. 
On Monday night against the Ducks at AT&T Stadium near Dallas, "The Chase," as Meyer and his team call it, for a national title reaches a climax.
"We talk quite often about when you have that opportunity to step into the batter's box you get one swing. You step into a prize fight you get one swing, and the great champions don't miss," he said.
"That's the mentality that we've preached for many, many (years). Really forever. That's the way we train you. That's to be prepared when that swing, that opportunity arises to make that play. You'll be ready."
Oregon Breakdown

On offense, Oregon's success begins and ends with Marcus Mariota, its ultra-talented quarterback and the Heisman Trophy winner.
Off the field, Mariota is quiet and reserved, but he's as flashy as any player in college football. He's thrown for 4,121 yards and 40 touchdowns. But what makes the Honolulu native so special is how he rarely makes mistakes on the field. This year, Mariota has tossed just three interceptions and, over the course of his career with the Ducks, he's thrown 103 touchdowns to 13 picks. Those are video-game kinds of numbers.
While Mariota is the best quarterback Ohio State has seen this season (and, perhaps, in the last three years), Oregon's prolific pass game will have to carry on without two of its top three wide receivers in Darren Carrington and Devon Allen.
Carrington has been suspended for failing an NCAA drug test, according to multiple reports, and Allen suffered a knee injury in the team's 59-20 Rose Bowl win against Florida State. Combined, the two account for nearly 1,400 yards and 11 touchdowns. 
Nevertheless, coach Mark Helfrich said the Ducks will "ride" on.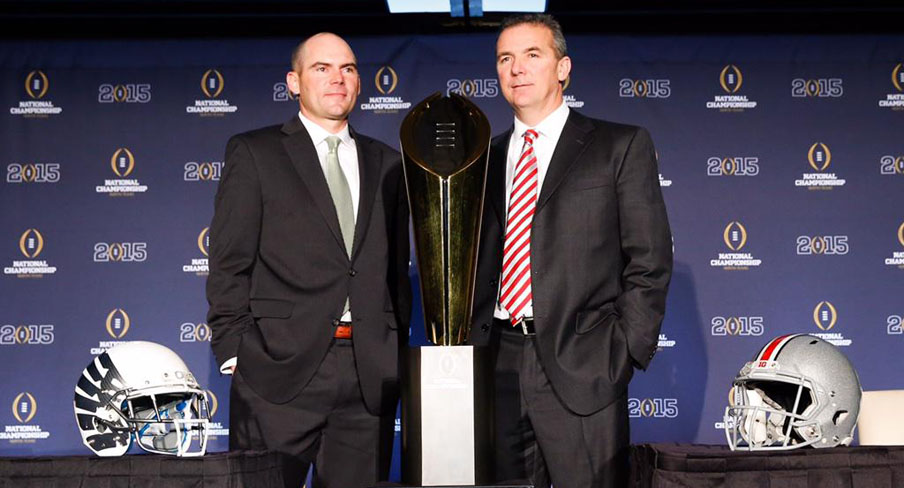 "We have a bunch of highly skilled guys that are very confident in what they're doing," he said. "Marcus is confident in those guys and we're confident in those guys."
Added Mariota: "It's tough, but we'll have to get the next guy ready and get ready to play."
While Oregon's up-tempo style of play, notorious for wearing down opposing teams, might play a role Monday night, the Ducks are reluctant to put immense stock in it.
"I think tempo is very overrated," Helfrich said. "I think it's our players and our assistant coaches that do a great job of coaching those guys up. It's a fad in a lot of people's minds."
According to Meyer, though, fatigue is a real concern for a defense that is perhaps the best Oregon has seen this season.
"I think there's a misunderstanding of their culture where they play fast. They do everything fast, the way they handle their business ... The good thing is it's not completely foreign to our players because we operate at a good tempo, as well, but this one is different," he said Sunday morning.
"We have the shot clocks up, we have a lot of emphasis about defeating the demon, the demon that takes place when fatigue takes over and that's real and that's something that we've addressed really hard. But ultimately, it comes down to those young guys out there playing tomorrow night."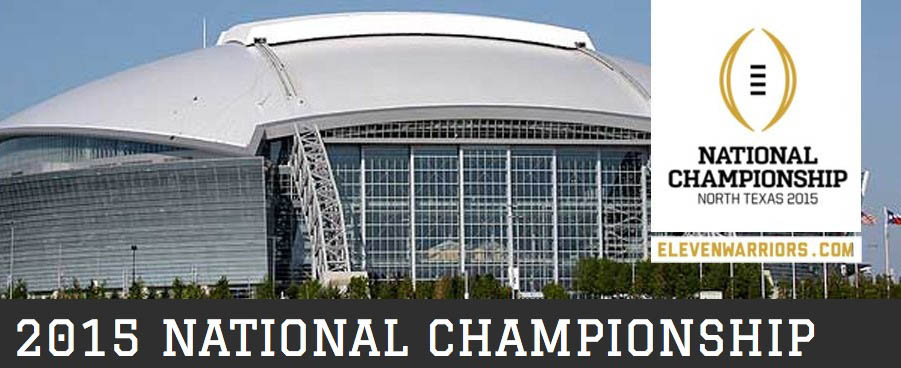 In its last two games, Ohio State's defense has shut down Heisman Trophy finalists in Wisconsin running back Melvin Gordon and Alabama wide receiver Amari Cooper. It's unclear, of course, whether Ohio State can subdue Mariota in a similar manner.
"They've got a lot of guys that really control the line of scrimmage. They're going to play their defense, and they're very good at it," Mariota said. "For us, we've really got to try to execute our game plan and see if we can move the ball."
For Oregon, as has been the case in past years, its defense is suspect. The Ducks are the definition of a bend don't break unit, surrendering 422 yards a game (86th nationally) but just 22 points a contest. 
The Ducks will have to contend with the Buckeyes' powerful run game and the cannon for a throwing arm of Cardale Jones, once the team's third-string quarterback. 
Helfrich said Ohio State has tailored its offense for Jones, who will make just his third-career start.
"I think that's something that they do regardless of who's in there, and now it's just a matter of you're always trying to play to your strengths, particularly at quarterback," he said. "That guy has to have total confidence in what he's doing ... I said the other day, kind of like Cam Newton was at Auburn of the motion, movement, hammer run game, and take shots in the passing game. They'll be able to adapt a few more things given a little extra time to prepare."
And if sophomore running back Ezekiel Elliott, who's quietly having a historically productive season for the Buckeyes, gets going like he did when he gashed Alabama for more than 200 yards, Oregon might be in some trouble. 
Buckeye Breakdown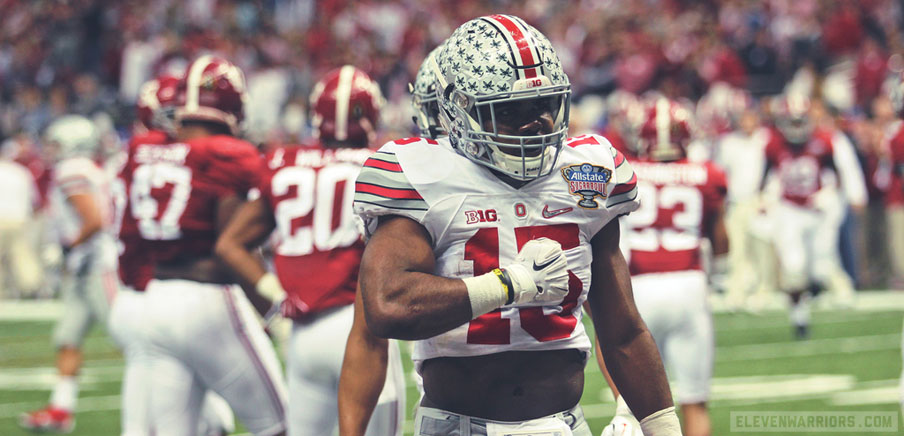 When Meyer officially took over Ohio State on Jan.1, 2012, he said he sent everyone associated with the Buckeyes — from players to assistant coaches to support staff members — the following text: "The Chase is on."
For the last three seasons, The Chase has defined the Buckeyes, which long for a national championship like it were a lost relic. On Monday, The Chase becomes real. The quest, of course, has not been without bumps in the road. In some cases, Meyer and Co. have had to climb mountains. 
In 2012, of course, NCAA sanctions barred them from the postseason and neutered a 12-0 finish. In 2013, after winning a school record 24-straight games, Ohio State collapsed in the postseason against Michigan State and Clemson. The losses were so devastating that Meyer vowed to restore what he defined as a lack of "clarity of purpose."
This year looked derailed from the start after three-year starter and preseason Heisman Trophy candidate Braxton Miller suffered a season-ending injury 12 days before the opener against Navy. A humiliating loss to unranked Virginia Tech at home in Week Two brought life to the notion that the Buckeyes couldn't mount a championship campaign without Miller.
"You are going to hit storms ... there's going to be events that take place, how do you respond to events. You can't control those. There's things that are going to happen that are from bad to awful," Meyer said.
By that dichotomy, bad Ohio State meant tribulations like losing Miller and losing redshirt freshman quarterback J.T. Barrett, who went 11-1 and combined for 45 total touchdowns before breaking his ankle against Michigan. That was the bad.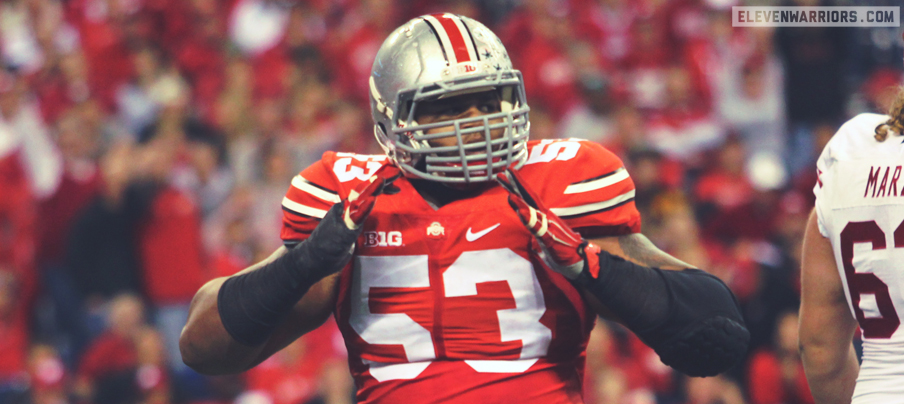 The awful? Consider the tragic suicide of Kosta Karageorge, a fifth-year walk-on defensive lineman. 
The Buckeyes, still, found footing on the field while things off of it served as very real and very harsh challenges.
"How does the team respond, how does your family respond, and that's when people have issues. We're all broken people that have to have some direction, some purpose, and some guidance, and we work extremely hard on that," Meyer said.
"And to see our team respond, I made the comment before that this team has taught me so much about how to respond to adversity because this is – I can't remember coaching a team that's been through more. Certainly when the Braxton Miller situation and throughout the course of the year other things have shown up, and they have really responded. That's the essence of a good team."
Added Meyer:
"If you can hit the storm and come out the other end stronger, that's called a real, real team, and how many of those are out there? I've done this 30 years and probably can count them on one hand. Some people might think it's the luck of the draw. I think it's leadership and training. We certainly had that this year."
How It'll Play Out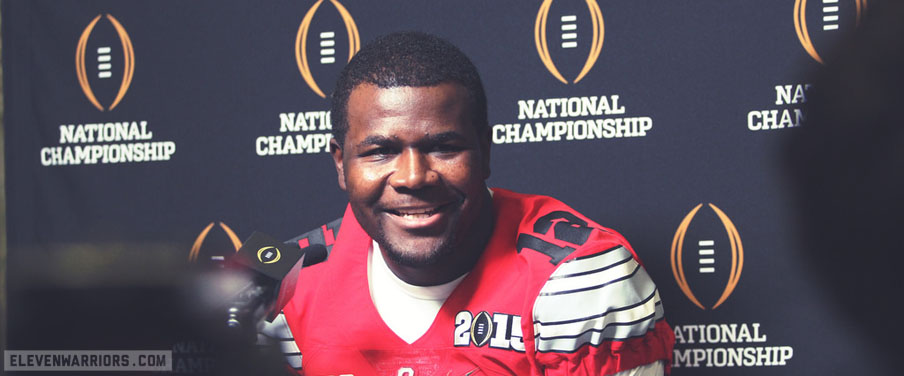 For all the fuss that's been made about Cardale Jones and his captivating journey from the kid who played video games all day to the team's starting quarterback, Monday night might come down to whether or not Oregon can stop Ohio State's run game.
In the Sugar Bowl, the Buckeyes battered Alabama in a way that few teams have this decade. Elliott, behind a once-inexperienced offensive line that has gotten better throughout the year, simply had their way in New Orleans against a defense that has been a staple of the Crimson Tide's rise to college football's preeminent program. 
And against an Oregon team that gives up 156 yards a game on the ground, it's hard to imagine the Buckeyes not feeding Elliott the football. They will be smart to do so.
---
ELEVEN WARRIORS STAFF PREDICTION: Ohio State 41, Oregon 38.