Gameday. Douse your hangover in more booze and buckle up. We've got Bama baby. Ramzy, Jeremy and Chris take it away.
Well it's finally here. Bama v. OSU, how are you feeling?
Ramzy: I'm wound up pretty tight, have a throbbing headache and can't stop shaking. Thank God I'm not playing tonight.
Jeremy: You know, I think as the team goes, so should the fanbase. Right now, the team is loose and laughing and having a good time but the focus will turn 180-degrees throughout the day Thursday. I think there's some sense that this year's team has arrived in this position "a year early" but that doesn't mean it's all gravy: the Buckeyes expect to win. They believe in themselves, their coaches and their system and will come out swinging. It's New Orleans, it's New Year's and there's an incredible football game upon us between two of the biggest college football programs of all time. What's not to like?
Chris: I'm feeling like Ohio State is playing with house money as the experts continue to remind everyone including the players that Alabama is a huge favorite with superior talent while Ohio State is on borrowed time thanks to not having SEC talent and what was once a 3rd-string quarterback running the show. I kind of like Ohio State being the hunter instead of the hunted for a change and I think the program does as well. 
Seemingly no one is picking Ohio State to win this game. Why are they wrong?
Jeremy: Are they wrong? I don't know. Certainly Ohio State can win this game, but it's going to require an almost perfect game. The Buckeyes are prepared and there may not be a better motivator in the country than Urban Meyer when he's able to convince his team no one believes in them. Why can Ohio State win? Because they've got as much talent as Bama, they've got as capable a coaching staff as Bama and because football is a game of bounces. One or two early breaks in Ohio State's favor and things will certainly get interesting.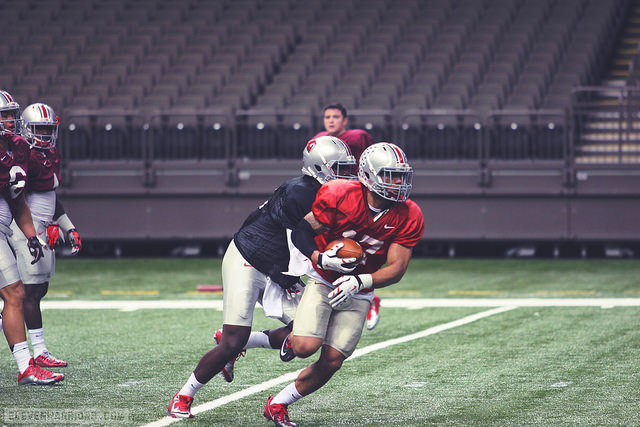 Chris: Because Ohio State is on a mission and just got done playing the most complete football game we've ever seen. Their confidence couldn't be higher and following the losses of Braxton and Barrett to injury followed by the sad passing of Kosta Karageorge, team chemistry is off the charts. They believe they can win and have the talent to do it. 
Ramzy: No one picks against Alabama, ever. This is normal. They're not even a trendy upset pick because Alabama is a humorless program that plays completely joyless football. There's nothing funny about Alabama despite it having an impish coach who colors his hair and wears argyle. Everything that touches Alabama dies or ends up 49th out of 50 in an important metric like literacy, upward mobility or body odor. Thank God for Mississippi. I already forgot what the original question was.
Why are they right? 
Jeremy: Because, as I suggested earlier, the Buckeyes are still a year away from "arriving" and at some point the adversity of this year has to weigh them down, right? Cardale Jones is starting his second-ever game and he's going to face a Bama defense that will throw things at him Wisconsin was unable to. Unlike Wisconsin, where Ohio State's speed advantage was evident from snap one, this game comes down to execution and will.
Chris: They might be right because Alabama is loaded with five-star talent and sports arguably the best coaching staff in college football. That fact could be magnified by Nick Saban, Lane Kiffin and Kirby Smart having nearly a month to figure out how to confuse a quarterback making his 2nd collegiate start and find holes in a Buckeye defense that while showing vast improvement over a year ago still gave up some big passing plays early in the season and ranked just 33rd nationally in stopping the run. 
Ramzy: Because Alabama could conceivably play at 100% of its ability, which means Alabama would win. It's a safe bet, especially with the egg it laid a year ago on the same field. Ohio State's history in these games with title implications means nothing. The oldest guys playing tonight couldn't legally drive the last time this happened.
What's one thing the Buckeyes must do to win this game? 
Chris: Run the football effectively. Yes, Cardale was a boss against Wisconsin but some of that can be attributed to Wisconsin being forced to respect the run as well. With Ohio State averaging nearly eight yards per carry and amassing 301 total rushing yards, the Badger linebackers had to keep an eye in the backfield and the safeties had to cheat up to help out, leading to a lot of holes in the secondary. If the offensive line, EZE and company can make Bama adjust to stop the run, Cardale and the receivers have a chance to exploit one-on-one matchups down the field which has been the Achilles heel of the Tide's defense. Plus, running the ball effectively will hopefully create 3rd and manageable which will be important as the Buckeyes try to keep Bama's offense off the field. Being one dimensional against the Tide likely won't be a recipe for success.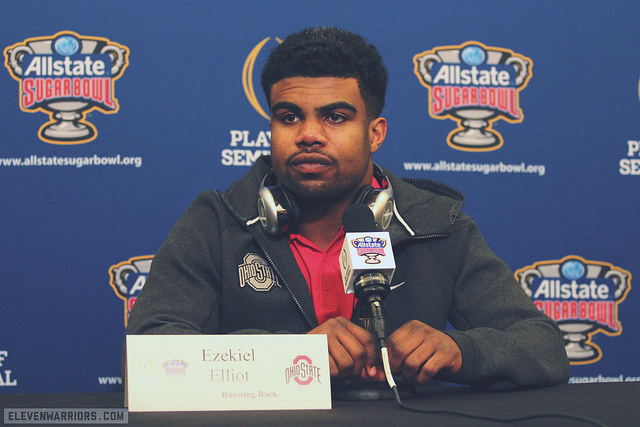 Ramzy: They can't be stupid. This means no ripping off helmets, jumping offside or giving Alabama any second chances.
Jeremy: I think the Buckeyes have to do their best to hit Blake Sims early and often. Put him on notice that are not going to be comfortable in the pocket and he'll need to make quick decisions. On offense, the Buckeyes are going to need a quick, efficient start from Cardale Jones; give him confidence (something he's never short of) that he belongs in that moment.
Beyond Amari Cooper, what offensive weapon is the most threatening for the Tide?
Ramzy: Blake Sims making something out of nothing. The back seven shutting down Cooper and the downfield threat means little if Sims ends up galloping for 1st downs.
Jeremy: I think it's Alabama running back Derrick Henry, who has kind of been hidden from the media this week. There are not many tailbacks in the country who present the speed and power combination of Henry and as the Buckeyes have struggled in recent games to contain the bigger backs, that's a concern. The second level of the defense - but even more so Tyvis Powell and Vonn Bell - will need to get Henry and TJ Yeldon on the ground on first contact. They break a tackle and bust a big run or two and things get tenuous.
Chris: Blake Sims. He doesn't come in with all the hype of an AJ McCarron but he broke McCarron's single-season passing yardage record this year (3,250 yards) and tossed 26 touchdowns against just seven interceptions. He hasn't spread it around a ton but that could be because he hasn't had to since nobody has been able to shut down Cooper. In his last two games, against Auburn and Missouri, Sims has completed 85% of this throws (46/54) for 574 yards with six scores and three picks (all vs. Auburn). If he has time to throw, he could have a big day against the Buckeyes. 
Alabama is No. 1 in the country in rush defense (giving up just 88.7 YPG). Will the Buckeye running game ever get going? 
Jeremy: Yes, it will, and it will because that's Ohio State's identity. Cardale Jones may be more involved in the running game than he was against Wisconsin, but Bama's defensive numbers are a bit misleading. First, they get skewered against the pass, so teams have stayed aerial against them. Secondly, they've not faced anything close to an elite running back this year outside of LSU freshman Leonard Fournette, and LSU's offense has been about as anemic as it gets so they were able to focus primarily on Fournette, who still finished at just under 4 yards per carry against the Tide. LSU finished with 183 yards rushing, so it can be done. Ohio State will look to exert their will early and often against the defensive front of Bama. If they get off to a good start, a confident Buckeye offense is a beautiful thing to watch.
Chris: Yes. While I noted the Buckeyes must run the ball effectively to win, I don't know that they have to do it to set up the pass. They'll likely be more willing to employ sets designed to spread out the Bama defense especially on 1st down and use the pass to set up the run. If they can have success through the air in that manner then the offense might be able to get Bama on their heels. It's up to the offensive line from there. I believe Ohio State will rush for at least 130 yards.  
Ramzy: If Cardale can loosen them up with the short passing game Zeke and Jalin will definitely get their chunks of yards - but I think it has to happen in that order. Cardale throwing darts, then the rushing game.
What's one weakness the Buckeyes must exploit tonight? 
Chris: Explosive plays. Alabama has been susceptible to the big play in some of their biggest games even though they yielded the lowest number of such plays in the SEC. A couple quick strikes would be huge in helping pull the upset. Beyond big plays for touchdowns and/or flipping the field, explosive play success will help keep the Tide defense from stacking the box in an effort to take away the run and make OSU one dimensional.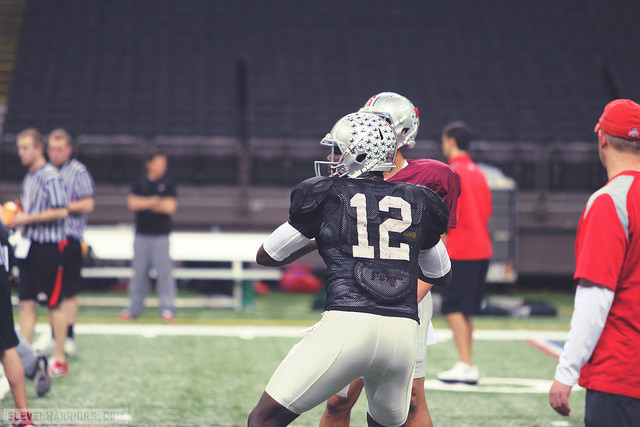 Ramzy: Psychology. For the past month the Alabama secondary has heard about how it is the weakness of the team. A bunch of completions early - despite all the preparation since Auburn piled up a million yards on them - and all of a sudden that bulletin board material isn't motivation anymore; it's just the truth. 
Jeremy: Alabama's porous secondary. The Tide simply have been terrible in pass coverage and Cardale Jones, Devin Smith, Mike Thomas, Jalin Marshall and others will need to not miss when they get the deep shots Bama will give up.
How do you expect Nick Saban to attack Cardale Jones?
Ramzy: That's a funny visual, considering Saban is about 4 foot 6 and Cardale has to duck when he passes through a doorway. I think Alabama will concede Cardale's rushing yards to stop Zeke's home run threat. They also know Ohio State is all out of quarterbacks, so it will be about stopping other ballcarriers and making the spaces he can throw to as small and confusing as possible.
Jeremy: Blitzing. Blitzing. Blitzing. Don't let "12 Gauge" get time to set and unleash the cannon. Force him into short, precision-required throws and do not allow the Buckeyes to hit the homerun.
Chris: I'm glad you asked because I was about to write a pretty sweet article the other day explaining exactly how Saban will attack Cardale but that show-off Kyle Jones beat me to it. Since he basically ripped off everything I was going to write, I think Saban will do this. In all seriousness, I expect Saban and Smart to do everything they can to confuse Cardale and force him to make quick decisions in the face of pressure.   
Give me Cardale Jones' end of game stat line?
Jeremy: Cardale Jones: 14/26 passing, 205 yards and 17 carries for 77 yards. Three total touchdowns and two turnovers, a fumble and an interception.
Chris: I'll say 18 of 30 for 260 yards with two touchdowns and a pick. 
Ramzy: 20/29, 276 yds, 3 TDs, 1 INT, 1 cherubic face in postgame interviews.
Does Alabama have anyone who can stop Joey Bosa?
Chris: I don't know how anyone could know for sure but Alabama does have some legit talent at both tackle spots and has done a great job protecting Sims. Freshman left tackle Cam Robinson is already an All-American and while senior right tackle Austin Shepherd can't make the same claim, he's a two year starter. Shepherd figures to line up against Bosa most often but if either of those two have issues slowing Bosa then I would assume Kiffin will chip or double accordingly which could help create opportunities for Michael Bennett, Adolphus Washington, Rashad Frazier and company.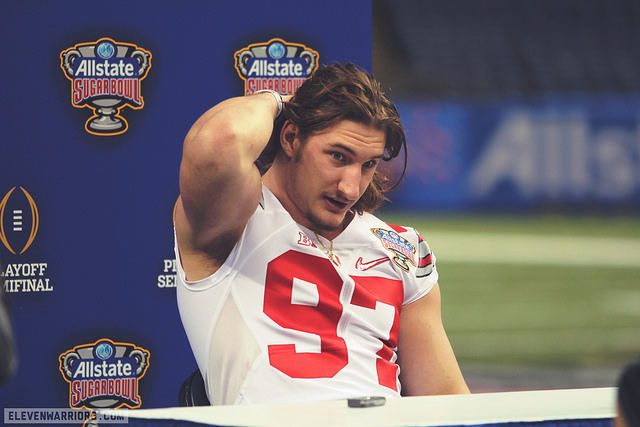 Ramzy: Unless Alabama starts an Xbox loaded with Call of Duty at right tackle, I expect Bosa to have a Bosa-like game. If they double up to stop him then Rashad Frazier and Steve Miller should make the most of it. Stopping Bosa is a fraction of what the Alabama OL will have to do tonight, especially if Michael Bennett shows up for the game as pissed off as he was against Wisconsin.
Jeremy: Only Joey Bosa can stop Joey Bosa. If the Buckeyes' All-American plays his game and doesn't allow the emotional nature of the contest to get the best of him, he'll be impactful. He's coming off the best game of his career in my opinion and there's little doubt that Bama will try and get him off his game by frustrating him early. Bosa plays his best when he's relaxed; he gets frustrated and changes his style.
What is your final score prediction?
Ramzy: 35-31 Ohio State. I had been thinking 35-31 Alabama as an emotional hedge, but now I realize that's stupid and selfish. Go Bucks.
Jeremy: I believe the Buckeyes and the Crimson Tide will go back and forth, but that in a game of inches turnovers will cost the Buckeyes and Bama will escape with a 34-28 win.
Chris: Ohio State 31, Alabama 30. 
If (big If) the Buckeyes win this game. Will it go a long way in pulling the B1G out of the muck? 
Jeremy: I think it will start to change the conference's reputation, which has already gotten a bit of a boost this week with the hiring in Ann Arbor. Ohio State's performance, as long as they play well and keep it close, will have less bearing than Michigan State's, Wisconsin, etc. The conference is weak, that's the national perception; Ohio State is the poster child for the Big Ten and because of that those who want to hate on the Big Ten hate on Ohio State. I don't truly believe that any objective person thinks the Buckeyes are not an elite football team…and they're going to get better. I truly believe the Big Ten is about to see a significant renaissance thanks to the influx of coaching talent. In my opinion, the conference has four of the Top 12 coaches in the country in Urban Meyer, Jim Harbaugh, Mark D'Antonio and James Franklin. Now it's just about getting the talent across the country to recognize that you can succeed outside of the SEC.
Chris: I'm not sure if it will and I'm not sure if I care. I don't think an OSU win, by itself, does much to change what people think of the B1G, it will just change what some people think about Ohio State. If Michigan State and Wisconsin can complement a Buckeye win however that would obviously be far more impactful in swaying national perception regardless of how the bottom feeders perform.  
Ramzy: Specifically because the SEC West was the recipient of endless media fellatio this season - yes, it will. 
That said, I will have 10,000 happy thoughts going through my head if Ohio State wins - and the Big Ten's reputation will not be one of them. The redistribution of pride is a uniquely southern practice. If the rest of the world wants to pay the Big Ten a modicum of respect just because Ohio State beats Alabama I can assure you I will gain absolutely no pleasure from it. I'll have 10,000 better reasons to be happy.