This is exactly what you wanted.
You've pined for the Buckeyes to get a shot at the flagship football program from the conference you haven't stopped hearing about ever since your team singlehandedly elevated it back into prominence eight years ago next week. 
You've rationalized all the previous losses to SEC teams in bowl games in a logical manner: Second-tier postseason destinations simply never held Ohio State's collective interest with the Rose Bowl out of reach, so you can smugly write off every Outback, Citrus and Hall of Fame setback in one elegant, sweeping motion. They didn't care, therefore neither do you.
It isn't a unique excuse, either: Alabama was winless (0-3) in BCS bowls where the national title wasn't at stake. If you ask any grown man with bangs how that was allowed to happen, you'll hear the same justification you just provided for the Buckeyes' futility in places like Jacksonville, Orlando and Tampa. (By the way, Alabama went 1-2 against Big Ten teams in bowl games during the BCS era. Shhhhh don't tell anybody - it will be our secret).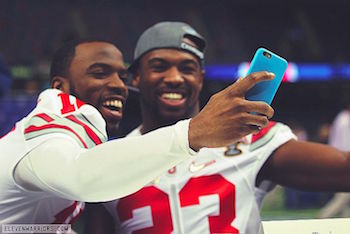 Ohio State lost to Florida after a 51-day coronation which itself followed a seven-week buildup to the Michigan game. You've wanted to see a rematch without all the holiday back-slapping, gravy boats and shattered Ted Ginn ankles ever since that awful night - but that's a fantasy best saved for your offseason insomnia, like in June. Tomorrow night is as real as it gets.
The season after that Glendale catastrophe Ohio State concluded its schedule ranked 7th yet found itself atop the BCS once the regular season ended. Not even one year removed from the Florida butchery your team already had the chance to make it right - and there would be no self-congratulatory buildup or banquet circuits to weigh down that squad.
It took the insane conclusion of the 2007 season for the Buckeyes to be kept from playing extremely punchable Oklahoma or Hawaii teams while Illinois took the B1G tiebreaker to Pasadena. Four inexplicable upsets not only sent Ohio State back to the BCS title game, but as its 1-seed. 
That team featured a defensive line with Nader Abdallah (entered the game with one career sack) Alex Barrow (who lost interest and quit football two weeks later) and true freshman Cam Heyward against LSU. Todd Boeckman averaged all of 124 passing yards per game that November. In hindsight the Buckeyes keeping the score respectable with LSU was the accomplishment.
Unfortunately you will never be allowed to choose which Buckeye team gets a title shot, otherwise we would have triumphantly cruised with 1969 and 1998 all the way to nirvana. That 2007 edition that tumbled into New Orleans was easily the weakest one Ohio State fielded between 2005 and the conclusion of the Tressel era. The 2005, 2009 and 2010 teams were all title-worthy, and each of them won the types of BCS bowls Alabama never did.
The Ohio State team getting this title shot was built to win these types of games.
They shouldn't have even been there is not an elegant excuse for 2007. Winning a first-tier bowl game against a first-tier SEC program (sorry, Arkansas) is the only remedy, and seven years later it has finally arrived. Fortunately the team that's getting the shot this time was built to win these types of games, not just the Big Ten.
This is exactly what you wanted. That's what this Alabama game is.
However, don't be fooled into believing any of the players or coaches not named Fickell feel the same way you do: The oldest guys on the field tomorrow night didn't have their learner's permits the last time the Buckeyes were playing for a championship.
Lane Kiffin was coaching the Raiders. Jim Harbaugh had just gone 4-8 at Stanford. The NHL All-Star game was in Atlanta, which still had a hockey team. The Cavs were the defending Eastern Conference champions. Like everything that didn't happen within the past week, Ohio State's last title shot was forever ago.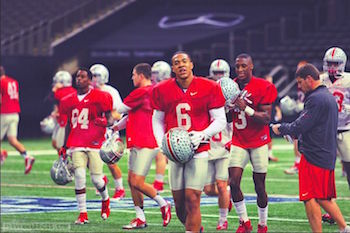 The entire culture of Ohio State football beginning in 2012 was built around (beating Michigan and) winning games exactly like this one. The only ghosts looking to be exorcised in the Superdome are the ones that have been haunting you, me and everyone else who has been making inelegant excuses for why the Buckeyes haven't been able to win these games.
That doesn't mean you aren't equipped to explain away the worst: The six plays it took the Buckeyes to score their first TD against Wisconsin were the only ones Cardale Jones has ever played where Ohio State wasn't already winning. It's his second career start. Aside from the two QBs he's replacing the Buckeyes have lost six other starters this season that will be missing from action in New Orleans. If those aren't good enough excuses you could always get desperate. 
It would be far more gratifying to celebrate Ohio State's ascension into the title game in spite of those obstacles as Urban Meyer evens his personal record with Nick Saban, who would suddenly find himself only .500 in bowl games for his career. You would then spend the next 11 days suffering through the best kind of sports anxiety as the Buckeyes return for the title shot you've waited seven years to see.
And that is exactly what you wanted.