It was not always pretty, but Ohio State overcame self-imposed mistakes in the form of turnovers, big plays allowed, and complacency to defeat Indiana at Ohio Stadium Saturday, handing the Buckeyes their 23rd-straight Big Ten regular season win.
The Buckeyes did so by holding Hoosier tailback Tevin Coleman to an inefficient performance and creating opportunities horizontally. But most importantly, Ohio State received critical explosive plays from Jalin Marshall -- none more so than a punt return for a touchdown.
Starting Fast ... Too Fast
Like many under matched opponents, Indiana sold out against the Buckeyes' inside run game. Against the Hoosiers' 3-4 front, the Buckeyes read the 5-technique defensive end while fan blocking the outside linebacker.
In response, the Hoosiers' unblocked defensive end focused solely upon the tailback. Indiana then used their linebackers, slot defenders, and/or safeties to account for the quarterback, providing a numeric advantage. Specifically, the Hoosiers frequently brought a backside edge blitzer.
The Hoosiers mixed cover 3 and 4 looks with aggressive cover 0 man blitzes and Virginia Tech's inverted cover 2. In zone, Indiana kept their corners in soft corner coverage.
This allowed the Hoosier safeties to play aggressively downhill against the run. For instance, when the Hoosiers were in cover 3 the other safety immediately came into the box. 
The Ohio State offense had no problems early in jumping to a 14-0 lead.
But the relative ease may have been a curse. In a game where most expected an easy victory, it may have allowed the Buckeyes to rest on their laurels.
Short Circuiting Down Field
After combining wide receiver screens with the inside run game for two quick scores, the Buckeyes sought to exploit vertical opportunities.
But Ohio State did not convert those openings. Instead, the Buckeyes committed three second quarter turnovers.
Both interceptions came off vertical routes after faking a wide receiver screen. According to Urban Meyer, the first interception resulted from miscommunication. The second was a drop by Evan Spencer. In addition, the Buckeyes missed at least three open crossing routes on first down that would have resulted in chunk yardage.
By not taking advantage of those opportunities, Ohio State was too often inefficient on first down. And because the Buckeyes did not take advantage of open receivers, the Hoosiers could limit the Ohio State run game by applying additional defenders without penalty.
Failure to Launch
The Buckeyes were also lackluster in their execution. In particular, Ohio State's run blockers often seemed confused as to which linebackers and/or secondary players to block. Indiana's linebackers frequently came through clean while Buckeye linemen or wide receivers blocked air.
Buckeye linemen also took poor angles against linebackers looking to shoot gaps.
Such mistakes were not limited to one or two players. Instead all Buckeyes had occasional breakdowns. For instance, while Billy Price had several miscues, so did the normally excellent Taylor Decker. And at times, Ezekiel Elliot missed open holes by looking to bounce outside -- right into a blitzing edge player.
For his part, Barrett was inconsistent. His accuracy suffered because he failed to reset his feet after moving in the pocket and step into throws, resulting in the football sailing. In particular, Barrett struggled rolling left because he did not stop, set his feet, and turn his shoulders. Barrett also may have been slowed by the Hoosiers rotating different coverages. 
The inconsistency was not limited to throwing down field. Barrett missed several reads in the run game, such as the second quarter Bash play above. And when he ran he seemed quicker to bounce outside then his normal north-south style, resulting in less efficient runs. So while Barrett made several critical plays as both a runner and passer, he also missed opportunities.
Hitting the Accelerator 
Following Marshall's momentum swinging punt return, the Buckeye offense finally got back on-track. Ohio State did so by utilizing what worked all game against Indiana -- attacking the edge. Plays such as speed option, lead quarterback outside zone, flat routes to the tight end, and swing screens to the running back resulted in efficient gains throughout.
But the Buckeyes were most effective with the lead pop pass to Marshall. To run the play, the Buckeyes align in 12 personnel with Nick Vannett as a wingback outside tight end Jeff Heuerman and Elliot to the two tight end side. As Kyle diagrammed, the offensive interior blocks outside zone while Elliot kicks out the force support. And Marshall is such an effective runner because he combines quick acceleration with strength at the point of attack. 
The Buckeyes could have taken further advantage of Indiana's soft outside coverage, such as with a more extensive use of hitch routes off zone read. Likewise, the swing screen to the running back was consistently open.
The only time the play failed stemmed from further miscommunication. Barrett immediately looked to Elliot. But rather than block, the wide receivers ran pass routes. This allowed the Hoosier defenders to follow Barrett's eyes and quickly make the tackle.
But Saturday's contest did not appear to be a game where the coaching staff wanted to fully use their horizontal constraints. Michigan State demonstrated that Urban Meyer and Tom Herman will apply such a strategy.
But that was not the case Saturday, where Meyer and Herman frequently returned to tight zone. Rather than not responding to Indiana's strategy, the coaching staff may have been thinking long-term. By overly relying upon tight zone against an overmatched opponent, Meyer and Herman force future defenses to commit to defend the Buckeyes' inside run game  -- and save constraint plays for when they are more needed. 
But on Saturday, by failing to hit open receivers down field and not consistently attacking the edge, the Buckeyes were often running tight zone read against a defense deployed to stop that play. 
Sturm and Drang
Much post-game focus has been upon the Buckeye run defense. But make no mistake -- the reason Ohio State had an opportunity to win against Indiana was the defense's play. The defense held Indiana in-check while the offense had seven drives consisting of three turnovers and four straight punts -- in addition to a kickoff out of bounds that quickly flipped field position.  
Besides Indiana's field goal off Michael Thomas' fumble, Indiana's offense effectively consisted of four explosive plays.
A 53 yard scramble by quarterback Zander Diamont on third and 12;
A 49 yard completion on third down;
Coleman's 90 yard run;
And Coleman's 52 yard run while the Hoosiers were trying to run out the clock.
Otherwise, the Buckeye defense forced seven three and outs, held Indiana to six points off turnovers, and limited Coleman to a 41% success rate. In fact, putting those two runs aside, the Buckeye defense limited Coleman to 26 carries for 85 yards.
That does not excuse allowing explosive plays. The quarterback scramble occurred because Ohio State blitzed and played cover 1, resulting in a wide running lane. The 49-completion resulted from Shane Wynn putting a nice move on cover 4 safety Vonn Bell and breaking a tackle.
Coleman's 90 yard touchdown resulted partly from scheme design and partly from defensive breakdowns. Indiana aligned in trips to the wide field.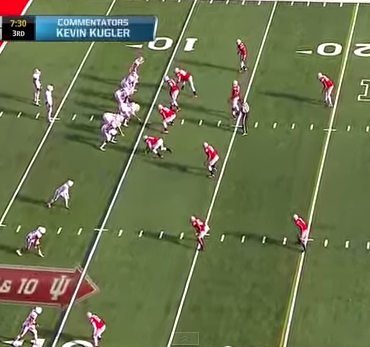 The Buckeye defense is either in cover 1 or cover 4. If it is the former, backside safety Tyvis Powell is responsible for the deep middle.
If it is the latter, against trips, Ash uses a danger call. To the trips, corner Doran Grant plays man on the outside receiver. Safety Vonn Bell and linebacker Darron Lee execute a 2 read technique on the number two and number three receivers. In other words, Bell and Lee play a match-up zone where Lee takes the curl/flat and Bell the hook to vertical. Bell is responsible for attacking number 3 if shows bubble screen, which is what Indiana does here. 
And the backside safety (Powell) is responsible for number three if he releases vertical. So for purposes of this discussion, whether it is cover 1 or cover 4, Powell is backpedaling towards the middle of the field.
To the boundary, corner Eli Apple is responsible for the single receiver (here the tight end). With no split receiver Apple has force support against the run.
Indiana runs a buck sweep read, pulling both guards. Apple correctly maintains outside leverage against the first pulling guard. But the playside linebacker -- Will Josh Perry -- makes the first mistake. Rather than leverage the football he tries to go underneath the pulling guard, creating an alley.
Despite this mistake, the Buckeye defense is not yet in a terrible position because backside linebacker Curtis Grant comes across the formation unblocked. But -- as he is wont to do -- rather than shuffle and remain patient, Grant fills too quickly. Worse, he fills inside Perry instead of scraping down the line of scrimmage. This allows one guard to block both inside linebackers, releasing Coleman into the alley.
Powell has to come from the middle of the field to make the tackle. But Powell underestimated Coleman's speed and stutter stepped, allowing Coleman to accelerate past.
Coleman's late touchdown run was likewise a result of scheme and execution. But this time it was poor scheme recognition by the Ohio State coaching staff. Defensive coordinators Chris Ash and Luke Fickell clearly believed that Indiana would pass. So the Buckeyes twisted up-front and brought an edge blitz.
But the Hoosiers were content to run out the clock. Indiana called a run right where Mike linebacker Raekwon McMillan vacated blitzing. Backup safety Cam Burrows -- in for Von Bell -- was hesitant and took a poor angle, allowing Coleman to score.
Crowding Out
But these breakdowns should not overwhelm the Buckeye defense's otherwise sturdy run performance. The defensive line largely controlled the line of scrimmage.
In addition to strong efforts from defensive tackles Michael Bennett and Adolphus Washington, the Ohio State received quality snaps from backups Tommy Schutt and Tyquan Lewis. And Perry was far better at leveraging the football and filling holes.
So as against Minnesota and David Cobb, Ohio State rendered the opponent's run game inefficient. Or to put another way, future opponents are not going to conclude they can simply line up and run the football down the field against the Buckeyes.
But as was discussed after Minnesota, the Ohio State run defense remains prone to sporadic lapses. This results from certain missing pieces in Ash's scheme. The Buckeye defensive line is talented and athletic but lacks a true interior plugger. Perhaps in response, Ash is using a large amount of slanting. This allows the defensive line to make plays. But it can also result in a loss of gap integrity.
Ash does not want his safeties playing aggressively downhill. He is not looking for run stoppers at the position. Instead, his cover 4 defense requires long safeties that can play man coverage against wide receivers. So although the safeties cannot take such poor angles that turn a 20 yard run into a touchdown, Ash generally does not apply his safeties as additional run defenders.           
But the primary concern remains inconsistent linebacker play. Although, as noted, Perry's play was much-improved, the linebacking corps has occasional breakdowns in leveraging and flowing to the football.
By using his safeties more conservatively, Ash requires a lot of his inside linebackers to clean up against the run. So when linebackers are out of position, talented running backs are able to gain chunk yards once they get past the line of scrimmage.
The Big Picture
Big plays notwithstanding, the defense was critical in stemming the tide against three more turnovers. In fact, it is fairly impressive that Ohio State has won its last three games -- two on the road against top-25 teams -- despite losing the turnover battle 8-3. 
Worse, Kyle Clinton's kickoffs out of bounds remain a pressing problem.
@RossRFulton Here's a stat nugget: 6 of 83 #OhioState Kickoffs have gone out of bounds. End Result: 3 TD's, 1 FG, 1 Missed FG, 1 Punt

— Neal Watson (@NealWatson) November 24, 2014
In other words, a kickoff out of bounds is effectively functioning as a turnover. Down 14-0, Clinton's out of bounds kick provided the Hoosiers breathing room and much needed momentum.  
Such mistakes underscore the Buckeyes' youth. The turnovers and other miscues are not resulting from any systemic issue. Instead -- like the sloppy play Saturday -- it largely appears to be a function of having so many first-year starters. 
The most promising aspect for Ohio State is that players largely do not repeat the same mistakes. But the Buckeyes cannot continue to commit turnovers, lose the field position battle, and allow such explosive plays. Those factors eventually become too much to overcome.
For this Saturday, although Michigan has struggled offensively, they present a stout defense. So the Wolverines present an opportunity for Ohio State to clean up its mistakes. And there is no reason for the Buckeyes to have another let down game against their arch rival.