After beating Minnesota in an exceptionally frigid affair, Ohio State moved to No. 6 in the latest edition of the College Football Playoff rankings Tuesday night.
The Buckeyes (9-1, 6-0 Big Ten), who jumped Baylor, are making their final playoff push as the regular season nears an end and the College Football Playoff selection committee continues to reward Ohio State for beating good teams on the road.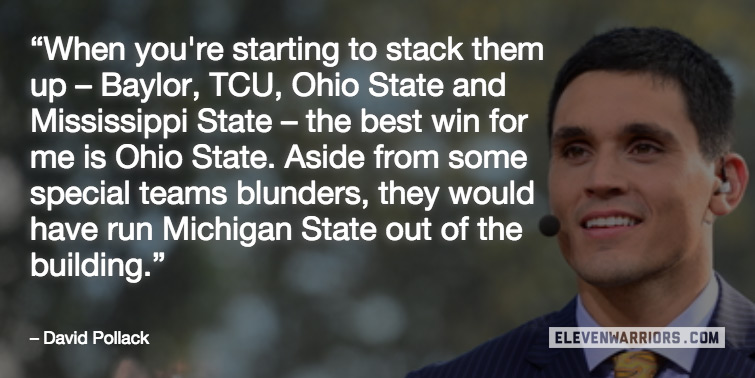 "Ohio State has had two impressive road wins in the Big Ten, " committee chair Jeff Long said during ESPN's telecast of the rankings show. "We were really impressed with the work Ohio State has done in the last two weeks, particularly because it was on the road."
They play Indiana Saturday at noon and arch rival Michigan the following weekend. A win against the Hoosiers will clinch a spot in the Big Ten Championship game.
Notably, Michigan State is ranked 11th and Wisconsin jumped to No. 16 after demolishing Nebraska. The Cornhuskers fell to No. 23 and Minnesota stayed put at No. 25. 
Ahead of Ohio State are: Alabama, Oregon, Florida State, Mississippi State, and TCU.
College Football Playoff Rankings, Week 13

| Rank | Team | Record | Conference | Remaining Games |
| --- | --- | --- | --- | --- |
| 1 | ALABAMA | 9-1 | SEC | WESTERN CAROLINA (11/22), #14 AUBURN (11/29) |
| 2 | OREGON | 9-1 | PAC-12 | COLORADO (11/22), @ OREGON STATE (11/29) |
| 3 | FLORIDA STATE | 10-0 | ACC | BOSTON COLLEGE (11/22), FLORIDA (11/29) |
| 4 | MISSISSIPPI STATE | 9-1 | SEC | VANDERBILT (11/22), @ #8 OLE MISS (11/29) |
| 5 | TCU | 9-1 | BIG 12 | @ TEXAS (11/27), IOWA STATE (12/6) |
| 6 | OHIO STATE | 9-1 | BIG TEN | INDIANA (11/22), MICHIGAN (11/29) |
| 7 | BAYLOR | 8-1 | BIG 12 | OKLAHOMA STATE (11/22), @ TEXAS TECH (11/29), #12 K-STATE (12/6) |
| 8 | OLE MISS | 8-2 | SEC | #4 MISSISSIPPI STATE (11/29) |
| 9 | UCLA | 8-2 | PAC-12 | #19 USC (11/22), STANFORD (11/28) |
| 10 | GEORGIA | 8-2 | SEC | CHARLESTON SOUTHERN (11/22), #18 GEORGIA TECH (11/29) |
| 11 | MICHIGAN STATE | 8-2 | BIG TEN | RUTGERS (11/22), @ PENN STATE (11/29) |
| 12 | KANSAS STATE | 7-2 | BIG 12 | @ WEST VIRGINIA (11/20), KANSAS (11/29), @ #7 BAYLOR (12/6) |
| 13 | ARIZONA STATE | 8-2 | PAC-12 | WASHINGTON STATE (11/22), #15 ARIZONA (11/28) |
| 14 | AUBURN | 7-3 | SEC | SAMFORD (11/22), @ #1 ALABAMA (11/29) |
| 15 | ARIZONA | 8-2 | PAC-12 | @ #17 UTAH (11/22), #13 ARIZONA STATE (11/28) |
| 16 | WISCONSIN | 8-2 | BIG TEN | @ IOWA (11/22), #25 MINNESOTA (11/29) |
| 17 | UTAH | 7-3 | PAC-12 | #15 ARIZONA (11/22), @ COLORADO (11/29) |
| 18 | GEORGIA TECH | 9-2 | ACC | @ #10 GEORGIA (11/29) |
| 19 | USC | 7-3 | PAC-12 | #9 UCLA (11/22), NOTRE DAME (11/29) |
| 20 | MISSOURI | 8-2 | SEC | @ TENNESSEE (11/22), ARKANSAS (11/28) |
| 21 | OKLAHOMA | 7-3 | BIG 12 | KANSAS (11/22), OKLAHOMA STATE (12/6) |
| 22 | CLEMSON | 7-3 | ACC | GEORGIA STATE (11/22), SOUTH CAROLINA (11/29) |
| 23 | NEBRASKA | 8-2 | BIG TEN | #25 MINNESOTA (11/22), @ IOWA (11/28) |
| 24 | LOUISVILLE | 7-3 | ACC | @ NOTRE DAME (11/22), KENTUCKY (11/29) |
| 25 | MINNESOTA | 7-3 | BIG TEN | @ #23 NEBRASKA (11/22), @ #16 WISCONSIN (11/29) |