Some Ohio State (and Michigan) fans will insist that the rivalry game between the two has – and always should be – a noon kickoff. Sure, there was the 3:30 p.m. kickoff for 2006's "Game of the Century" between the No. 1 Buckeyes and No. 2 Wolverines, but that was an anomaly for the sake of ratings, they'll say.
They're wrong.
With talk over the last two years of The Game eventually becoming a prime time affair – indeed, the Big Ten eliminated their "no night games in November" provision ahead of this season – we thought it would be interesting to take a look at kickoff times for the game going back as far as we could.
We don't have data for every season (if you can help us out, please let us know), but going back to 1950, you can see the annual showdown between the Buckeyes and Wolverines has been held at various times, with noon starts showing up as a relatively recent fixture.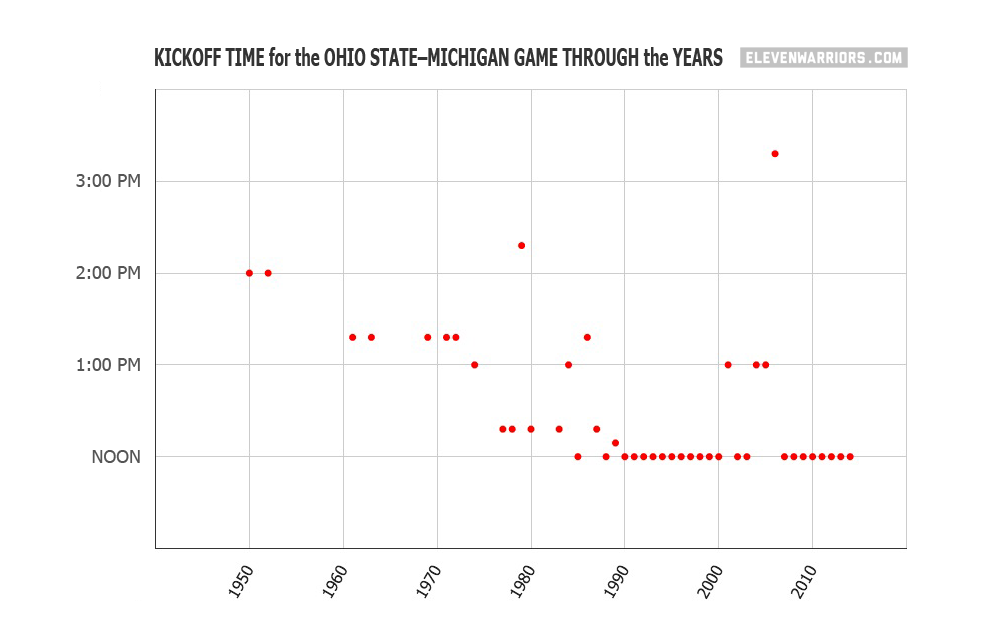 Indeed, from the data we have available, noon kickoffs in this series did not become a thing until the mid-1980s and then we quickly see a consistent run of noon starts every year of the 90s and indeed, every year but four since 1990.
Many of the games prior to 1990 were either 12:15 p.m., 1:00 p.m., 1:15 p.m. or 2:00 p.m. kickoffs, with the 1979 game – Earle Bruce's first as Ohio State coach – kicking off at 2:15 p.m and, turns out, that was a 1 p.m kickoff.
There's a lot to like about noon kickoffs from a consistency and recent tradition standpoint, but the clash between the two traditional Big Ten powers could certainly stand to move to prime time without dishonoring a century's worth of non-tradition tradition.