The Ohio State record books might not be able to contain J.T. Barrett any better than Michigan State did on Saturday night.
The redshirt freshman continues his torrid pace in the Urban Meyer/Tom Herman offensive juggernaut, racking up yards and touchdowns at record pace. Two months ago, we checked in on Barrett's progress through three games. It was a small representative sample, and a fun exercise in projecting what could be by season's end, but virtually no one took it as a serious sign of what Ohio State's signal caller would do throughout 2014.  
Here we are now, six games later, and the numbers haven't changed a whole lot. After the Kent State game, Barrett was completing 59.5% of his passes for about 252 yards per game, and had nine touchdowns and five interceptions. On the ground, Barrett had 126 total yards (42 per game) and a single touchdown.
Things are a little different now.  They have improved, mostly.
Two thirds of the way through the regular season, Barrett is completing 64.4% of his tosses for 239.6 yards per game, with 26 touchdowns and seven picks. Both of those interceptions since the Kent State game came at Penn State. Although his yards/game have dropped slightly, his completion percentage is notably better and he's being far less careless with the ball.
There's been a big improvement in his running game, too. Barrett has rushed for 456 yards over the last six games, raising his per-game average to 64.7 yards (76 per game over the last six outings). He has seven rushing touchdowns in the last six games after just one in the first quarter of the season.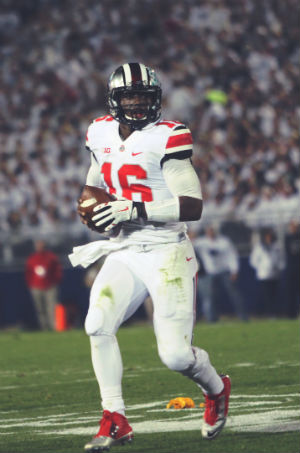 Much of this has to do with getting more game reps and his personal maturity. Some has to do with the improvement of the offensive line. But all of it is mind boggling in a freshman, even one of the redshirt variety.
Consider that Troy Smith won the Heisman Trophy in 2006 with 30 TD passes and one rushing score, for a total of 31 touchdowns. Now consider that Barrett, who averages almost three touchdown passes per game, is only four behind Smith's passing total and six ahead of his rushing total.
Braxton Miller set Ohio State's all-time records for touchdowns responsible for (36) last year and total yards of offense (3,310) in 2012. Barrett is just three scores shy of erasing that first mark with three regular season games to go, and just 572 yards short of the total offense record. He is averaging 304 total yards and 3.7 touchdowns per contest. The total touchdown record could fall at Minnesota and the total offense mark just one week later.
The passing touchdown record is just a smidge further out of reach. Barrett's sitting on 26, just four adrift from Smith's team record of 30, set back in 2006. His average would most likely put the passing TD mark in jeopardy against Indiana.
In his first nine games as a college football player, Barrett has posted three of the school's 10 all-time best days of total offense. His 409 (330 passing, 79 rushing) against Cincinnati was only three yards shy of Art Schlichter's school record, set against Florida State in 1981.
He also posted 386 (300 passing, 86 rushing) against Michigan State on Saturday, equaling Troy Smith's mark against Michigan in 2004. He had 368 (261 passing, 107 rushing) against Rutgers, tying Kenny Guiton at California last year and Braxton Miller against Miami (OH) in 2012.
There's more.
If Barrett improves his completion percentage by one point before season's end, he will break Smith's 2006 school record of 65.3%. His three 300-yard games this season are the second most in Ohio State history for one year and tied for second most in a career. Hard to believe, but Smith and Schlichter each had only three career 300-yard passing games. Barrett has done that in just nine contests.
At 239.6 passing yards per game—and keep in mind he left the Illinois game at halftime—Barrett is on pace for the third-most passing yards per game over a season in OSU history. And, he still has a shot at Joe Germaine's single-season record of 3,330 passing yards, set in 1998. At his current pace, Barrett would need two postseason games to break that mark.
Presenting all of these numbers is just a longwinded way of saying that this Barrett kid is pretty good at football. It's all numeric soup when you it in one place, rather than spread out over several pages of the Ohio State media guide.
If things continue for the remainder of the season the way they've been going, you'll be able to see it much more clearly all over the 2015 OSU media guide.