As you may have heard, on Saturday night the Ohio State Buckeyes erased a team record that stood since 1935 and tied an NCAA mark with 45 (!) first downs.
Franklin D. Roosevelt was in his first term as United States president when captain Homer T. Jones (you remember him) and Ohio State racked up 39 first downs in an 85-7 victory over the Drake Bulldogs.
Saturday night, the Buckeye offense spanked Cincinnati's defense repeatedly, without busting any huge plays, simulating death by duck bites as the evening wore on. Without a play longer than 34 yards, Ohio State grinded out first down after first down en route to 710 total yards, with only one errant snap preventing a new school record.
How did Ohio State come by these 45 first downs?
The Buckeyes rushed for 27 new sets of downs during the evening, with 17 more coming via the pass and one more through a Cincinnati penalty, according to the box score at ohiostatebuckeyes.com.
Before breaking down the total, it's noteworthy to point out that Ezekiel Elliott picked up 18 first downs by himself—14 rushing and four receiving. The next closest player was Rod Smith, with six, all on the ground. J.T. Barrett passed for 16 first downs and gained three more of his own via the rush. In all, 13 different Buckeyes picked up a first down on Saturday.
Ohio State's offense was balanced, earning 24 first downs before halftime and 21 more after the break.  Elliott was particularly effective in the second half, gaining 11 of his 18 first downs in the final 30 minutes.
The Buckeyes had 13 offensive possessions and earned four first downs or more on seven of those. One drive resulted in six first downs and two drives finished with five. Ohio State ran three straight plays for first downs twice in the game—on its second and third possessions.
In fact, the offense gained at least one first down on every drive of the game, including the final possessions of both halves, when they were simply trying to run out the clock.
According to the play-by-play, which my faulty memory could find no arguments with, here are the plays or circumstances that led to first downs/touchdowns on non-goal-to-go situations (which also count as first downs):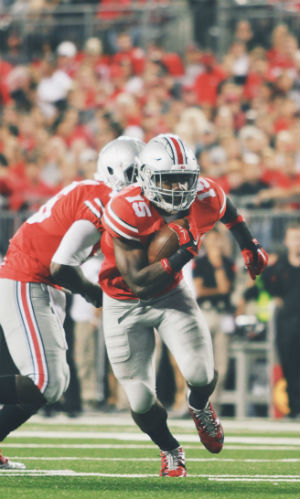 First Half
Drive 1
Elliott on a 15-yard sideline pass from Barrett
Barrett 17-yard quarterback draw
Wilson 9-yard pass from Barrett
Jeff Heuerman 24-yard pass from Barrett
Drive 2
Elliott 13-yard run
Michael Thomas 20-yard pass from Barrett
Wilson 21-yard reverse
Jalin Marshall 7-yard run
Wilson 13-yard pass from Barrett
Jeff Luc personal foul penalty
Drive 3
Elliott 4-yard run
Rod Smith 11-yard run
Marshall 12-yard run
Devin Smith 19-yard pass from Barrett (touchdown)
Drive 4
Elliott 6-yard pass from Barrett
Thomas 13-yard pass from Barrett
Barrett 7-yard rush
Evan Spencer 19-yard pass from Barrett (touchdown)
Drive 5
Wilson 7-yard pass from Barrett
Curtis Samuel 15-yard run
Drive 6
Elliott 12-yard run
Nick Vannett 9-yard pass from Barrett
Elliott 9-yard rush
Drive 7
Elliott 10-yard run (end of half)
Second Half
Drive 8
Elliott 2-yard run
Elliott 14-yard run
Rod Smith 8-yard run
Rod Smith 7-yard run
Elliott 3-yard run
Drive 9
Elliott 11-yard run
Elliott 12-yard run
Vannett 16-yard pass from Barrett
Drive 10
Elliott 9-yard run
Elliott 12-yard pass from Barrett
Rod Smith 6-yard run
Wilson 24-yard pass from Barrett (touchdown)
Drive 11
Elliott 4-yard run
Elliott 10-yard run
Barrett 6-yard run
Elliott 10-yard pass from Barrett
Devin Smith 34-yard pass from Barrett (touchdown)
Drive 12
Corey Smith 17-yard pass from Barrett
Elliott 11-yard run
Rod Smith 14-yard run
Drive 13
Bri'onte Dunn 6-yard run (end of game)
---
Cincinnati's defense may not be a good benchmark for where the Buckeyes are as an offense, but in Saturday's game, led by a quarterback in just his fourth college game, the offense played a patient game. If the receivers stop dropping passes, the 2014 Ohio State offense could end up making the 2013 team look pedestrian by comparison.