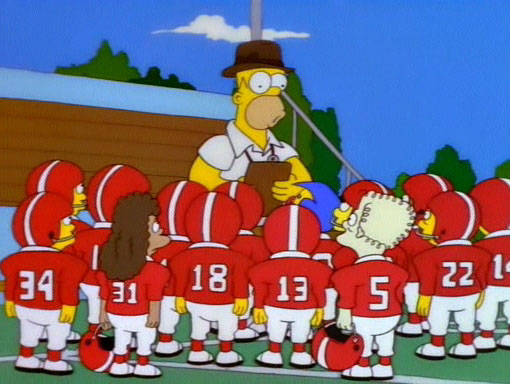 If you saw the game, you know the deal. J.T. Barrett and the offense never got going against a defensive line that seemed hell-bent on their destruction, and the defense allowed Michael Brewer and the Hokie offense to complete approximately all of their third downs, especially to their tight ends when they needed it. It was painful to watch, because much like the 2007 Illinois game, it never really seemed like Ohio State was ever really in it to win it, despite a favorable environment on a beautiful night under the lights.
We lost, we lost badly, and even more disturbing, I was right.
Which, you know, sucks. I said last week that Ohio State was going to lose to Virginia Tech, mainly on the basis that our offensive line was unproven, our quarterback was going to be playing against a defensive coordinator known for being a brutal jerk to opposing green QBs, and that our defense was still pretty soft and generally not that great the last several times that we've seen them.
Or, to put it more succinctly:
@VeddyEdder96 i think an offensive line replacing all but one starter and an inexperienced qb might stop itself

— Johnny (@Johnny11W) September 5, 2014
There really isn't a whole lot good that you can take away from this game. The defense played much better in the second half, but still gave up a touchdown on a critical drive late in the game (and continually lost track of Virginia Tech's tight ends). J.T. Barrett showed some waggle and moxie toward the end, but was ultimately left grasping at straws as his offensive line fell apart around him like a house of cards. And maybe most frustratingly, Urban and company got outcoached. Apart from a few great dial ups, the offensive playcalling was terrible for most of the game.
It was a cacophony of crap, so let's turn to Twitter to sort this whole thing out.
I haven't been to all college stadiums but it's pretty hard to match the atmosphere in Columbus on game day

— Maurice Clarett (@ReeseClarett13) September 7, 2014
You know what? I'm still down with this. In all honestly I kind of miss the carefree, shank-or-be-shanked days of the early 2000s, but the new, slightly more corporate Ohio Stadium experience is still one that is pretty awesome to behold. 107,000 plus deserve a good team to yell their heads off for, and there will be other opportunities under the lights coming up this season.
With that said, one area of the game that I would've hoped we had on lockdown failed to show up.
Special Teams killing Ohio State so far. punt shank, tanner losing his mind, missed FG, no legit KO return yet either.

— Chris Lauderback (@Chris11W) September 7, 2014
This kills me (and Jim Tressel). The two missed field goals wouldn't have outright won the game for the Buckeyes, but it would've pulled them close enough to change the tenor of the game. After how he kicked against Navy I was riding shotgun on the Nurenberger bus, but that thing derailed and slammed into a ravine.
That was my secret shame, but the thing about losing is that it brings out the loser in everyone near it, like some kind of sadness fungus that spawns on a soggy bathmat of regret. Some offensive ghosts of Buckeyes past had some Hot Takes that showed their frustration, too.
This is awful

— Beanie Wells (@BeanieWells26) September 7, 2014
Football has been around for many moons.... If you want to have success that's sustainable you have to run the ball. It's that simple.

— Maurice Clarett (@ReeseClarett13) September 7, 2014
I can't imagine what watching this game had to have been like for those two dudes. Remember that time Beanie Wells stiff armed that guy from Akron so hard that he went rolling like seven yards away? Remember when Mo C ran over literally the entire state of Texas as a true freshman? Remember how last night OSUs running backs managed a whopping 58 yards rushing, combined, and the quarterback had three times as many carries as the next leading rusher?
One of the things that I was most surprised about last night was the lack of attempts to get anything going in either the traditional or even semi-traditional running game. I'm sure that at this point Urban would kill for a running back in the vein of a Beanie Wells or a Mo Clarett or an El Guapo, but right now it doesn't even look like he's prepared to try out that kind of game with an Ezekiel Elliott or a Curtis Samuel.
A lot of this goes back to the offensive line, which allowed J.T. Barrett to be thrown around like a rag doll six or seven or a billion times and seemed to have other priorities than opening up holes for young backs. HELP US MAKE SENSE OF THIS, LECHARLES!
But WTF do I know, I'm eating okra, and drinking sugar free root beer while watching game. MY life's choices are debatable...

— LeCharles Bentley (@LeCharlesBent65) September 7, 2014
Uh, okay... Matt?
Ohio State's OL is a public safety hazard.

— Matt Hinton (@MattRHinton) September 7, 2014
Cool! So nobody knows what to do, we're screwed.
Like I said, I've been trying to find some positives from this game, because a lot of it toward the end just smacked of desperation, much like a ton of the gameplan. J.T. Barrett finished with 289 of the team's 327 yards, which tells me that Tom Herman needs to figure out an approach to offense that doesn't require one player to shoulder the burden of nearly everything that goes on the offensive side of the ball. He has done the football equivalent of this tweet:
Big Stop! @KingJames approves! #GoBucks pic.twitter.com/DuczjH0sEk

— Brutus Buckeye (@Brutus_Buckeye) September 7, 2014
Which is to say that he's ignored reality and tried to fit it into his own narrative. J.T. Barrett is not Braxton Miller. Heaving the ball downfield and hoping for the best isn't a development plan! LeBron isn't smiling! He knows whats up, Brutus! Find an inside running game for god's sake! Gah!
Hey how's Michigan doing?
That's a rough way to end that game. Gardner throws an INT with no time remaining - and ND returns it back for a TD. ND 37-0. #ouch

— ESPN Big Ten (@ESPN_BigTen) September 7, 2014
Well, that takes a load off at least. And you know what? At least Joey Bosa's still good, which leads me to the tweet of the night:
BELL, BOSA, BATTLESTAR GALACTICA

— Jonathan Thoma (@JonThoma) September 7, 2014
Well done, Jon. Well done.
This is part of the process. Ohio State isn't a very good team right now, but tonight, if you looked really closely, you might have seen bits of DNA that when properly nurtured and incubated might one day turn into a good team. Raekwon McMillan came in briefly and had an immediate impact. Michael Thomas, incredibly, had almost 100 yards in receiving. And despite being ignored most of the game, EzE still came up with a touchdown on the ground.
This is going to be a tough year for the Buckeyes, but part of the fun of watching young people do something is that if they give enough of a crap, they tend to get much better very quickly. If we see that this year, I'll be pleased no matter what the ultimate record is.
Things we learned
Ohio State needs a functional running game to be successful
Ohio State does not yet have a functional running game
References to The Office are still funny to me like six years later
As long as Michigan doesn't win in a week in which we lose, I can still salvage some of my dignity
Joey Bosa is still dangerous and terrifying
LeBron is not a kind of sports Jesus who can heal bad teams merely by standing near them