Before his first game as a head coach at Bowling Green State University, an anxiety-ridden Urban Meyer asked his wife, Shelley, for an honest answer to a rather blunt question.
"What happens if we lose every game?" he said during his weekly radio show on 97.1 The Fan Thursday. "How long are they gonna keep us?"
Turns out, coaching seems to have worked out pretty well for the Meyers. 
From humble beginnings with the Falcons in Northwest Ohio to Utah to Florida and, finally, to Ohio State, Meyer's 125-28 in 12 seasons with a pair of national championships and a rock-star aura that launched him to the top of the college football world with the Gators. 
Naturally, Meyer, who took command of the Buckeyes in 2012, is also charged with delivering a title to Columbus. He came close last year. 
After winning 24-straight games over the span of two years, Ohio State's ascension toward the sport's zenith collapsed on a cold December night in Indianapolis. Michigan State toppled the Buckeyes in the Big Ten Championship Game before Clemson bounced them a month later in the Orange Bowl. 
Of course, to call Meyer's short tenure at Ohio State anything less than successful is insane, but fans want championships and they want them now.
The team's 2014 campaign was supposed to be a breakthrough. In some ways, it still offers such promise even without senior quarterback Braxton Miller, who'll miss the season after tearing the labrum in his throwing shoulder for the second time since January.
But it'll be hard without the back-to-back Big Ten Player of the Year and Heisman candidate. Miller was Ohio State's centerpiece and it must find ways to win without him now. 
Couple that with an offense with no known commodities and a defense that supposedly underwent a springtime overhaul after coming completely undone late last season, it makes sense why Ohio State insists it won't overlook its season opener against Navy Saturday in Baltimore.

NAVY MIDSHIPMEN
0–0, INDEPENDENT
ROSTER | SCHEDULE
---
NOON – SATURDAY, AUG. 30, 2014
M&T BANK STADIUM
BALTIMORE, MARYLAND
---
CBS SPORTS NETWORK
CHANNEL FINDER
"It's just incredible efficiency in offense and that odd three four defense where they're all over the place," Meyer said Monday. "So they're good players."
And with good players comes a team that's better than Ohio State would typically face in its first game of the year. 
"I use the term anxiety a little bit more this year," Meyer said, "just because of who we're playing and the quarterback and the skill that they have."
Opponent Breakdown
To understand Navy, you must understand Ken Niumatalolo, the Midshipmen head coach and the man who makes them go. Niumatalolo is third-winningest coach in school history and there's a reason for it.
He understands who Navy is and what it stands for. He knows what kind of players it can recruit and how it can use said players to win football games. 
"We're not playing football at Ohio State's level, but we're playing at a high level. I think it's a nice blend for guys," he told Eleven Warriors in an exclusive one-on-one interview in July. 
"We don't have guys looking outside our window asking, 'Hey, are you guys getting ready for Army this week?' It's competitive, but there's a nice blend to it. I'm a firm believer in that people are human, players are human. We've been here long enough we know things that do and don't work here."
Because Navy isn't Ohio State and Ohio State isn't Navy. 
"These guys need a break. Coaches need a break. We're constantly trying to do things – watch the way we eat, the way we stretch. We know who we are. We might have gone 9-4, but the games were barn-burners. It's like a basketball game coming down to the last possession," Niumatalolo said. 
"We're not going to blow people out. We have to take care of the football, we can't have penalties. We led the country in both of those last year and still lost four games. So our approach is we're going to have a hard time beating people, we can't beat ourselves."
Behind its trademark triple option offense, Navy averaged 325 yards rushing last season (second-best nationally) and junior quarterback Keenan Reynolds ran for 1,346 yards and 31 touchdowns. He had six games with at least 100 yards rushing and two 200-yard games. In other words, Reynolds is to Navy as to what Miller was to Ohio State. Some say he's the best quarterback since Roger Staubach, an NFL Hall of Famer and 1963 Heisman Trophy winner.
KeenAn Reynolds' Big Days

| Date | Opp | Result | Rush | YDS | AVG | TD |
| --- | --- | --- | --- | --- | --- | --- |
| 11/3/12 | FLORIDA ATLANTIC | W, 24–17 | 26 | 159 | 6.1 | 1 |
| 11/10/12 | TROY | L, 41–31 | 21 | 130 | 6.2 | 3 |
| 9/7/13 | INDIANA | W, 41–35 | 32 | 127 | 4.0 | 3 |
| 9/14/13 | DELAWARE | W, 51–7 | 15 | 109 | 7.3 | 0 |
| 10/5/13 | AIR FORCE | W, 28–10 | 28 | 126 | 4.5 | 3 |
| 11/9/13 | HAWAII | W, 42–28 | 28 | 226 | 8.1 | 4 |
| 11/22/13 | SAN JOSE STATE | W, 58-52 (3 OT) | 36 | 240 | 6.7 | 7 |
| 12/14/13 | ARMY | W, 34–7 | 30 | 136 | 4.5 | 3 |
"The Navy coaches and some people I've talked to think that he's the best that they've ever had," Meyer said, "which takes your breath away a little bit." 
Staubach told USA TODAY this week: "Every time I've seen him play, he's been fantastic. Keenan is as elite a quarterback as there is in college football today, I think. He's in a system where he doesn't throw as much (as others), but he does everything you have to do as a quarterback, as a leader, to win."
Reynolds helped guide Navy to a 9-4 record last season and the expectation in Annapolis, Md., is for bigger and better things this year. Meyer said he thinks this is might be the most talented service academy team he's ever faced.
"This is the best personnel of a service academy I've coached against," he said Thursday on his radio show.
And against an offense that's going to eat up clock and try and play keep-away with Ohio State's offense, every snap means that much more.
"What is keeping me awake, and I heard this thing, is every possession is gonna be critical when you play wishbone or academy teams like this," Meyer said Wednesday.
"You gotta get first downs, you gotta march it down the field. You can't three-and-out this team, you've got problems. I think they're gonna play well."
Buckeye Breakdown
The good news for Ohio State? Navy can't match up athletically. The bad news? The Buckeyes are very much a crew in transition. Playing a team like Navy gives them no favors. New faces litter Ohio State's depth chart and without Miller, it's incredibly hard to make an educated guess as to how Meyer and Co. will play this season. There's simply too many unknown factors. 
At quarterback, redshirt freshman J.T. Barrett, who hasn't played competitive football since Oct. 2012, will take the place of the injured Miller. Sophomore running back Ezekiel Elliott will lead a committee of running backs who are trying to match the production numbers by former standout Carlos Hyde. At wide receiver, only Devin Smith and Evan Spencer have considerable game-time experience. The offensive line is replacing four starters from a unit that was deemed one of the best in school history. The linebackers, aside from Ryan Shazier, were average to below average last season and the secondary was far worse.
Ohio State's offense was among the nation's best last season, averaging 46 points (third-best), 512 total yards (seventh-best) and 309 rushing yards (fifth-best). With Miller, a three-year starter, at the helm, Meyer's spread offense was supposedly poised to take off to a new level with playmakers like Jeff Heuerman Dontre Wilson, Jalin Marshall, Michael Thomas, Corey Smith and Curtis Samuel around him. Instead, they'll need to serve as bailouts Barrett when the going inevitably gets rough this fall. Whether it's against Navy will say a lot about the Buckeyes should play when Virginia Tech and its nasty defense come to town next week. 
How It Plays Out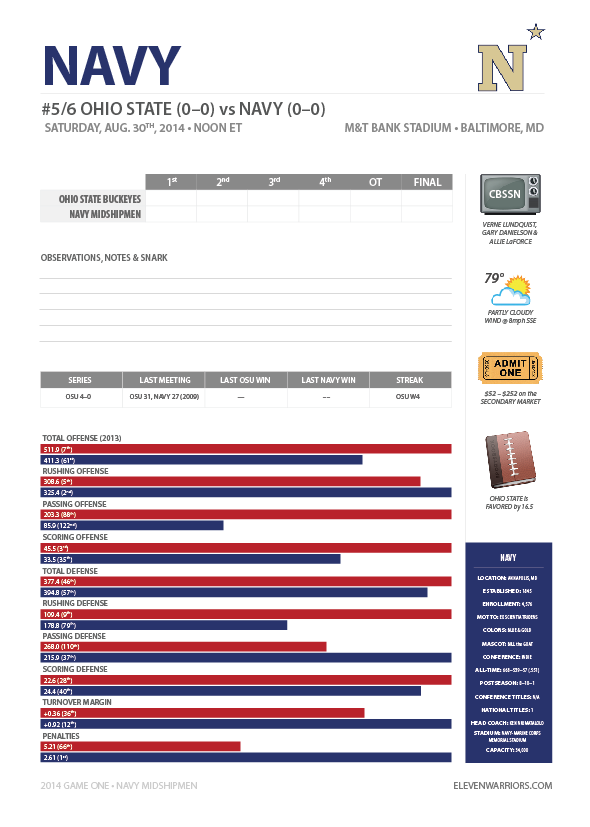 On paper, Ohio State should be able to have its way with Navy -- even without Braxton Miller. Comparing the two teams is apples to oranges. One specializes in molding future military leaders, and the other is a professional football factory. It is what it is. The talent gap is a real thing.
 Still, the Midshipmen should be able to make this game competitive, and maybe more. 
You have an Ohio State team that's talented, but unproven at virtually every position group except the defensive line.  You can say every nice thing in the world about Barrett, Elliott, the offensive line, the wide receivers and the defensive backs, but the truth is we don't really know how they're going to perform when the pressure's on. The Buckeyes have a slew of questions that'll get answered one way or another Saturday. 
Navy's the kind of team that's not going to beat itself with stupid mistakes or silly penalties. And because of that, Ohio State will need to play a pretty crisp game or things could get interesting fast.
The Buckeyes like to harken back to that weird 31-27 win against the Midshipmen in 2009 as a reminder of what could happen if they ease up Saturday. As such, Meyer has his team on high-alert, but Navy might be good enough to simply push back without the element of surprise. 
Yes, it's athletically overmatched, but the disposition needed to be a Mid lends itself to success on the football field. No, Navy's roster isn't brimming with four-star and-five-star talent, but they're a solid football team that keeps things simple and does said simple things really well. 
"There are things here that are inherent to this place that make it tough, and I embrace that. Most schools don't tell you what to wear and to shine your shoes. But I think all that attention to detail and discipline helps. Football is the ultimate team sport. Eleven guys' jobs are independent of everyone else. Everyone's job is different, but if you do your job and you aren't worried about praise and accolades, I think it helps you," Niumatalolo said.
"It's hard, but hopefully we can get an edge on a team that isn't as disciplined or is selfish."
In the end, Ohio State should be able to stave off a scrappy Navy squad that'll tell us a lot about Urban Meyer's squad. Good and bad. 
---
ELEVEN WARRIORS STAFF PREDICTION: Ohio State 31, Navy 17