The following is a sampling of the kinds of questions facing Ohio State with the start of the 2014 season just two weeks away: are the Buckeyes really a legitimate contender to make the first-ever college football playoff? Is Braxton Miller's shoulder OK? Will the pass defense improve? Is the defensive line really that good? How do you replace four starters on the offensive line and not expect to lose offensive momentum?
So we assembled a few esteemed members of the Ohio State football beat – Ben Axelrod of Bleacher Report, Jeff Svoboda and Ryan Ginn of Buckeye Sports Bulletin and Eric Seger of The Ozone – for answers and insight. 
---
A lot of people are pegging Ohio State as a favorite for one of four spots in the first-ever college football playoff despite losing most of its offensive line, Carlos Hyde, Philly Brown and a cache of talent in the defensive secondary. You think that's possible?
Ben Axelrod: Yeah, of course it's possible. This time of year it's possible that the Buckeyes will be national champions and it's possible that they'll be unranked. Anything could happen between now and January. Is it likely? I don't think so. But it wouldn't shock me either. Ohio State lost a lot of talent, but also returns a lot of talent and brings in a lot of talent. If I had to pick one team from the Big Ten to make the playoff at this point in the year, I'd say it's the Buckeyes, but I don't necessarily buy that the Big Ten champion is a lock for the playoffs each and every year. Gun to head, I say no playoff bid for the Buckeyes this year, but I certainly understand why anyone would think otherwise.
Ryan Ginn: Looking at the talent on this roster, it's definitely possible. I would not call it probable, though. I think Ohio State has a chance to be one of the four best teams at the end of the season, but I don't think they'll get there without at least one loss. Right now, there are too many questions. They're rebuilding an offensive line, we haven't seen Braxton Miller throwing the ball and the most reliable players on the ground (Hyde) and through the air (Brown) are gone. What are the odds of all of those issues being sorted out successfully? 
Eric Seger: In short — yes. Ohio State has plenty of talent on offense surrounding two-time Big Ten MVP Braxton Miller, and a revamped defense that appears to be rejuvenated in camp after the additions of Larry Johnson and Chris Ash. With all that talent, saying it can be one of the four best teams at season's end is perfectly possible. But when you look at its schedule, Ohio State has no easy road to go undefeated in the regular season, much like it did the past two years. The big one is obviously Nov. 8 against Michigan State and the rivalry game against Michigan is never easy, but don't sleep on Navy. With a stud quarterback for it's triple option offense in Keenan Reynolds, if Ohio State doesn't play assignment football it could easily find itself 0-1 as it heads home for its matchup with Virginia Tech. And I just don't think voters will be impressed with a one-loss Big Ten team enough to invite them to the College Football Playoff.
Jeff Svoboda: It's definitely possible. Is it probable? I don't know. I can see why people like Ohio State – there's plenty of talent there, starting with Braxton Miller, and I think the defense does take a big step forward. But it's also a very young team – there aren't a ton of seniors on the squad – and that tends to lead to inconsistency. There are also some dangerous trap games on the schedule, and that Kenny Guiton security blanket is gone, too, so you're one missed block away from a totally inexperienced quarterback being in the game. But the Buckeyes will have more talent than everyone on the schedule, I believe, so they have as good a chance as anyone to make it into the final four.
Compare Urban Meyer in 2012 to Urban Meyer in 2014. How's he different, if any?
RG: Urban Meyer wasn't working in Cecil County, Md., like I was in 2012, nor was he coaching the mighty Perryville Panthers, so it's hard for me to say for sure because I wasn't really around him or his program two years ago. 
ES: Be it only my second year on the beat, I don't think I can fairly answer this question because I was just a student during Meyer's first season in Columbus. But I'll try just for fun. It appears as if Meyer is as consistent now as he was in 2012 when it comes to solidifying the culture of his program and keeping his coaching staff intact in order to ensure uniformity. I truly believe Meyer is so locked into football that he doesn't know what is happening outside it from the time fall camp starts until the season ends, which is a good thing for Ohio State. Much like he did with Storm Klein, Meyer allowed Tracy Sprinkle back on the team after legal charges were dropped, so from that side of things I would say he hasn't changed. About the only thing that's different in 2014 than 2012 is he's had two losses weigh on his mind for eight months heading into the season instead of turning in his analyst hat for a headset.
BA:  I think they're relatively the same person, but I don't think 2013 Urban Meyer was. I think that the pressure got to 2013 Urban Meyer and he'd admit as much. That infamous pizza picture of Meyer after the Big Ten title game? That was a microcosm of sorts for the 2013 season. I think both 2012 and 2014 Urban Meyer have a better perspective than 2008-2010 Urban Meyer did. Winning isn't life or death – just a close second – but that could all change with a couple of wins – or losses – this season. We shall see.
JS: I think he's more comfortable than anything else. When he arrived in 2012, he took over a team that clearly needed some direction, and he went about installing it. I think he had to be a bit of a hard ass at the start just to establish exactly the culture he wanted. Now, I think he and his staff are more settled. I don't think he and Mickey Marotti are any less demanding, but the expectation level has been set and the players know what to expect. He's recruited well. He's installed a lot of the off-the-field stuff he wants. I think he's happy where he is.
Ohio State brought in co-defensive coordinator and safeties coach Chris Ash to help cure a pass defense that was one of the nation's worst in 2013. The Buckeyes say they feel fast and free in what's expected to be a more aggressive scheme. Will the defensive overhaul work?
JS: It'll work handsomely, in my opinion. I think there's a good chance the Buckeyes jump from 110th in the nation in pass defense into the top 30, and that's not just because Navy is on the schedule. The Buckeyes have the talented athletes to really take to Ash's scheme, and I think communication is better and things are much clearer when it comes to pass defense. What does  worry me, though, is the early going. In this new press quarters coverage, one mistake means six points on the board, and I think will be an adjustment period. But in the end, things will be much better than last year. Heck, they almost have to be.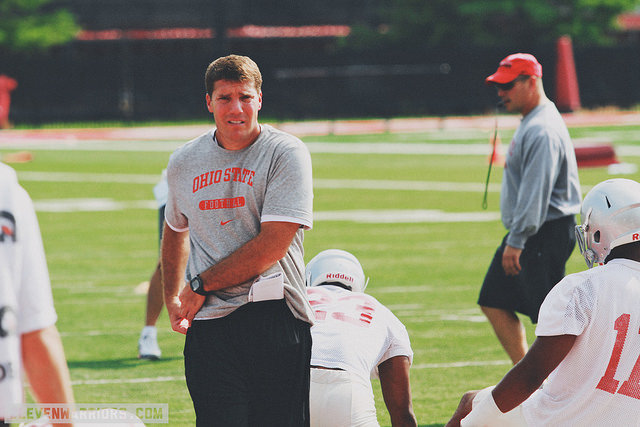 ES: In order to properly answer this question, I think it is necessary to establish what the word 'overhaul' means. The term is one that's been used by Urban Meyer, Chris Ash and plenty of people within the program, but I think it's going to take more than one year for Ash and Meyer to even consider it being complete. I have no doubt in my mind the passing defense will be better in 2014 than it was in 2013, because after all how could it get much worse? The players are extremely confident in the new scheme and I think press coverage coupled with the stud defensive line is going to cause problems for opposing quarterbacks. I don't really think Ohio State is going to be tested through the air until late October, though, when it visits Penn State. Christian Hackenberg has a big arm, and while the Nittany Lions are short on scholarships, James Franklin appears to know what he's doing. Plus, playing at night in State College, Pa., is no easy task. So I think the overhaul will work to an extent, but Ohio State is as least another season from even considering itself in the same breath as what Michigan State was last year.
BA: Yes, simply because there's now one voice controlling the OSU defense. The past two years, I think that "co-coordinator" actually meant something, with Luke Fickell in charge of the front seven and Everrett Withers in charge of the secondary. Clearly there was a disconnect, because talent hasn't been the issue for the Buckeyes defense for the past two years. I'd be shocked if the defense isn't improved – can it really get any worse? – but don't see Ohio State making the jump to one of the top units in the nation, at least not yet.
RG: I realize this isn't saying much, but the pass defense will be better. Part of that may have happened without the addition of Ash, as I think people forget how much losing Christian Bryant hurt because of, well, who replaced him. But the cornerbacks seem excited about playing a more physical style of defense, and I think that will translate to on-field success. It's important to remember that opponents will continue to throw more than they run because of how good the OSU run defense will be, but I'm betting on a 50-yard improvement in average passing yards allowed, which would put them in the top 30 or so of FBS teams based on last year's numbers. 
After shoulder surgery in February and missing spring ball, Braxton Miller's been fairly limited in throwing the football during fall camp. The coaching staff insists it's part of a plan to ease him back into the flow of things. You buy that?  
RG: I think they really believe he'll be fine by the first game, so I buy their honesty, I guess. I don't believe it's a non-issue, though. When your star quarterback is being eased back into throwing in mid-August and his backups have a combined 3 career passing yards, I don't think that's something to be taken lightly. I don't think enough has been made of the fact that if he suffers even the slightest setback, Ohio State will be trotting out either Cardale Jones or J.T. Barrett to face a solid Navy team. Not quite the same as Kenny Guiton vs. 1-11 Cal. 
ES: Absolutely. Miller had surgery six months ago, and while I am not a doctor by any stretch of the imagination, I see no reason for him to be 100 percent and full-go against Navy. He is entering his third year as a starter in major college football and has a pair of unproven backups behind him who need all the reps they can get. Miller very well could have some rust to his game once the regular season gets going, but I think he'll be just fine. He's one of the most dynamic players in the nation and although Tom Herman seems a bit concerned he hasn't had as much time with his quarterback as he wants, I see no reason for them to rush him back and risk any setbacks.
BA: Nope. I'm actually very concerned about Miller at this point, because I don't think he's as far ahead as the coaches thought he'd be. The Buckeyes held a scrimmage last weekend and Miller wasn't even a part of it, which makes you wonder what – if anything – they could have even gotten out of it. For all intents and purposes, Miller is the Ohio State offense. The longer he's out of the lineup, the longer it's going to take for the Buckeyes to gel at the start of this season. With Virginia Tech looming in Week 2, that'd worry me.
JS: I do buy that, though it worries me. Braxton Miller is a quarterback who is still getting better, so taking away not only all of his spring reps but many more in the early days of camp is not an ideal situation. Kenny Guiton was great at mental reps, but I think that might be more the exception than the rule. Most people, I think, learn by doing, so the time Miller has missed is a worry. But I do think he'll be healthy and ready to go for the Navy game.
Meyer suggested that this year's defensive line might be cut from the same cloth as the one from his 2006 Florida Gators. Do you agree? Or is that an overstatement?
ES: It's hard to disagree with Meyer on this one. Just look at the names — Michael Bennett, Noah Spence, Adolphus Washington, Joey Bosa, Tommy Schutt — all players who have shown they can rush the passer and stop the run, or have the potential to do so. Ray McDonald, Jarvis Moss, Derrick Harvey and company all had similar body types to what the Buckeyes have this year on the line and we all know how that turned out. Plus, I think it is a shame to forget what Larry Johnson brings to the table in terms of developing talent. Meyer knows the value of winning the battle up front, and I agree with him in saying Ohio State's defensive line has the potential to be as good as the one he had in 2006.
JS: The funny thing is if you go back and look, it's not like that Florida D-line was the best ever. Sure, Derrick Harvey and Jarvis Moss were very good, but it's not like either finished with 15 sacks that year (Harvey had 11, Moss had 7.5). And Harvey had eight NFL sacks and Moss six and both are out of the league, so it's not like these were J.J. Watt-level players. They just happened to have a very good night against a team that wasn't mentally there (and an offensive line that struggled with line calls all night). ANYWAY, that's a roundabout way of saying yes, I think the Buckeyes can be that good. They have four above-average players starting – Joey Bosa could be the No. 1 pick next year, Noah Spence is pretty terrifying one-on-one on the other side, Michael Bennett has great quickness for his size, and Adolphus Washington really could be in for a Bennett-esque breakout after being banged up last year. I think the depth is pretty good, too. These guys are legit.
BA: I actually think it has the chance to be better. Across the front-four, you have four players with the talent to be All-Americans, including three who are arguably already at that level. Enjoy Joey Bosa while he's here, because it's not going to be for long, and when all is said and done, I think he could be one of the best Buckeyes defensive linemen of all time. The key is Adolphus Washington, who has been bounced around the lineup throughout his time in Columbus. If he can put it together and stay healthy for an entire year, this line will truly be something special.
RG: It's an overstatement (Meyer has a habit of making those, like the time he called freaking Jimmy Garoppolo one of the best QBs he's ever seen), but I would take the 2014 Ohio State defensive line over the 2006 Florida defensive line. That's a good start to what should be an improved defense. I can't say the same about the back seven until they actually show it on the field. 
Last year, Urban Meyer called Dontre Wilson a "novelty" and "a hood ornament." What will he mean to the Buckeyes this year?
BA:  Outside of Miller, I think he'll be the Buckeyes' top weapon on offense. Ohio State clearly made a concerted effort to get the ball into Wilson's hands in the spring and that should only carry over into the fall. I don't expect him to be "Percy Harvin" per se, but I don't think that a Harvin Lite season is out of the question.
JS: I think he can be a stud – or he could lose time to Jalin Marshall, a name on everybody's list this fall. Wilson looked great in the spring in the "H" role, using his quickness to break big plays when matched up against linebackers. He's added size this year, too, and looks the part of a guy ready for a breakout. But Marshall could be just as good – remember, he was a five-star guy coming in. What happens at that spot will be pretty intriguing, but I expect plenty of production.
RG: I've gone back and forth on Wilson several times, from thinking he'll be the savior of the offense to having Russell Shepard flashbacks as far as hype-to-production ratios go. I still don't think he'll quite be there this year, but his numbers will be better than last fall. To quantify it, I'll say he'll be good for at least twice the amount of touchdowns he scored last year (three) but won't get to double digits. 
ES: I think Wilson is primed for a big time year as far as production goes in 2014. As an 18-year-old freshman, the only thing I really saw from him was a quick first step and soft hands. He said he at times felt like a decoy in the offense last year but put on in excess of 20 pounds so he could contribute on offense as more than just a pass catcher. He better be ready to stave off some stiff competition to get offensive touches, though, because Meyer has raved about Curtis Samuel, Jalin Marshall and others.
Ezekiel Elliott is projected to be the guy that replaces Carlos Hyde. Those are awfully big shoes to fill. Can he do it as just a sophomore?
BA: No, but he's not the same type of running back. He'll have help and I expect Curtis Samuel, Rod Smith and Bri'onte Dunn to add extra dynamics to the OSU run game. I think Elliott is probably the best blend of everything the OSU running backs have to offer, but you're right, Hyde's shoes are awfully big – and probably too big – to fill with just one season.
RG: Ezekiel Elliott will give Meyer some solid production at running back, and he'll do great things for Ohio State at some point in his career. However, I need to see it before I believe he's a guy Ohio State can turn to and say, 'Go win us the game' like they did with Hyde in games like Northwestern last year.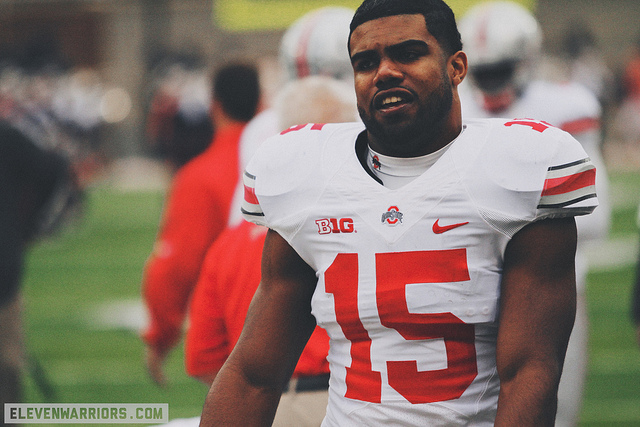 JS: That's a good question, and I'm going to say no. Which is not so much a knock on Elliott as it is just a compliment to Hyde. I mean, Hyde was a stud last year. He made that offense go. Elliott is a heck of a combination of speed, power and want-to, but he is just a sophomore, as the question points out. He could have a very good year and still not do what Carlos Hyde did last year. Add in the people behind him – Rod Smith won't go quietly, and Curtis Samuel has to get some carries – and the young O-line and I just don't think the Buckeyes depend on the power run game and thus a feature back like they did last year.
ES: Doubtful. Ohio State not only lost the battering ram that is Carlos Hyde, but the four offensive linemen who helped forge the gaping holes he ran through. That became their identity in 2013 — ground and pound with a splash of Braxton Miller through the air to keep defenses honest. Elliott is really, really talented, but to ask him to even do half of what Hyde did is a bit suspect. If he can stay healthy and get stronger and hungrier like Hyde did his final year at Ohio State, I could see it. But as a sophomore? No.
This is a do-or-die season for Curtis Grant, but he's in dogfight of a position battle with freshman Raekwon McMillan? Who gets the starting job at middle linebacker?
BA: Grant will, because he's the senior and until I see evidence that shows otherwise, Meyer has shown preference to seniors since arriving at Ohio State. Now, I do think that McMillan will see significant playing time and the two could border on 50-50 when it comes to reps, but I think that Grant making a jump as a senior is just as likely as McMillan immediately living up to his 5-star hype.
ES: Grant, at least to start the season. I'm in love with McMillan's game and he's got the body to be a force in the Big Ten for years to come. But even though he enrolled early and has been seen running with the second string defense in camp, I find it really hard to believe he will start right away. Meyer always says he doesn't recruit freshmen to redshirt and I don't think McMillan will be any different. But I look for him to get his start on special teams and if Grant gets hurt again or is not producing, then it will be McMillan's time.
JS: I think Grant gets it. They still love McMillan, but I think every coach wants to see his seniors excel, and it seems this fall like Grant has taken that step forward. And honestly, he wasn't a bad player last year (especially against the run) until he got banged up, and the defense really fell off after that. I think Grant has some big games this year, especially against the Minnesotas and Michigan States of the world, but we still see some McMillan and he impresses for a young guy.
RG: I think Curtis Grant gets the nod against Navy, and I suspect he keeps it unless his fall is a disaster. I'll hedge that, though, by saying that I still think McMillan will see at least some non-garbage time snaps at linebacker this year.
Ohio State loses four multi-year starters on an offensive line that was heralded by some as one of the team's best ever. Ed Warinner's one of the best in the business, but that's a pretty tall order. Will they be OK?
RG: The offensive line won't be as good as last year, but they'll be fine. I think Pat Elflein coming on in the middle of The Game and playing well is a sign that these guys are more prepared than their inexperience would indicate. They have the potential to get embarrassed against a strong Virginia Tech defensive line in the second game of the season, but I won't overreact to that. They'll be solid by Nov. 8, and that's what matters. 
ES: Ohio State's offensive line last season was awesome. There's no way around that. Will Ohio State's offensive line be OK this season? Yes, I think just that — OK. Coach Warinner is terrific at what he does and is someone I think will probably be a head coach somewhere down the line. But I just don't see them being in the same league as the unit last year. Those guys were solid — every, single, game. And losing four of them would be cause for some growing pains for any coach, I don't care how good you are. Taylor Decker and Pat Elflein are really, really good players but the rest are relatively unknowns.
BA: Yeah, they'll be OK. Will they be as good as they were last year? Obviously not. But they don't need to be as good as they were last year, especially with the focal point of their offense changing. Ohio State seems to like the starters it has at most positions on the line, and for good reason. I really like Taylor Decker and think that when all is said and done, he could be one of the best Buckeye linemen in recent memory, but just remember not to hold this line to last year's standards. That's simply not fair.
JS: I'm just not sure on this one. There are pieces I like, for sure, but when you're asking four guys with very little experience to take over, that's an awfully tall order. So I'm not saying it's going to be a disaster, but I do think there's going to be a learning curve there, especially in pass protection. I'd like to see these guys play some more before I comment further, but I do expect there to be some bumps in the road.
What's a trap game for the Buckeyes and why?
RG: Minnesota. I have to give credit to my editor Jeff Svoboda here because he has been saying this for some time, but I completely agree. If Ohio State beats Michigan State, the Buckeyes will (likely) be coming off a physical game against a great opponent and heading to play outdoors in Minnesota in mid-November. Even though I think Jerry Kill maybe gets more credit than he deserves as a head coach, his teams play hard and play physical. That combination is not something you want to see after a "circle the calendar" game.
ES: I've already said my piece on how serious of a threat Navy is to Ohio State's bid for a third straight unbeaten regular season, so I'll pick another trap game: Minnesota. I think this is going to be a trendy upset pick for a lot of people, mainly because it is likely to be a noon game after the big-time matchup against Michigan State in primetime one week earlier. It's the only time this year Ohio State has to play back-to-back road games, and if the Buckeyes take care of business leading up to and against the Spartans they could be susceptible for a huge letdown against Goldy.
BA: Cincinnati. The Buckeyes always have a target on their back, but it will be even bigger in this game. Coming off a bye and looking ahead to Big Ten play, I think that focus could be an issue for Ohio State, not to mention that Cincinnati is a really talented team. I think Ohio State will win, but I'm not counting out the Bearcats just yet. That should be a fun one at the end of September.
JS: Minnesota, Minnesota, Minnesota. One week after playing perhaps the biggest game of the year at night at Michigan State, a beat-up Buckeye team must fly to take on another physical outfit on the road at Minnesota. Add in the potential for bad weather and the unfamiliar surroundings and this one worries me. If the Buckeyes aren't ready to go from the opening kickoff, they could find themselves down against on the road against a team that plays a style that can really shorten a game. I know Minnesota doesn't have OSU's talent, but they have a good coach and this game is just at a bad time.
What's the game you're most looking forward to covering and why?
ES: Michigan State. Potential top-five matchup that could be the de facto Big Ten East Championship Game, a November night on the gridiron and my first trip to East Lansing, Mich. Sign me up.
JS: If we're talking simply about the importance of the game, I'll say Michigan State. A night game, on the road, at a hostile environment, with revenge on the line – how could you not want to be there for that one? The stories will basically right themselves, and that's a make-or-break game for both teams. If we're talking about fun, though, I'll say Navy. First of all, I enjoy Baltimore as a city. Secondly, it'll be fun to see the brigade, and I've always loved service academy football. Third, it's the opener. Hooray football!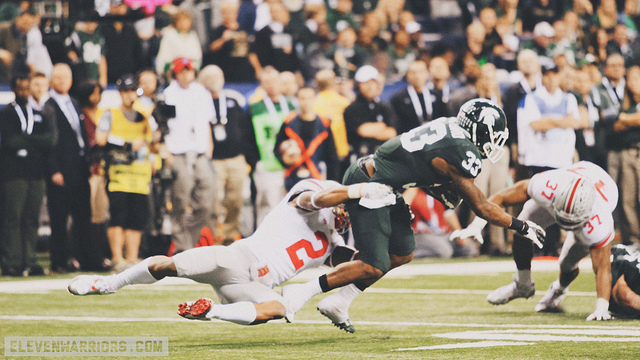 BA: Michigan State. I mean, if both teams live up to the hype, is that even a question? That will be the de-facto Big Ten East Championship Game and will have as much hype as any Ohio State game since 2006. East Lansing is a pretty underrated atmosphere due to the little man syndrome that the fan base deals with while playing the shadows of both Ohio State and Michigan, so I can only imagine what that place will be like for a night game. Even regardless of records, that should be a fun one.
RG: The answer to this will always be Ohio State-Michigan, and I must admit that I enjoy this rivalry more than I thought I would. But since that's a default response, I'm going to give a more personal answer and say Navy. On top of the fact that I worked in Maryland for two years and have some friends in the Baltimore area, four of my high school friends went to the Naval Academy. I couldn't be happier to go back to the Old Line State twice this season. Baltimore is an awesome city, the M&T Bank Stadium press box is nice and it should be a fun few days for Buckeye fans on a trip they rarely get to make. If you can go to this game, please do.
Pick one and briefly explain: Playing in the Big Ten will help/hurt Ohio State's chances to secure a berth in the national championship next season?
JS: I don't think the Big Ten will drag Ohio State down at all, if that's what you're asking. I think this has the potential to be a very solid Big Ten. You have two teams who could be nationally elite in Ohio State and Michigan State, a Michigan team that could have a resurgence if it finds some offensive linemen, a Maryland team that is very experienced and has some great offensive weapons, a veteran Iowa team, and two squads in Wisconsin and Nebraska who could be 10-win squads as well. (This isn't even including feisty Minnesota and Indiana squads, or a Northwestern team that I might've picked big things for were it not for the fact its two best offensive players just disappeared.) To people who pay attention, I think this year will be seen as a step up for the league and therefore its champion will have a good chance to get into the College Football Playoff depending how things shake out.
BA: Help – because it gives the Buckeyes the best shot at going undefeated. And if they do that, they're in the playoff. And from there, anything can happen.
RG: When it comes down to it, I think it helps. I wouldn't say that for any other team in the Big Ten, though. Growing up in SEC country, I can tell you that despite 2006 and 2007 most people don't view Ohio State as the stereotypical Big Ten team. I think the Buckeyes are the only team in the conference that could get into the playoff with a loss, and let's face it – it's easier to win in the Big Ten than the SEC. Even if the SEC gets two spots in the playoff – and I'm not as sold on that as others – it's harder to be one of those two teams in the SEC than it is to go 11-1 or 12-0 in the Big Ten. 
ES: Help. Plenty of people are likely to say the opposite, but I think the Big Ten is going to surprise some. Michigan 'should' be better, as should Minnesota and Nebraska and the conference has two heavyweights with Ohio State and Michigan. You run the table and win the conference? It'll be tough to keep you out of the playoff.