Could the Horseshoe on the banks of the Olentangy River become the "Bigger House" in 2014?
David Briggs of the Toledo Blade brought up the question recently in this piece and it's certainly not out of the question.
Briggs writes:
Ohio State has had no trouble persuading undergrads that the spectacle inside the stadium is better than their buddy's 60-inch high-definition television and beer-furnished refrigerator. With an unprecedented three home night games and the Buckeyes expected to contend for a national title, OSU sold ticket packages to 29,614 students — 16,553 who paid $252 for all seven home dates, 13,061 who will attend only the Big Ten games.

Michigan, meanwhile, expects to sell 12,000 to 13,000 student season tickets, said UM associate athletic director David Ablauf, down from about 21,000 in 2012 and 19,000 last season.
Michigan Stadium's capacity is listed at 109,901 and the Wolverines led the nation with an average attendance of 111,592 last year.  Ohio Stadium's capacity is 104,944 after adding more than 2,500 seats this summer. The Buckeyes drew an average of 104,933 last season with a less-than-stellar home schedule. 
Ohio State hosted Wisconsin, Iowa and a down Penn State squad in 2013, along with such giant names as Buffalo, San Diego State, Florida A&M and Indiana.
Michigan will have a similarly ugly home slate in 2014, facing Appalachian State, Miami (OH), Utah, Minnesota, Penn State, Indiana, and Maryland. All of its rivalry games (Ohio State, Michigan State and Notre Dame) are away from home.
It's hard to argue with kids staying home to watch some of those games on the tube.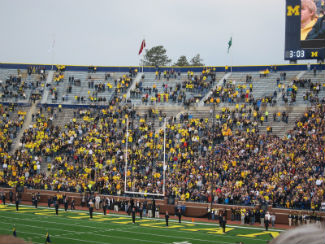 Ohio State increased student ticket sales this year, while Michigan went the other way. In fact, Michigan's non-student ticket sales are also down. This could be the year the Buckeyes pass the Wolverines for the attendance crown.
It's hard to imagine Michigan averaging fewer than 107,000—around the number Ohio State may hit—unless the season starts disastrously in Ann Arbor. And they've had no bigger home disaster in the modern era than a home loss to Appalachian State, which happens to also be this year's opener.
Both schools have been raising ticket prices in recent years.
So why are Michigan students staying away in droves (an estimated 7,000-8,000 fewer student tickets were sold this year than in 2012 and 5,000-6,000 fewer than last year) while Ohio State has avoided the nationwide drop in student sales? John U. Bacon discussed it last month.
Bacon's article paints Michigan AD Dave Brandon as being out of touch, and it's hard to argue with him.
After the 2013 Notre Dame game, Brandon said, "You're a 17-18 year old kid watching the largest crowd in the history of college football with airplanes flying over and Beyonce introducing your halftime show? That's a pretty powerful message about what Michigan is all about, and that's our job to send that message."

Is that really what Michigan is all about?  Fly-overs, blaring rock music, and Beyonce?  Beyonce is to Michigan football what Bo Schembechler is to — well, Beyonce.  No, Michigan is all about lifelong fans who've been coming together for decades to leave a bit of the modern world behind – and the incessant marketing that comes with it – and share an authentic experience fueled by the passion of the team, the band and the students.  That's it.

In his speeches, Brandon often mentions he was the CEO of three Fortune 500 companies.  Then why doesn't he know his customers, and what they want?
"We know who our competitor is. Your 60-inch, high-definition TV," says Brandon.
If that's really the reason, I guess they either don't sell those in Columbus or people just don't like watching them as much as they do up north.
Brandon's moves and the declining value of Michigan football as an on-field product since Rich Rodriguez's first season (with a one-year exception of Brady Hoke's first season) have conspired to chase away the Wolverines' paying customers. Brandon is fond of reminding us that Michigan football is a brand but he seems more interested in data capture than actual sales.
It wouldn't take much to tilt the scales in Ohio State's favor. If the Buckeyes max out their attendance with a decent home schedule, which includes multiple night games and one of the country's tougher non-conference slates, and Michigan's attendance continues to slide, Ohio State's attendance could surpass the Big House—especially if the Wolverines struggle on the field.
In recent years, Michigan's only real bragging rights in college football's greatest rivalry center on the size of its crowds. Should Ohio State capture the attendance crown in addition to continuing to get the better of the Wolverines in the on-field battles, it would serve as the final insult and might spell the end of the Hoke era up north.