James Otis "Scottie"Graham came to Columbus from Long Beach, N.Y., and had a memorable career as an Ohio State running back in the late 1980s and early 90s.
Graham was listed as a fullback but played more like a tailback, despite sharing the offensive backfield with a veritable "who's who" of Buckeye running backs—guys like Robert Smith, Raymont Harris, Butler By'Not'e, Dante Lee, Carlos Snow, and others.
After a redshirt freshman season, he rattled off 1,768 yards over four years on 360 carries (4.9 YPA) and 19 touchdowns. He also caught 23 passes for 223 yards and another score. At 5-foot-10 and 220 pounds, Graham provided a unique blend of power and speed for John Cooper's Buckeyes and only an ankle injury his junior year and the numerous talented backs around him prevented him from putting up truly colossal numbers.
After leaving Ohio State, Graham was drafted by the Pittsburgh Steelers in the seventh round (188th overall) in the 1992 NFL Draft. Over six NFL seasons from 1993-97, Graham ran for 1,267 yards on 364 carries and seven touchdowns and caught 20 passes for 126 yards.
He left the Steelers after one year and played for the Jets, Vikings and Bengals before embarking on a successful career with the NFL Players' Association. He was recently named Senior Associate Athletics Director for Sun Devil Athletics at Arizona State University.
Scottie was kind enough to share some thoughts on football, Ohio State, the NFL, leadership and the late Korey Stringer.
Your name is James Otis. How did "Scottie" come out of that?

Scottie Graham: Scottie is a nickname that my grandmother. My grandmother liked Scottie a little bit better so she just called me Scottie and it stuck.

Was there a player or team that drew you to football as a kid?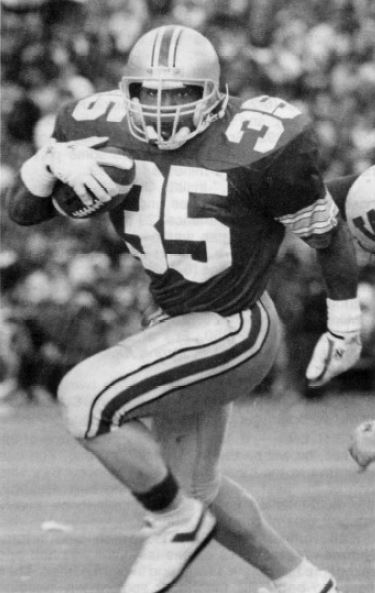 SG: Probably Tony Dorsett and seeing Tony Dorsett play. Nebraska tailbacks Doug Dubose and Mike Rozier were guys that had a little bit of electricity to them, so that's who I tried to pattern myself after.

How old were you when you started playing organized football?
SG: I started playing when I was 12.

You played football and wrestled in high school, but many don't know that you also played lacrosse. How did that come about?
SG: My high school football coach, Jim Bernhardt, who's with the Houston Texans—he's Bill O'Brien's right hand man—was my high school football coach. But he was also the assistant lacrosse coach. So he said, "What are you doing this spring." I said," nothing." He said,"Yes you are, you're going to play lacrosse." I said "Brothers don't play lacrosse." He said, "Are you kidding me? One of the best lacrosse players ever was Jim Brown." And so I was sold right there because I wanted to be Jim Brown. My son plays it in college right now (Mylek is a senior at Arizona State).

How did you end up leaving Long Beach, N.Y. to play at Ohio State and what drew you to the Buckeyes?

SG: It was an opportunity to graduate, number one. I knew the Ohio State degree carried a lot of weight, through the alumni. There was an alumnus named Jerry Brownfield, he was a guy from Great Neck, and he literally kept bugging Earle Bruce's staff. And (former OSU assistant coach) Chuck Heater used to go "there's a guy you got me to see." Jerry would keep on asking Ohio State, "how come you guys aren't recruiting this guy?" Syracuse would pop up. Penn State would pop up. Temple, Rutgers, and schools like that would pop up.
And Pete Johnson went to my high school. Most people don't know that. Pete Johnson played for my high school football coach. So I wasn't the first Long Island guy to go to Ohio State.
What do you recall most from visiting Ohio State and your early days there?

SG: Just the staff and the opportunity to play in a place where Archie Griffin played. I knew Archie would be a support mechanism. Billy Hill is a guy who you'll see his name around—he has been a trainer and a conduit to the Ohio State Buckeye team for over 25 years. Billy's now deceased but Billy is somebody who I said, "Wow, I get a chance to work with Billy Hill." So he was another influence.
And (former Woody Hayes assistant and OSU Associate Athletic Director) Bill Myles. They had excellent influence of African Americans who would understand my story. I had nothing in common with the Midwest except football. I was a fish in different waters. So it helped me that I could go talk to somebody about my problems and issues. Larry Romanoff, the academic councilor was a star. He's still there. I still talk to Larry now. When I got my job at Arizona State I called him and he was like, "Whoa!" Great guy.
You really broke out as a sophomore, rushing for 977 yards and 11 touchdowns. What was that like for you?
SG: Well you've got to give credit where credit is due. (Former OSU Offensive Coordinator) Jim Colletto convinced me to stay for my sophomore year. I was leaving. I wasn't playing fullback for anybody. I was a tailback. He said, "Scottie, you're a fullback. We're going to give you the ball here. We've got a couple of track players. They're great players and you're going to love them." And he convinced me to stay.
If you think about it, Ohio State was ahead of the game when it came to playing a lot of running backs. Because you've got to talk about Raymont Harris. You've got to talk about Dante Lee—before you even talk about Robert Smith and Butler By'not'e. Jimmy Bryant. Vince Workman. Carlos Snow. We had some of the best backs in the country. I don't want to shortchange anybody. We had 14 running backs at one point. Mark Hicks transferred in at one point, remember him? He transferred in from Cal and he was a pretty damn good running back.
It was an embarrassment of riches at running back for Ohio State during that time and it's so unusual to find so much talent at one school at the same time.

SG: Look at Bobby Turner, who ended up as the running back coach in Denver. Here's a guy who coached us like we were pros when we were in college. He was in Washington last, but Terrell Davis, Clinton Portis...those guys have one constant and it was Bobby Turner.
How tough was it to lose your momentum as a junior with that ankle injury?
SG: It gave me a chance to re-focus on what was really important and school was the most important thing. It gave me a chance to re-evaluate, because I had thought about leaving my sophomore year. The injury my junior year, I was like, "I'm definitely leaving." I was about to graduate anyway and I think I fulfilled my obligation to Ohio State. But it made me stay.  It helped me work further on my graduate school. So the injury was a blessing in disguise and I always looked at it that way. I got a chance to meet my wife. So it was a blessing ten fold. People look at it like it was (just) an injury, but it was a time for me to focus.
What really sticks out in your mind from your playing days at Ohio State—any particular play or game?
SG: I guess character. It wasn't even playing. I know when Rick Bay went to fire Earle Bruce; that was about a character thing to me. What I say about Ohio State, the people— and it's so much different at Ohio State than any other school—is just the character, man. Because you have to be intellectually superior, athletically superior and you've got to be able to handle pressure and the political environment. So, there are so many things you have to go through.
But probably the thing that I remember is that when Rick Bay went to fire Earle Bruce, I said, "Wow." That's when I think I knew that this meant a lot more than a game growing up in New York. This is something that's real. I'm like, "OK, this is a business. I'd better figure this thing out quickly."

Earle's last game was pretty dramatic after the firing. It must have been something to have been a part of that.

SG: That's the only pair of gold pants I've got. We lost four in a row when I was there in Cooper's day. Some of these guys have four pairs. Oh my gosh. I only have one pair. I still have my pair and I put them on. I only wear them Michigan week and that's it.

Being drafted into the NFL had to be an incredible time for you.
SG: Getting drafted by Pittsburgh was great because the Steelers love Buckeyes—because we play physical and they play physical. Being there my rookie season was easy for me because I knew what it was going to be about. Nothing could be more physical than playing in Pittsburgh with Greg Lloyd, David Little, Levon Kirkland, and Hardy Nickerson. You weren't going to see anything worse than that in a game. Practice was real.
In Minnesota you finally got a chance to become a featured running back, setting a club record for yards over a two-game span (305 against Kansas City and Green Bay in 1993). Did you feel like you'd arrived?

SG: I just knew it was a matter of time. I knew that I was going to play. People act like I was Rudy or something. You know, like, "This guy came out of nowhere." No, I was a pretty damn good player at Ohio State. Ultimately, that was what it was about. It was just a matter of finding the right place. Because if it wasn't the right place, I wouldn't have played.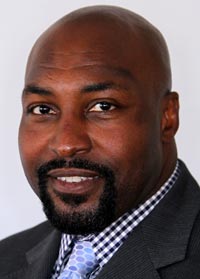 Did they still try to make you a fullback in the NFL?
SG: I played both positions which made it invaluable because most running backs don't want to block. I was like, "I'll block the hell out of somebody, no problem!"

Football is football, but you have been involved in other, more important endeavors. What was it like to be involved with the Korey Stringer foundation and sit on their Board of Directors?
SG: I'm honored to carry that torch. I sat on the board as an individual, not as an NFLPA member. Korey is a guy who still lives in me. He was a guy that would leave candy and birthday cakes in people's lockers. That means a lot to me. He was one of my Buckeye brothers. I used to call the Vikings the Minnesota Buckeyes. We had Cris (Carter), me, Robert (Smith)...we had so many Buckeyes up there at that time that it was like a home team with home cooking. Sitting on the board I'm honored to do. When (Stringer's widow) Kelci asked me, I said, "Are you kidding me? Tell me when, what time, let's get this done." I'm so honored to give back to Korey's legacy and that's so important.
How did you get involved in working for the NFLPA, where you served since 1998?
SG: Just opportunity. I did internships everywhere I went. It was nothing new to do internships. So when I was with the Bengals, I went up to Gene Upshaw and said, "You need to hire me." And he said, "You got a resume?" And I said, "Yeah, actually I've got a master's degree." He said, "Well, send me a resume and come on and do this internship." And I did, and ultimately I got the job there.

Now you're working in Arizona State's athletic department. Why the switch to college at this time?
SG: It's really exciting to give back to young people. I'm at this stage of my life where both of my kids are college aged. So the opportunity to work...I love leadership. I love working with people that motivate people. I grew up with people that are motivated. Knowing (ASU Vice President for University Athletics) Ray (Anderson), it was a tremendous opportunity to work with a tremendous leader. I've known Ray for awhile. I've known Ray since I was playing. He represented players. He represented Denny Green. He represented Ty Willingham. So that's exciting, when you get a chance to work with someone like that.
Do you ever make it back to Ohio State?
SG: I usually try to come back for the homecoming game. I came back two years ago when we played Nebraska. I haven't been back since, but I try to make it back as much as I can. These days I don't get the opportunity to get back like I want to.
In the past, when John Cooper was the head coach and recently Jim Tressel, they would invite me back every year. Not to say Urban hasn't invited me back, but they had it on the agenda for me to come back and talk about life skills.
That was always an exciting time for me, meeting guys when they come in - a guy like Troy Smith, when he first comes in. You get a chance to meet him early and build a relationship with him and that helps. Before the marketing has anything to do with Troy, I was able to push forward, because I built a relationship with him.