Joe Germaine is a bona fide Ohio State legend. No OSU fan who saw it will ever forget the game-winning drive he engineered to lead the Buckeyes to a comeback win over Arizona State in the 1997 Rose Bowl.
The former OSU quarterback transferred from Scottsdale Community College and, after a redshirt year, he split time with Stanley Jackson at quarterback before taking the job full time his final season. He amassed 6,370 passing yards and closed his career as the school's third-leading passer despite not getting the full-time role until his last year.
We were fortunate to catch up with Joe to ask him about his football career, favorite Buckeye memories, and his current activities.
Was your early love of football tied to any particular player or team or is football just what you and your friends did for fun?
Joe Germaine: I was born in Denver and because of that I sort of grew up a Broncos fan. I kind of always had a passion for football and I grew up loving John Elway. I liked how he played the game.
Is that why you became a quarterback?
JG: I wanted to be a running back my first game of Pop Warner, but my coaches made me play quarterback and I was devastated. It was a rough first year. I fumbled the snap pretty much every time I tried to receive it, but I got a little better as the year went on. The next year, when I was nine, is when I really started falling in love with playing quarterback.
What do you remember about your recruiting process out of high school?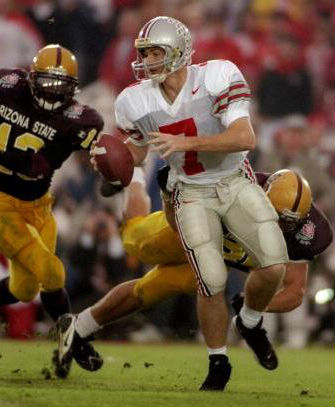 JG: It was very difficult — a very hard process. The school I went to wasn't known for throwing the football. We were kind of a tough, run-the-ball, I-formation team. We played great defense. Other than quarterback I played safety. We had a lot of success and won a state title, but on average, from the quarterback position I threw the ball maybe five or six times a game.
I got recruited more as an athlete. I got some opportunities to play safety at the next level and then walk on at other universities as an athlete. But I was determined to play quarterback, and I didn't get any offers out of high school as a quarterback. So I went to junior college and then that's when I got the offer to Ohio State.
Which schools showed interest in you after your year at Scottsdale Community College?
JG: I had scholarship offers from three schools — Nevada, Wyoming and Ohio State.
What was it like to get that scholarship offer from Ohio State?
JG: It was one of the greater feelings I ever had. I remember very vividly going out with my family to some sort of family function and then returning home — this is back when we had answering machines — and there was a message on my machine from John Cooper saying, "Joe we want you to be a Buckeye." We were just thrilled. It was an amazing feeling. We saved that message for months just to replay it every once in a while. Somehow it got deleted or erased and no one has ever fessed up. They would have been in big trouble.
What did you know about Ohio State at the time? Had you ever visited the school?
JG: I'm a home body. I don't really like to travel. Coming out of high school I wanted to play at Arizona State or somewhere in the Pac-10 — Pac-12 nowadays — somewhere close to home. Obviously I was aware of Ohio State and saw some games on TV when I was growing up, but no true exposure to Ohio or the Buckeyes.
As a professed 'home body,' what made you choose Ohio State over closer schools like Nevada?
JG: When I went on my trip to Nevada, the offensive coordinator was Bobby Petrino. He was quarterback coach at Arizona State prior to going there. Boy, he just threw the ball all over the place. That was enticing to me. But when I took my trip to Ohio State, I just kind of was in awe of the tradition there and what it means to be a Buckeye, and all the great teams and players that have come through there. That's what I wanted to be a part of.
Who hosted you on your visit?
JG: There were a few players who were more or less in charge of me when I was there and took me around and showed me things — Bobby and Tommy Hoying were a couple of them, and Luke Fickell and Mike Vrabel — those are the guys that I was around.
How was your adjustment to major college football?
JG: My first year at Ohio State I redshirted. That year was extremely different because even though I got to practice with the team and suit up for home games, I trained and worked out like it was an off-season. When the players on the team worked out twice a week to maintain (fitness levels) and stay healthy, I worked out four times a week. That was actually valuable to me, because I got acclimated to college life. I think I really grew during that one year to get a little bit bigger, a little bit stronger and to get familiar with Division I football.
What are your earliest memories of being a Buckeye?
JG: My first experience as a player I remember was coming out of the tunnel my redshirt year when we were playing Notre Dame. And running out there and just seeing 100,000 people and I just could not believe the environment.
Do you remember your first play?
JG: My first playing experience was against Rice my sophomore year. I don't necessarily remember my first play, but I do remember my first touchdown pass. That was quite a thrill for me and my family. What was really cool about it was that our guys tracked down that ball and after the game they gave that to my parents. I still have that ball in my office.
I have to ask, with no disrespect to Stanley Jackson, but why were you platooned?
"That's something that John Cooper never explained to me and I never asked. I know coach was trying to do what was best for the team."
JG: That's something that John Cooper never explained to me and I never asked. I know coach was trying to do what was best for the team. Bobby Hoying had just graduated. Stanley was the backup to Bobby.
Basically, we went into that training camp, and they wanted someone to separate themselves. That's what they told us. After training camp and fall camp, they felt that no one had done that. We both had kind of earned time to play.
So they were going to use the first game against Rice as maybe another proving ground. Well, we beat Rice 70-7. So we did the same thing in the next game and we beat Pittsburgh 72-0. So then I think they just kind of thought, 'well heck, this two quarterback thing is working,' and they just kind of kept doing it.
What's it like to take the field in The Game against Michigan?
JG: Those are some of the most important experiences of a player's life, just to be able to be a part of that tradition and be in an Ohio State-Michigan game. I know that there's a lot of hatred between the fans of the two schools, but in my mind and probably most of the players I've spoken with after the fact, there's just a ton of respect for both sides. Obviously we wanted to beat each other more than any other team. I can't tell you how honored I am to have been part of what I think is the best tradition and best rivalry in sports. To say that I have a pair of gold pants — that's pretty awesome.
You'll always be linked with the 1997 Rose Bowl victory. Do you remember anything from that game-winning drive?
JG: I remember the drive very vividly. Stepping out onto the field, you kind of put the situation in perspective. You're playing on national TV in front of millions of people and there are 100,000 people in the stands. Ohio State hasn't won a Rose Bowl in 20 years. We had the lead and Jake Plummer just spoiled our game because he ran in for a touchdown. There's just a little over a minute left and we've got a kick a field goal to tie, but a touchdown would win it. There's a lot of pressure if you think about it.
But I remember stepping out onto that field when I looked in the other players' eyes in that huddle before the first play. It was just kind of an ultimate calm — no stress. We were very relaxed and focused and the poise we were able to show on that drive is what I take away from that situation. It was pretty incredible.
Did you know you were throwing it to David Boston before the snap?
JG: No. He was actually the secondary receiver in that play. The play was designed to throw a corner route to Demetrious Stanley. They actually doubled him. When I was looking at him, I felt the corner — who was probably reading my eyes — kind of fall off, and that opened up David Boston, who ran a great route. It opened him up out by the pylon and I was able to get it to him.
Which players were you most impressed with on the field?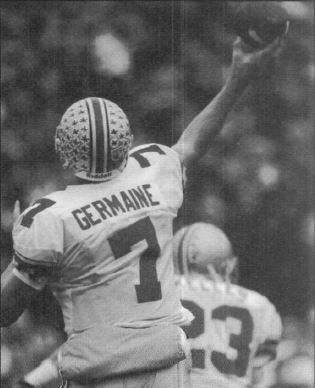 JG: That's a long list. The first one that pops into my head is Antoine Winfield. Here's a guy who just played 14 years or so in the NFL and is 5-9 and 175 pounds but he could hit as hard as anybody. He's just an amazing talent and amazing guy. Ahmed Plummer was awesome.
Andy Katzenmoyer comes in and starts at middle linebacker as a true freshman and wears number 45 for the Buckeyes. It's pretty studly to be able to do that. Orlando Pace — that guy is one of the greatest players of all time, it doesn't matter what position. But you know what's awesome about Ohio State is that every year there are players like that. That's why it's such a great place.
How did it feel to be drafted by the St. Louis Rams?
JG: Just to have your name called was pretty awesome and I was definitely thrilled. But once you start thinking about it — at that time the Rams were the losingest team of the 90s. Then you think, 'wow, OK.' But it was a great experience and they made a lot of awesome moves for that '99 season and what a story that was.
And an even better story that you won a Super Bowl ring with those Rams. What was that like?
JG: I came in at the perfect time with the perfect group of guys and that was an awesome experience to be a part of. There are no games I was part of that were any bigger than Ohio State games, but when you start to think about the Super Bowl — there's not a bigger game on earth than that one. To be a part of that was a dream come true.
When you look back at your NFL career, how do you remember it?
JG: I was able to live a dream of being able to make it to that level and I played five years in the NFL. That's something at the end of the day that I'm pretty proud of. I'm disappointed too, that I wasn't able to play a lot longer. I played behind some really good quarterbacks, obviously Kurt Warner for three years and then I was traded to Kansas City and was behind Trent Green, who was an All-Pro. I was fortunate to be around those guys, obviously, but at the same time I wish I could have gotten some opportunities.
After the NFL, you played a few years in the Arena Football League. What was that like?
JG: When I first played Arena Football I was trying to use it as an opportunity to get some more experience and possibly get another chance to play in the NFL. It's a great game and I enjoy it. It's very different than the outdoor game. I had to re-learn how to make different throws and get accustomed to the speed of the game. I played for Danny White, who is an NFL legend, and he was awesome to be around.
How did you make the transition from player to high school head coach and how did you like coaching?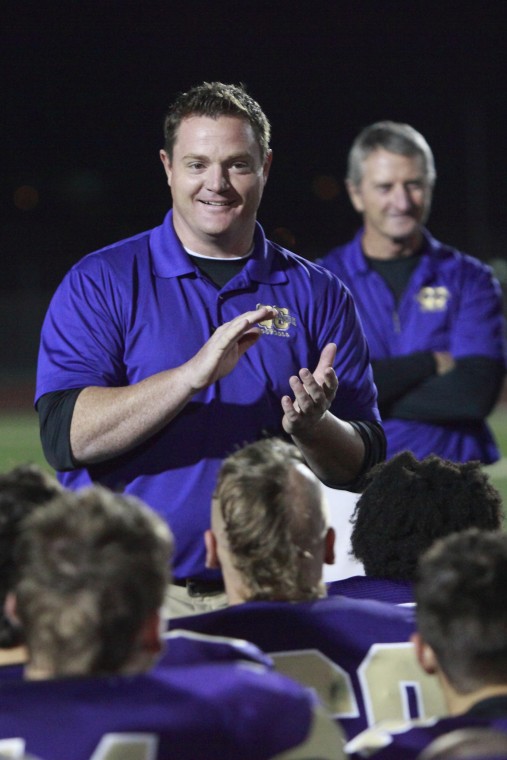 JG: When I was playing Arena football, the seasons are opposite from the outdoor game. We had the fall off. That's our off-season. I started coaching quarterbacks out of high school for three years or so while I was still playing Arena football.
I'm very passionate about the game of football. I really like the teaching component. I was the kind of player who loved practice and meetings and so I guess the transition into coaching was kind of a natural one for me. I just love that age too, where kids are at a pretty important time in their life and they can go one way or another. So, I kind of got my feet wet a little doing the quarterback coaching and I always wondered what kind of head coach I would be and if I wanted to take that on.
It just so happened that a job came open and I was able to get the job. It was an awesome experience. We had great kids at that school who worked hard and tried to do the right things and ultimately that led to an undefeated season and a state championship.
What's it like to experience such a life-changing event as a state championship with those kids?
JG: That's definitely a different perspective from being a player. When my friends from high school get together every so often, what do we talk about? Yes, we talk about the family and the kids, but we always go back to high school football. We always talk about our high school football coach and the lessons we learned from him. I think those high school years just really stick with you.
I think we provided an environment for those players that they'll remember and it'll be a positive experience. Hopefully they learned some things that will help them when their playing days are done.
You recently stepped down from coaching to focus on your current career. What are you up to these days?
JG: I work for Axon Sports. We do cognitive training for athletes. Our focus is the brain and on the skill of high-speed decision making. We have developed content by sport and position that enables athletes to get massive amounts of repetitions from perspective on decisions that they actually make on the playing field and practice field.
Do you work with individual athletes or teams?
JG: We have labs where individual players can come in and get repetitions by position and sport. But then we also do work with teams. We worked with an NFL team, with some college teams in football and baseball. And what we do is customize the content to their schemes. So when a quarterback is working on protection schemes, it's their specific protection, so they're getting repetitions executing their system and their schemes from field-level perspective.
Have you been able to work with the Buckeyes?
JG: Obviously I would love to work with Ohio State. I think of Braxton Miller, who is an unbelievable talent, who just spent the whole spring watching from the sideline with shoulder surgery. How awesome it would have been for him to train on Axon, where we could have Ohio State's system implemented in the training.
It's not like you're watching film. It's actually from the quarterback's perspective and how he would see things when he's lined up out there. The brain doesn't know the difference. It's like he's getting repetitions. while he's healing.
How often do you get back to Columbus?
JG: When I was done playing at Ohio State I tried to get back every year, whether it be for a game or spring football. I did that for a while. But home is Arizona for me and it's tough to get back to Columbus sometimes. And I'm also married and have three sons, so that makes it a little more difficult. But any opportunity I can get to go back to Columbus, I try to do it. I miss it there tremendously and — out of sight, out of mind — I hope people don't forget about me (laughs).
What opportunities have you gotten to be involved with the Buckeyes in recent years?
JG: Jim Tressel invited me to be an honorary captain for the Rose Bowl when they played Oregon. I haven't heard from Coach Meyer but hopefully I get the opportunity to do so.
Do you have a favorite memory from your time at Ohio State?
JG: Without a doubt it's my senior year, running onto the field for my last game as a Buckeye, down the Tunnel of Pride against Michigan at Ohio Stadium. Former players were lining the tunnel, but when I get to the end, my mom and dad are on the field. They had never had the opportunity to be on the field and see it from that perspective. To see the look in their eyes and to think how much they did for me growing up to get me to that point, that was my favorite memory.