Only 89 days remain until kickoff, but concerns surrounding key positions will last well beyond noon on Aug. 30 in Baltimore.
Coaches know what they're getting from a stacked defensive line unit and are reasonably confident in a healthy, potentially improved Braxton Miller. Outside of that, there are few, known quantities on this Ohio State team. 
The running back corps features a wealth of experience and talent, yet replacing a workhorse like Carlos Hyde might require that entire committee. That hasn't stopped the hype surrounding Ezekiel Elliott, despite his one carry over the Buckeyes' last five games. His 29 other rushing attempts gave fans hope heading into this season, showcasing an ideal blend of speed and power.
Even behind a rebuilt offensive line, he'll carry a great deal of expectations, in addition to Miller handoffs early in the season. This is why BTN recently named Elliott a "breakout player to watch" in 2014. 
Linebacker Darron Lee joins Elliott on that list after a huge spring performance. Neither are particularly fearless predictions, considering the weight of optimism already placed upon them. 
Excluding Elliott and Lee does not mean OSU lacks in breakout candidates. Here are five more to consider: 
Cam Burrows

Sophomore Vonn Bell is destined to be the next stud safety, but he won't be handed the job in the fall. 
That's because of sophomore Cam Burrows, who played free safety in the spring due to Bell's knee injury. Burrows earned effusive praise from Urban Meyer throughout March and April, while Bell recovered from a torn MCL. Presumably, Bell will be ready by fall practice, but Burrows will ensure the Buckeyes will have at least one physically capable safety in the back half.
As the first oral commit of Ohio State's 2013 class, Burrows was largely forgotten about until he roared back into our collective consciousness in the middle of last season. Once again, injuries decimated the OSU secondary and Burrows stepped in. 
Under new defensive coordinator Chris Ash, every member of the secondary is expected to be physical and capable of playing press-coverage, especially at the safety spots. Ash once called Burrows "the model of what we want to recruit here," as a former cornerback who is versatile enough to transition to safety. Even if he doesn't jump ahead of Bell on the depth chart, Burrows should see a significant amount of snaps because of the newfound emphasis on coverage skills.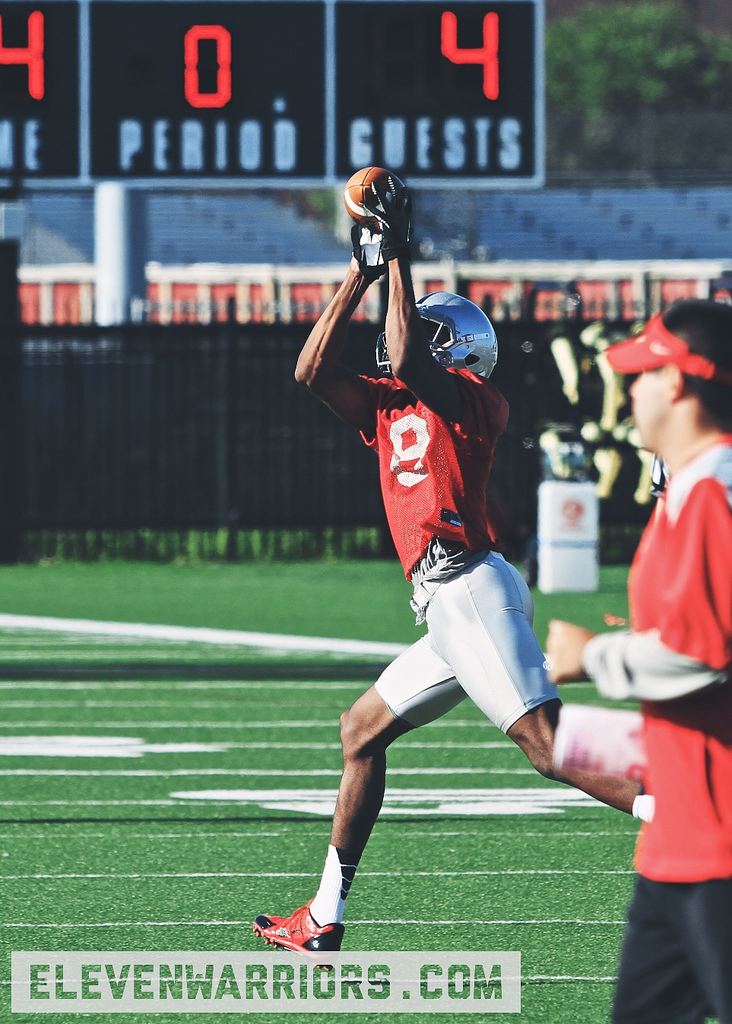 Jeff Greene

Last season, Ohio State's red-zone scoring percentage ranked among the top five nationally. Imagine what they could do with another 6-foot-5-inch target.
Junior Jeff Greene, eligible for the first time since transferring from Georgia Tech, is not as raw as, say, recent flameout T.Y. Williams. Greene caught 18 passes in 2012, which might be a record year for a Yellow Jacket receiver under Paul Johnson.
Obviously, the Buckeye offense poses completely different sets of challenges, so it's a good thing Greene had a year to sit out and learn it. The current group ahead of Greene at his position are rich with experience, but not with consistent production.
If Greene can add to his frame – corners can only combat his size with physical play – he could become a reliable target across the field, not just in the red zone.
Demetrius Knox

Offensive line may be the most difficult spot on the field for a true freshman to play.
However, Texas native Demetrius Knox has a chance to make an impact this season – and I'm not just saying that for page views. Antonio Underwood played six games in 2012, making him the most experienced option at left guard – by far. Behind Underwood, who tore his ACL in 2013, is converted defensive lineman Joel Hale and Tommy Brown, who hasn't seen the field in his two years at Ohio State.
The offensive line struggled throughout the spring and Meyer noted only left tackle Taylor Decker and right guard Pat Elflein are starters, at this point. Knox projects as a guard, at least early in his college career, and will have every chance to make an immediate difference once we see him on the field this fall.
Nick Vannett

This spring, Burrows benefitted from an injury to a teammate and so did tight end Nick Vannett.
In place of Jeff Heuerman, who sat out while recovering from foot surgery, Vannett had an opportunity to showcase a little more than his run-blocking abilities. The 6-foot-6-inch redshirt junior has caught 17 passes and one touchdown in his Buckeye career. If offensive coordinator Tom Herman designs more two tight-end sets in 2014, Vannett will get more opportunities to haul in passes. 
While Heuerman will likely reclaim his starting job, Vannett has a lot to build off.
"Nick's had a phenomenal spring so far, and obviously getting a few more reps (now) that Jeff's a little nicked up," tight ends coach Tim Hinton said in April. "He's doing a great job of managing the X's and O's. Boy, he's having a great spring."
Chris Worley

Darron Lee gained all the attention, but he didn't lock up the starting job in the spring.
That still leaves a chance for redshirt freshman Chris Worley. Lee ran with the first string for most of spring practice, with Worley as his backup.
Still, they provide similar skill sets, which allows Ash and Luke Fickell to keep the competition open. Both played a bit of safety in high school, which is vital to the "walkout linebacker" in Ash's system. This spring, both excelled in coverage, a major reason why they seemingly came out of nowhere. 
Lee's hype is well-earned, but you can't discount a guy motivated by the attention he isn't getting. In this case, it's Worley, who even said he played a similar role in his defense at Glenville. If Worley continues to challenge Lee, and with plans to constantly rotate linebackers, both will see the field this fall.