It's hard to believe, but Devin Smith is going to be a senior next year.
It seems like Smith just arrived as a fresh-faced frosh from Washington High in Massillon. But this fall Smith will take the field as Ohio State's most experienced wide receiver.
The speedy Smith is coming off a career-best 2013 season, in which he set career highs in receptions (44), yards (660), and touchdowns (8). He trailed only Philly Brown in all three categories, and only Jeff Heuerman (17.9) topped his 15-yard average per catch.
Oh, and he also set a school record with a 90-yard touchdown reception in Week 3 at California.
Although Smith already has his share of highlight-reel plays as a Buckeye, there is still a lot of work to be done. Ohio State's receiving corps hasn't quite reached the level in recent seasons as in years past. There have been some good players who have come and gone, but there hasn't been a Terry Glenn, Joey Galloway or David Boston among them.
Smith started to become more than just a deep threat in 2013. His blistering go routes were augmented with curls, screens and slants. But getting separation on shorter routes requires more guile and technique than just blowing past defenders with Smith's track speed. That's one area of Smith's game that must continue to be developed by receivers coach Zach Smith.
Smith's continued development is even more important when you consider the inexperience behind him. Aside from Evan Spencer, who will be coming back from injury, Ohio State returns pure wide receivers totaling only 24 catches — 22 by Spencer and one each by Frank Epitropoulos and Kato Mitchell.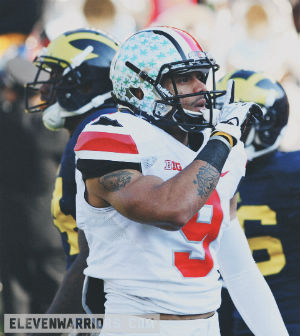 Hybrid/slot Dontre Wilson added 22 receptions, most of which were essentially forward handoffs.
So the receiving spot will be young and unproven, albeit talented. Transfers Corey Smith (Grand Rapids C.C.) and Jeff Greene (Georgia Tech) will help offset that inexperience, but Smith is still the cheese who stands alone as the only proven commodity for Ohio State with 2014 approaching.
Smith is certainly capable. His career marks of 88 receptions, 1,572 yards and 18 touchdowns have him on pace to finish among Ohio State's career leaders.  Just duplicating his junior year numbers would put him well inside the top 10 in school history in all three categories. He's already there for touchdowns (seventh).
Smith could easily end up second on the touchdown list, since he only needs 10 to pass Cris Carter and reach that mark, but he'd need 17 to pass Boston for the all-time record. An 800-yard season would get him inside the top five Buckeyes. It would take 58 receptions to pass Brown for fifth on the school list.
But without Philly on the field, Smith will have to work harder than ever to get open. He'll likely see the opposition's best cover corner every week.
At least he'll have three seasons of experience in his pocket when he lines up.