Urban Meyer is Ohio State's 24th head coach. The guy before him is still there.
Luke Fickell was its 23rd coach by necessity. The school broke the glass over the In-Case-of-Emergency handle no program ever wants to pull and 13 mostly-forgettable Saturdays later Fick was the Buckeyes' former intern head coach.
He won six times as the boss, which means he was as good as or better than seven of the bosses who came before him. Once Ohio State landed Meyer, Fickell went back to the role he held under Jim Tressel: Co-Defensive Coordinator.
Co. Two letters to signify the defense has two bosses. Fickell did not have to share the head coaching responsibilities in 2011. In 2004 he alone was in charge of linebackers. Prior to that he ruled over special teams by himself. The only thing Luke has been forced to share at Ohio State is the defense. 
His first Co was Jim Heacock, the last remaining holdover from the John Cooper era, and that's kinda the elephant in the room when discussing Fickell's ability to lead a defense. It's not so much because of what happened then as it is what's happened since.
COOL SHADE OF THE HEACOCK TREE


| Season | Scoring D | TOtal D | DC |
| --- | --- | --- | --- |
| 2004 | 24 | 38 | Mark Snyder |
| 2005 | 8 | 5 | Heacock/Fickell |
| 2006 | 2 | 13 | Heacock/Fickell |
| 2007 | 1 | 1 | Heacock/Fickell |
| 2008 | 7 | 8 | Heacock/Fickell |
| 2009 | 5 | 5 | Heacock/Fickell |
| 2010 | 3 | 3 | Heacock/Fickell |
| 2011 | 27 | 19 | Heacock/Haynes |
| 2012 | 31 | 34 | Fickell/Withers |
| 2013 | 28 | 46 | Fickell/Withers |
What happened then stands as one of the greatest defensive stretches in Buckeye football history. That Heacock/Fickell tandem was born out of Mark Snyder's brief and ill-fated takeover for Mark Dantonio, who left Columbus to take over Cincinnati. (Snyder currently runs Texas A&M's 109th-ranked "defense" which is all the evidence you need that meritocracy isn't always the key to the coaching profession).
There was only room for improvement coming out of the transition of 2004, and the Heacock/Fickell hydra delivered a legacy. Their six seasons running the defense are on par with any six in Ohio State's history. There's equity in turning in that kind of a performance, which is why Fickell's name was called when the university broke that glass.
So Fickell put on the bigger headset as the program burned for most of 2011. The defense under Heacock and Paul Haynes took a step back; understandable considering its counterbalance was the worst Ohio State offense of the color TV era. That lost season of 2011 wasn't on account of defensive lapses so that unit got a pass. Fickell took back the Co under Meyer, this time sharing it with Everett Withers.
Withers was a head coach in-waiting from the moment he was brought on campus. Assistant Head Coach is a title like no other in college football; it's the only one that screams at prospective employers that this guy is steward-ready and waiting impatiently. His run under Meyer served its purpose, but his job responsibilities - that other title he held with the Co in it - was not the primary reason he came to Columbus.
Statistics are unkind to Withers' defensive coaching tenure: His 2007 Gophers were 119th in total and 109th in scoring which is about as bad of a combination as you'll ever see (they were 76th in total defense before his arrival). UNC was 35th in total defense the year before he arrived then went 66th, 6th and 30th with him there. You don't know what to make of it and neither does anyone else, but great head coaches aren't necessarily top-flight coordinators. James Madison will know what it has soon enough.
Ohio State has NOW had more defensive coordinators since Tatgate than during the entire Tressel era.
So Fickell is now paired with his third collaborator at Ohio State in Chris Ash. That Co must be necessary. If it wasn't it wouldn't be there. Fickell could have easily been handed the defensive operations to handle himself, answering only to Meyer (and also the fans - it's Ohio State; we all know who's really in charge).
Org charts are generally full of shit, and football staffs are no different. There's no equitable split in authority or responsibilities when a coordinator position is shared, let alone between a newcomer and an alumnus who has lived in town almost his entire life. The incumbent must either cede authority or have it taken from him. 
So Ash will run the secondary, which this past season was statistically the weakest non-Bollman unit of the current century. Ash has more experience with back-seven details and accordingly he gets the most glaring opportunity for improvement. This is a results-oriented business, wrapped in a soap opera all intertwined with a homegrown hero's legacy. Ash the Newcomer receives the tallest task.
The Buckeyes don't break in new coordinators very often. Ohio State has had more defensive coordinators since Tatgate than during the entire Tressel era. This is possibly the most delicate, non-Tatgate/nuclear coaching staff predicament at Ohio State since Mike Jacobs ran Cooper's offense toward the end of his tenure.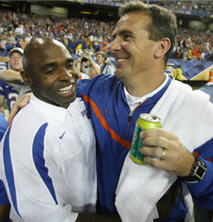 It's not because of Fickell or Ash or the developing dynamic between them, either. It's because of their boss and what happened the last time he didn't have the right coordinators in place. If Heacock is the elephant in the room then Charlie Strong is a mastadon sitting on its back.
Meyer's Florida tenure veered off course once he lost Strong and Dan Mullen. You can cling to salacious rumors, chest pains, the lack of proton pump inhibitors in his medicine cabinet or any other variable attached to Meyer's decline in Gainesville, but the Gators went south only after Meyer lost his trusted coordinators. That other stuff is just a distraction.
That's the only program he's led longer than two years, which is about the time success begins to peel away at your staff in the form of career advancements. Withers technically took a promotion, if you consider James Madison poaching an assistant head coach from Ohio State and paying him less money to be a step up.
The Buckeye defense has not been right since Meyer arrived, and now Fickell is the last remaining holdover from the Tressel Era, mirroring Heacock's transition from the Cooper. Ohio State will have its traditional, pain-in-the-ass, nationally-revered Silver Bullets or there will be more promotions that take failed coordinators elsewhere. Those are the two outcomes. There isn't a third.
The quandary is what becomes of Fickell if the defense returns to its Heacock-era form, as there is some belief Ash will get credit for elevating the unit back to its rightful place among college football's elite. It's a leap that makes all of its impact on message boards and, for you adorable octogenarians, the Letters to the Editor section of the Dispatch. 
Sure, Withers could easily serve as the boogeyman in absentia. His name was on those units too, and if Fick was the problem - or even also the problem - he might have found himself promoted somewhere else as well. He remains on campus, but he also remains a Co. He owns the linebackers, which have their own set of problems. It's not as if Ash got all of the areas primed to improve as a function of not having anymore room to deteriorate.
Meyer's Gators went south only after he lost his trusted coordinators.
Unless those safeties or linebackers remain personae non grata, Ash and Fickell will share in the success for having dug their unit out from relative oblivion. The one non-performance wildcard might be if Fickell continues to publicly show emotional cracks from enduring too many unsolicited performance reviews from America's 15th largest city and its pizza delivery fleet.
Another historic run could very well repeat itself on his watch, with him as a Co again, just as it did following Snyder's promotion to Marshall. And as was the case with Heacock, his success with Ash would be shared. Meyer can't win with offense alone, so success on that side of the ball isn't optional.
Fortunately for Ohio State, the guy who ran the team prior to Meyer is still there. Turning a disappointing defense into the team's elite unit is not a new challenge. He's done it before.