The first week of spring practice has come and gone, as we continue to inch closer to the Spring Game and the eventual start of the 2014 season, which is approximately 538 years away.*
(*in time-without-football terms.)
I don't know what everyone else thought but, to me, the biggest surprise of the first week was hearing that Darron Lee was running with the starting linebackers and that his name was being floated as the possible successor to Ryan Damn Shazier.
That isn't meant to be an indictment of Lee as a player. He's quite honestly an unknown to most of us who don't spend a great deal of our time at the Woody Hayes Athletic Center.
It just struck me as surprising. It's not necessarily unusual for a less heralded member of a recruiting class to surpass guys with more stars and more fanfare in the pecking order. What is unusual about Lee's case is that he seemed much more likely to compete for a safety or star position than linebacker when he arrived last year. And it kind of came out of nowhere.
But Lee is listed as a linebacker now. A 6-foot-1, 225-pound New Albany product, Lee was a jack-of-all-trades for the Eagles as a senior. He played quarterback, wide receiver, safety, punt returner and kickoff returner in high school. This past week, he joined Curtis Grant and Josh Perry on the starting linebacker unit at Ohio State.
Lee has big (and fast) shoes to fill if he is going to be the heir to Shazier's spot in the lineup. He doesn't possess Shazier's raw speed, but then again who does? Still, he's fast enough, running the 40 in about 4.5 — as opposed to the unofficial (and ridiculous) 4.36 that Shazier ran at Ohio State Pro Day.
As a former defensive back, Lee might be a more natural cover linebacker than Shazier. He intercepted five passes his senior season at New Albany, helping lead his team to an appearance in Ohio's Division II state semifinals.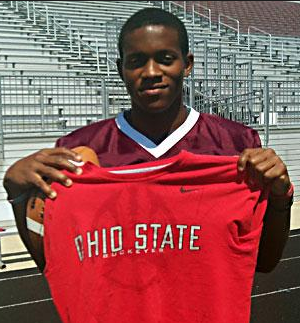 Mike Mitchell's decision to transfer to be close to home — and his ailing father — shook up a young but talented depth chart at linebacker for position coach Luke Fickell. Lee's emergence might make up for that key loss, and it could pay big dividends at a spot that has suffered through a combination of attrition, lack of player development, and plain old recruiting misses.
Can Lee make the leap?
It's way too early to tell if Lee even remains with the first team, but why not him? His name may not have made the same splash as a Vonn Bell or a Mike Mitchell, but he didn't enter as chopped liver, either.
Lee carried a four-star Scout rating as a safety and was rated No. 29 at his position by that particular recruiting service. Rivals gave him three stars, named him the No. 33 prospect in the state of Ohio and No. 44 at his position (which they had as "athlete"). He was also rated a three-star recruit by 247 as an athlete (dual-threat quarterback/safety).
Many players with lesser credentials have achieved great things wearing the Scarlet & Gray. There's no reason why Lee can't follow in Shazier's footsteps.