In just three recruiting seasons, Urban Meyer has earned a reputation for reaching into other schools' recruiting classes and plucking a few choice gems out for his own team.
This "thievery" has been fascinating to watch and has helped the Buckeyes round out their classes the last couple of seasons. And it has created some sweet schadenfreude among the fans of other schools, as well as a real fear among them that any recruit could become an Ohio State flip.
In the wake of National Signing Day, there's no better time to look back at some of the recruits who were once committed elsewhere, only to be lured by Meyer's Jedi-like powers of persuasion.
In three years, nine players have directly switched their commitments from some other school to Ohio State. In addition, Demetrius Knox was once committed to Texas, but the 2014 blue chip offensive lineman's de-commitment from that school did not result in an immediate flip. The Buckeyes earned Knox's services a few months after he rescinded his verbal to the Longhorns.
Let's take a look at the recruits who Meyer flipped, and whether or not they have measurably helped Ohio State.
Starting with this most recent class, Urban and his staff were able to pry offensive lineman Brady Taylor away from 2014 opponent Virginia Tech, and also swiped New Jersey defensive end Darius Slade from Michigan State on National Signing Day.
Both players have tremendous upside, especially the sack-happy Slade, who was originally committed to Nebraska before giving Mark Dantonio his pledge. Neither is on campus yet, so it's far too early to tell what, if any, impact they will have on the program.
In 2013, Meyer managed to steal Gareon Conley from Brady Hoke's Michigan Wolverines, and Dontre Wilson left Oregon behind to join the Buckeyes.
Conley de-committed from Michigan in November of 2012 to visit Ohio State and gave a verbal commitment shortly thereafter to Meyer, on Dec. 7.
Wilson gave his pledge very early to Oregon, but Chip Kelly's departure to the NFL opened the door for Meyer to pounce. In the end, Meyer beat Mack Brown and Texas for Wilson's services on National Signing Day 2013.
According to Ohio State's statistics, Conley appeared in the Florida A&M game, but did not register any statistics. I'm assuming he'll end up listed as a redshirt freshman in 2014.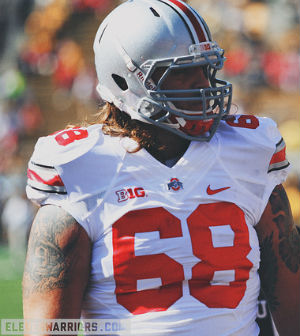 His lack of impact as a true freshman shouldn't be that surprising. But his athletic ability is undeniable. Conley was the No. 1 ranked player in Ohio in his class in the ESPN 150. He was also the No. 14 cornerback nationally as ranked by 247Sports. Still, he has yet to measurably add to the Buckeyes' fortunes.
Wilson, on the other hand, made an immediate impact. His buzz started early in camp and he played a vital role in Tom Herman's offense in 2013. He appeared in all 14 games, rushing 31 times for 250 yards and a touchdown, and catching 22 passes for 210 yards and two scores.
Dontre was also the team's leading kickoff returner, with 21 for 523 yards (24.9 avg.). He was electrifying on returns. He never broke one for a score, but seemed a threat every time. His longest was 51 yards.
Apart from his statistical benefits, just having the threat of Wilson's speed on the field opened up room in both the running and passing game. Opponents always had to be very aware of Wilson's movements.
Meyer's first class at Ohio State, in 2012, was chock full of flips — and that's not even counting Noah Spence, who was never officially committed to Penn State, but was considered a major PSU lean.
Kyle Dodson (Wisconsin), Taylor Decker (Notre Dame), Se'Von Pittman (Michigan State), Tommy Schutt (Penn State) and Joey O'Connor (Penn State) all switched allegiances to play for Meyer in the 2012 class. Decker and Schutt have so far been the most successful flips from that group for the Buckeyes.
Decker earned a starting job at right tackle as a sophomore. He had a bumpy start in the opener against the NFL-caliber talent of Khalil Mack, but quickly grew into a dependable offensive lineman. He learned from one of the best linemen in the country in Jack Mewhort, and one of the top offensive line coaches in the nation in Ed Warinner.
As part of a line that paved the way for two 1,000-yard rushers in 2013 and the most prolific scoring offense in school history, Decker will soon move to the left side to replace Mewhort.
Schutt played as a true freshman, seeing time in 10 games, but totaling only four tackles (three solo). He was on his way to becoming a starter in 2013, when he was sidelined by injury. Schutt returned from injury in time to appear in six games, registering three tackles, half a sack and a quarterback hurry.
Barring another setback, Schutt will be in position to regain his starting spot in 2014.
The other three 2012 flippers haven't fared as well, especially Pittman and O'Connor. Pittman transferred to Akron last summer, while O'Connor joined the Colorado State Rams to be closer to home. You may recall that Pittman's flip to Ohio State caused Sparty to freak out a little.
Ultimately, Pittman spurning Michigan State to become a Buckeye did little other than creating a little bad blood between Columbus and East Lansing. Meanwhile, O'Connor's flip also paid no dividends for the Buckeyes.
Bret Bert Bielema didn't like Dodson's flip from Wisconsin to Ohio State much either. But, so far, Dodson hasn't been able to make an impact. He did make the two-deep behind Decker (as an "or" with Tommy Brown). And he saw the field against Iowa, Penn State and Indiana in limited action in 2013 as a redshirt freshman. But, Dodson will need to step up his game if he's going to challenge for a starting spot in 2014.
So far, the flips Meyer and his staff created have not generated a lot of positive play on the field for Ohio State, aside from Decker and Wilson (and Schutt, if we're being generous). None of the others have yet been a factor in winning football games. Two aren't even around anymore.
Of the seven flippers in the 2012 and 2013 classes — those who have had a chance to earn playing time for the Buckeyes — only three have seized it. Two have transferred and two are still waiting to leave their mark on the tapestry of Ohio State football. The two 2014 flips are still waiting in the wings.
So Meyer's flipping prowess hasn't reaped the full and expected benefits, but there is still plenty of time for the talented Conley and Dodson to make good — and, of course, Slade and Taylor haven't even gotten here yet.
As long as Meyer's getting the guys he wants, his flips will likely pan out more often than not, with the added bonus that they won't be helping other schools win football games against Ohio State.