Ohio State's 2021 recruiting class has been almost entirely wrapped up ever since the mid-December early signing period.
All 21 members of the '21 recruiting class had their signatures faxed in well before Wednesday's National Signing Day, continuing a trend from the 2020 cycle when Cam Martinez was the lone holdout for the traditional signing day last February.
Even Martinez cut out any drama a few days before that day by announcing he would be signing with the Buckeyes, after all, after opting not to do so during the early signing period.
So, for the second consecutive cycle, it was a drama-free early signing period and traditional signing day for the Buckeyes as long as we conveniently forget the Clark Phillips flip to Utah and the intrigue of whether or not C.J. Stroud was going to pick Ohio State, Georgia or a Pac-12 program last year.
However, there were still a few recruiting tidbits to extract from Ryan Day's media merry-go-round on Wednesday, as he took a circuit with Ohio State media, his own radio show on 97.1 The Fan and the 247Sports National Signing Day Show:
Holding Tuimoloau's spot
"This is a strange year," Day said on Wednesday.
In years past, he said, the coaching staff would be hovered around a fax machine during the February National Signing Day waiting for the official letters of intent to start streaming in. Instead, Day talked about how it's a bit odd to have those 15 early enrollees already undergoing winter workouts and having seen almost the entire recruiting class in the Woody Hayes Athletic Center on the same day that he's meeting with the media to discuss that exact recruiting class.
We say almost because this group of Ohio State signees is not yet complete. At least Day, Larry Johnson and Co. hope it's not.
While we saw Raesjon Davis do the expected and stay home with a commitment to USC, there remains one holdout in the form of a player who absolutely can afford to delay his decision.
Five-star Eastside Catholic (Washington) defensive end J.T. Tuimoloau is the No. 3 overall player in America and is the No. 1 (and only) prospect remaining on Ohio State's board in the 2021 class.
This obviously isn't going to come as any sort of shock or even in the same ballpark as a shock, but Ohio State is holding a spot for Tuimoloau. Obviously, Day wasn't able to say Tuimoloau's name out loud and he didn't outright say the Buckeyes were holding a spot for him. But it came across as pretty clear that he will be welcome into the Buckeyes' 2021 class, even though he is holding out on a decision between Ohio State, Alabama and a trio of Pac-12 schools until "at least" April or May.
"This year is very, very different so we're gonna keep pounding away with recruiting," Day said. "We're certainly working very hard in the next class, but there are still a few remaining guys we're gonna keep recruiting over the next couple of months, certainly hoping we can get some guys here to visit maybe in late spring or early summer."
Day called it "tricky" when asked how the staff was handling the roster situation while a player (like Tuimoloau) was still holding off until the spring or summer to sign with a program.
"It's tricky now because there's a lot of dynamics at play with the extra year of eligibility," Day said. "These next few years will be a little bit of a challenge that way. With the one-time transfer rule, hopefully we don't lose anybody. But I think the opportunity for some of these guys to move on possibly coming late May, based on when that rule comes up, there's gonna be opportunity and unfortunately maybe there's gonna be some guys that decide they wanna move on. We have to project that out as best we can.
"Again, that's a moving target as well, and we'll try to do the best we can. If there's certain people out there that we wanna save a spot for, we will and we'll always make sure we have something available for a great player."
"You have to be as honest as you ever have been in recruiting"
When Ohio State's coaching staff, mainly Kevin Wilson and Ryan Day, were in the middle of recruiting eventual tight end commit Sam Hart, there wasn't any fluff. There was no "fairy dust" as Hart described it.
Schools like Notre Dame and USC (the other two schools Hart was considering the most) or Penn State, Tennessee, Iowa and others would show Hart film only highlights of receiving plays by their tight ends. That wasn't the Buckeyes' approach.
"They were a lot more different, and I could feel their honesty," Hart told Eleven Warriors in December before he officially signed with Ohio State. "I could tell they were being 100 percent real with me. … They told me I'd have a good opportunity of playing early but that I'd still have to work for that and earn my spot.
"Ohio State was up front and honest: 'You're gonna get the ball every once in a while, but you're mainly gonna be blocking here.' (Other schools) would just sugarcoat it and only show me film of their tight ends catching the ball. They just tried to make it seem like it's too good to be true."
That got a bit exhausting after a while, Hart admitted. So when Ohio State came at him with the honest approach – that he wouldn't be catching a ton of balls every season – it hit differently.
"It was really nice to see a school be completely honest with me," Hart said.
When Jantzen Dunn took his second visit to Ohio State to watch a spring practice in March 2020, the eventual safety commit was hit with a similar approach from Matt Barnes, who was officially announced as the Buckeyes' new secondary coach on Wednesday.
"There was no bullshit from Coach Barnes," Jantzen's father, Mitchell Dunn, told Eleven Warriors this summer. "There was no filling up the kid's head with fluff or lies. He let J know just how hard this is gonna be."
Both Hart and Dunn joined the program last month as part of 15 early enrollees for the Buckeyes' 2021 class.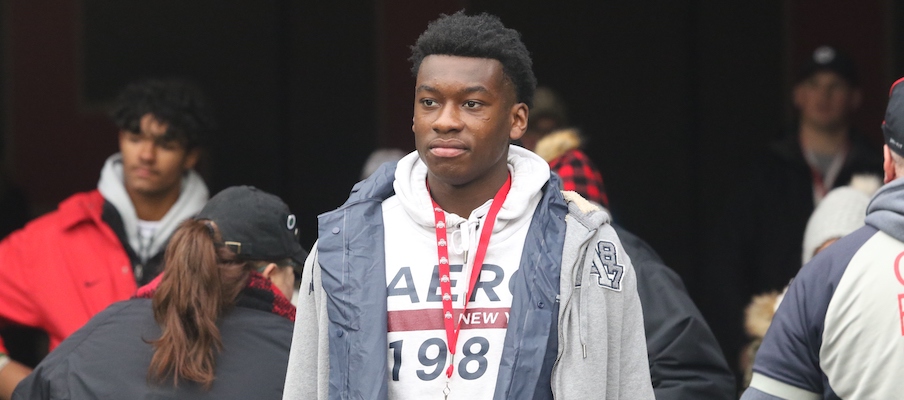 Those are just two anecdotes among dozens from recruits during Day's tenure in which either a player or a parent has gained respect for the way Ohio State's staff handles its recruiting pitches.
On Wednesday's 247Sports National Signing Day Show, Day reiterated one of his messages during December's early signing period in which he said (to paraphrase) that honesty is the best policy.
"I think one of the most important things right now in recruiting, the way things are going with COVID (and) the one-time transfer rule coming down the tubes, you have to be as honest as you have ever been in recruiting," Day said. "You have to be as transparent as possible because they have to come here knowing that this is where they want to be and that they wanted to pick this. 
"You can't talk them into coming to your school anymore. I don't believe that at all. It's about being transparent, telling them exactly what this place is and then showing them what this place is and then building it from there. That's been our recipe, and hopefully we can just keep building on it from here."
Sawyer, McCord identified early...
One of the first items on Day's agenda when he was hired as head coach was to visit Jack Sawyer at Pickerington North High School. Locking down Sawyer as the gem of the class was of the highest priority.
As was getting his first quarterback commit, and Day went out and locked down Kyle McCord to give him eventual five-star signees at defensive end and quarterback.
Those moves paid off in a massive way. Not just in getting a star on both sides of the ball at the sport's two most important positions* but also in building the core of the class. A core that would serve as the foundation of what will be the second-highest-rated class in Ohio State history if Tuimoloau joins the fold.
*Though it's debatable what's most important among a pass-rushing defensive end, a lockdown cornerback, a star running back or a reliable offensive lineman, but I digress.
"Jack Sawyer on defense and Kyle McCord on offense, both of them are leaders. Both of them are excellent players," Day said. "They kind of built the class in terms of getting to know each other and spending a lot of time on social media and different things. I really leaned on them to give me feedback on the type of kids that were in the class.
"There were kids that wanted to commit and wanted to be a part of our class that maybe weren't a great fit. Because of that, I leaned on them to give me that type of information. I think we did a good job of identifying them early and then leaning on them in this process. They really know these kids better than we do, and that was really important."
...Buckeyes intend to follow same blueprint in 2022
We spoke with both Sawyer and McCord just a few days before they signed in December about a ton of topics.
The last one we hit on was Ohio State's 2022 recruiting class and how that cycle was stacking on what Sawyer, McCord and the 2021 group had accomplished. That 2022 brigade is led by "Captain Buckeye" C.J. Hicks in addition to Dasan McCullough and a few others.
Sawyer joked that Hicks "kind of took a page out of me and Kyle's book with how we recruit guys. He can thank me a little bit for teaching him how to recruit."
Sawyer might have been saying that as a joke, but all good jokes contain true (stuff), as J.Cole once said.
Ohio State is following an eerily similar blueprint that it did in the 2021 cycle by landing a top in-state defensive player (Sawyer in 2021; Hicks in 2022) and a five-star out-of-state quarterback (McCord in 2021; Quinn Ewers in 2022) to load up early in the cycle on star talents who can be peer recruiting leaders of a class.
"We always really try to recruit ahead and get out in front of this, and that same philosophy and same mindset we're gonna have in this (2022) class," Day said. "So we can start having guys on campus and start identifying the right culture fit and the right leaders early on and then build those pieces around them, and I think we've done that already in this class. So we'll just keep trying to find the right culture fit, the right people."