On Ohio State's first offensive play of Saturday's season opener, Garrett Wilson lined up at the outside receiver spot that he was accustomed to playing during a true freshman season in which he posted 30 catches for 432 yards and five touchdowns.
But on the offense's second play, Wilson is now moved over into the slot position, and we instantly get to see one of the most dynamic, intriguing weapons in action on an offense full of them.
At the snap, Wilson seems to glide out of his stance, easily sneaking and slithering his way past a pair of Nebraska defenders and crossing over another with a quick cut inside, finding himself wide open 15 yards downfield. The 6-foot, 195-pound sophomore leaps and extends his arms up to snag a Justin Fields pass and saunters smoothly toward the right sideline. Could've mistaken him for Andy Dufresne the way he seemed to stroll like a man in a park as he heads out of bounds for a 24-yard gain.
It's just one reception on a fairly routine pitch-and-catch, but it instantly draws some impressed reviews from Fox's announcer duo, Gus Johnson and Joel Klatt. The latter immediately starts talking about how impactful Wilson can be in his second season and how he's "primed to take the next step" in his progression as he looks to go from being a former five-star receiver – one who was previously the Buckeyes' highest-ranked receiver recruit in program history at No. 20 overall – to one of college football's breakout receivers in 2020.
After that first catch, there was plenty more on the way from Wilson in his brand-new role – on the same drive and throughout the day.
Just four plays later, facing a 7-0 deficit and a 4th-and-5 from the Nebraska 30, Ryan Day gambles, and the man he trusts to convert (other than Fields) is Wilson. Day puts him in the slot again, Wilson makes a quick stutter step to the outside and cuts back to the middle of the field. Even though Fields' pass is tipped at the line of scrimmage and the timing is disrupted, Wilson shows good concentration and hauls in the pass by clutching onto the back-third of the football.
It was a major conversion early in the game, leading to a 7-7 tie a few plays later. Those two quick catches on Ohio State's first drive were a harbinger of the day Wilson was about to have, and they showed early on exactly how dangerous Wilson can be out of the slot. The budding star finished the game with seven catches for 129 yards (both career highs) and a touchdown, hauling in all seven targets from Fields for an average of 18.4 yards per catch.
It's only one performance in one game, but Wilson's day showed that there's no reason to believe he will be working out of anywhere other than the slot throughout the season – and it showed that his receivers coach made the right move.
Before the 2019 season, Brian Hartline had debated moving Wilson from outside to inside, but with K.J. Hill already operating at the slot he kept Wilson outside. In the spring, though, Hartline experimented by moving Wilson to the slot, and he was impressed enough – both throughout the spring and eventually fall preseason – to cement that move for the Buckeyes' season opener. 
42 yard bomb. This year is gonna be fun. pic.twitter.com/rkXnOIhW5l

— Eleven Warriors (@11W) October 24, 2020
Wilson, Hartline said in September, provided a matchup nightmare for opposing defenses – too fast and agile with his short-area quickness for a linebacker to stick with him and too tough and physical for a nickel cornerback to handle.
On an offense where there really weren't many question marks, how Wilson would handle his new role was one of the few intriguing things we were hoping to find out more about on Saturday.
We got our answer.
And we now know one reason that Wilson was enthusiastic about Hartline's decision to move him inside, where he was expected to get more targets and catch more passes.
Wilson was on the field for seven total drives, playing a total of 46 snaps with 33 snaps coming out of the slot and the other 13 having him lined up outside. Of his seven receptions, five of his catches came from the slot, with him running a variety of routes wherever he lined up.
Here's a breakdown of those five catches:
| Catch | Yards | Route Run |
| --- | --- | --- |
| No. 1 | 24 | Drag |
| No. 2 | 14 | In |
| No. 4 | 13 | Drag |
| No. 5 | 11 | Hitch |
| No. 6 | 16 | Drag on crosser |
A breakdown of the other two receptions:
| Catch | Yards | Route Run |
| --- | --- | --- |
| No. 3 | 42 (TD) | Post |
| No. 7 | 9 | Hitch |
As you can see, Wilson's most explosive play came from the outside, but he still did most of his damage inside, leading to Fields raving about his receiver's overall game.
"Garrett's just a great receiver, all around, and I think him being in the slot, him being able to work outside and inside and him being able to go different directions, I think that just makes him more dynamic," Fields said. "Just him being in that slot definitely makes our team better, and he's definitely a great receiver."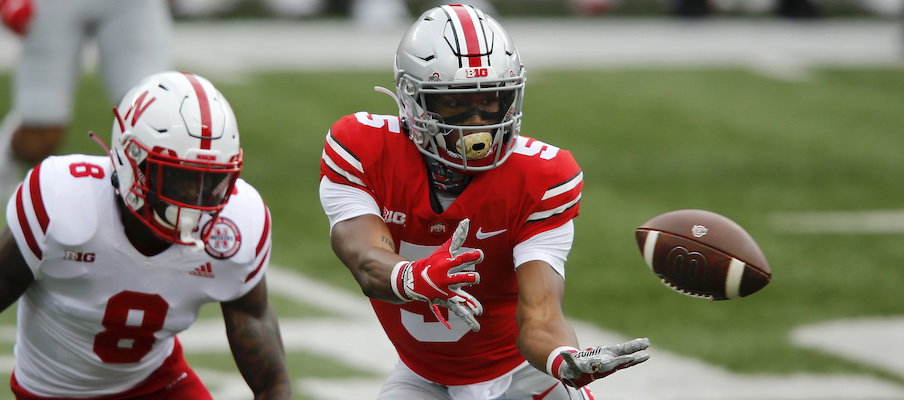 Heading into the pivotal Week 2 matchup against Penn State, Wilson could be in line for even more work. Olave left the game after suffering an injury in the third quarter when he got crunched by a pair of Nebraska defenders. Day said in the postgame press conference that he's unsure of Olave's status right now since he had not gotten the chance to hear the training staff's evaluation.
If Olave misses the Penn State game, it will be fascinating to see if Wilson remains in the slot after such a head-turning debut at the position or if he will be used more as an outside receiver in Olave's potential absence.
No matter how it shakes out next week, however, it looks like Wilson's move inside is here to stay throughout the rest of the regular season. If so, and if game one is any indication, we could be looking at the Buckeyes' next star slot receiver.