The Hurry-Up is your nightly dose of updates from the Ohio State football recruiting trail, keeping tabs on the latest from commits and targets from around the country.
Curry a top target the Buckeyes are battling for
Caden Curry lives in the Indianapolis suburbs, so he's not an in-state target for the Buckeyes.
But with just a three-hour drive over to Center Grove High School, where Curry has starred for three years at the powerhouse program, you could mistake him for one. He's one of America's best defensive line talents in the 2022 recruiting class, and he's basically right in Ohio State's backyard.
And the Buckeyes have some big-time competition for him.
Curry was offered by Ohio State in early May in the midst of the COVID-19 pandemic, and it was a big step for the Buckeyes to make, as Larry Johnson and Co. got an early foot in the door ahead of Alabama (June), Oregon (July) and Clemson (August), which all offered him later in the summer.
Watching him on Friday night, it's obvious to see the potential he has as an explosive, physical and athletic defensive lineman, and it's clear to see why those big-time programs are gunning to land him. 
Made another trip to Indiana this week. Here to see Caden Curry (@CadenCurry14), the countrys No. 86 overall player and No. 8 DT.

Curry is one of Ohio States top DL targets in the 2022 class. Here he makes a nice move off the line, gets pressure and forces an incomplete pass. pic.twitter.com/O3Nq5Ek1A2

— Zack Carpenter (@Zack_Carp) October 9, 2020
Whether at 3-tech or defensive end – both of which Johnson has evaluated Curry at – he can be a difference-maker at the next level. That's what makes this recruiting battle between the programs important, as he can be one of the defensive line cornerstones of whichever class lands him
"(Ohio State) told me they can play me either outside or inside," Curry told Eleven Warriors. "Honestly, I like them both. I played outside my freshman year, and then I played inside my sophomore and junior year. So I can play either one.
"(Johnson) just likes how I play with a high motor. I play fast, and I never give up. Just trying to play out there like you love the game and just playing, having fun. And making sure I take on the double teams and stay strong in filling my gap and keeping my ground."
Curry is looked at highly enough by the Buckeye staff that he's been compared to the Bosa brothers, a lofty comparison that he's respectful of but tries to not put too much stock into
"(Johnson) definitely sees me looking like the Bosas a little bit," Curry said. "Everybody's been saying that. But I just keep wanting to play my own game and make myself better
"I'm definitely just blessed that people are talking about me like that. It's really nice, and it just helps me to keep pushing and keep getting better and keep grinding to get up there."
I think Curry will wind up as a defensive tackle. On Friday night, in a 28-13 comeback win over Lawrence North, Curry looked the part of a top-10 defensive tackle in America and top-100 overall prospect. (He's ranked No. 86 overall and No. 8 at DT).
He was lined up at nose tackle or at 3-tech all night, often in a two-point stance over the center, and he took on double teams throughout the game. He showed that high motor throughout despite getting a ton of attention from the Wildcats' offensive line. He came up with a key tackle-for-loss to help in the comeback, and he picked up a sack to put an exclamation mark on the win – a sack of a potential future Big Ten rival in Indiana 2021 quarterback commit Donaven McCulley.
Curry looked more like 6-foot-3, perhaps 6-foot-4, than the 6-foot-5 he's listed at. Standing next to 6-5 teammate Austin Booker – a Minnesota defensive end commit – he looked at least an inch or two shorter than Booker.
No matter his size, and no matter the position he plays in college, wherever he goes he's set up to be a primetime talent as one of the best players to come out of Indiana.
Timetable during dead period
Where he goes, according to Curry, will not be determined for a while. With the recruiting dead period extended until January 1, he hasn't been able to get a full scope of what each program offers. Curry really does feel like a prospect who is going to wait as long as he can before making a decision, with seeing each campus up close and personal being of utmost importance to him.
"I mean, to be honest, I haven't visited anywhere yet so I'm kind of open right now," Curry said. "I have a couple places I need to go to and get (my list) shortened a little bit.
"I mean, (the dead period is) definitely been a lot. I started getting all my offers a couple months ago, and then it just keeps getting pushed back. I didn't have anywhere to visit or see anything yet, so it's kind of just been all virtual. I had to look all online, and hopefully I get everything I need to know and when I get there I can just do it all real quick."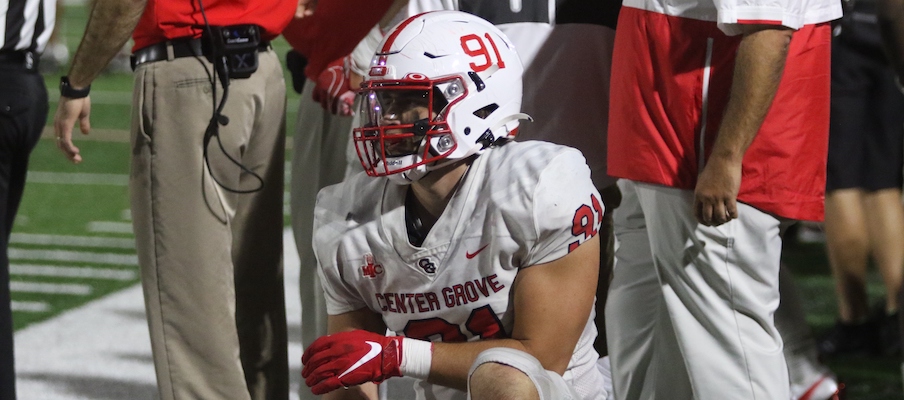 Curry continued: "I need to visit everywhere before I make my decision. I'm not gonna make it without knowing where everything is and that area. If it gets pushed back a little bit, just so I can get me and my family to take time to go everywhere and see what the right choice is. … (The dead period) really makes it a lot harder. It makes me have to make a blind decision, I think. But hopefully I get as much as I need."
Curry did not show his hand when asked if Ohio State was his No. 1 school right now. The Buckeyes are absolutely in the upper echelon, and I think they have a great shot at landing him. That starts with the man who coached the two former Buckeye pass rushers he's been compared to.
Johnson is the coach Curry has spoken with the most out of any coach, Curry says, and he talks with Kevin Wilson and Ryan Day "about two times a week. We really just sit down, and they ask me about my week and how it's been going. We go through film and stuff."
Johnson pushes all of his players to be the best, Curry says, and that's one of the things he likes about the longtime coach, in addition to his track record for developing his guys into NFL players.
"He's had countless draft picks who do really good in the NFL," Curry said. "He builds them pretty well over there, and he makes really good players. He talks to me about two times a week, and he really just helps me key on things I need to learn about."
This time, Curry crashes into the backfield for TFL that leads to a 3-and-out pic.twitter.com/PPp9M5MbOD

— Zack Carpenter (@Zack_Carp) October 10, 2020
Johnson hasn't told Curry anything such as you're our No. 1 priority on the defensive line. That's just how Curry wants Johnson to approach him.
"He hasn't said anything like that to me. I don't want him to, honestly," Curry said. "Just have everybody be even when you go in there and just have to work for your position if you do go in there. Not having favors over one another."
Virtual visits making an impact
I don't think this recruitment will wrap up until Curry is able to make visits. In the meantime, Ohio State has continued to make an impact through virtual Zoom visits.
"It's definitely helpful having that rather than nothing," Curry said. "You don't know what you're going into if you don't have that, so having everything online and being able to see it through the screen it's been really nice. It kind of gives me a perception of what it's gonna look like and what it's gonna feel like. It's been really nice.
"They've shown me the weight room, nutrition, education, just how it'd be to be a daily player there and all the assets you get up there."