The Hurry-Up is your nightly dose of updates from the Ohio State football recruiting trail, keeping tabs on the latest from commits and targets from around the country.
Key, Kentucky's No. 1 rising junior, is receiving 
The chorus of Nelly's 2004 hit "Heart of a Champion" echoes throughout Frederick Douglass High School's football stadium in Lexington, Kentucky on Monday morning – an early 8 a.m. wakeup call and throwback pump-up song serving as the background to kickstart the Broncos' second week of summer workouts. 
The song is an appropriate tone-setter because at the same time as the words "ain't no way they can stop me now" kick in, Fredrick Douglass head coach Nathan McPeek is detailing one of the most impressive single plays from his squad's 2019 season – one in which it fell a touchdown short of a state championship in the state's second-highest level of competition (Class 5A).
That play? A leaping one-handed catch in the end zone by Dane Key – the Broncos' 6-3, 170-pound star outside receiver who has potential to become a highly sought after prospect in the class of 2022.
"As a sophomore last year, he was on SportsCenter Top 10 with this one-handed catch – an amazing one-handed catch," McPeek told Eleven Warriors.
That play wound up No. 3 on that September night's Top 10, and it was indicative of the traits the young receiver possesses. 
September 28, 2019
"Dane is really long. He's a prototypical outside receiver at the college level," McPeek said. "He's about 6-3, has big hands and runs really good routes. He'll go up and get the football. 
"We didn't throw it as well as we normally do last year, so he got a lot of double teams his way. But, as he would say, if you're gonna double me, then we've got numbers in the box to run the football. He's a team guy. He's a guy that wants to win, and he obviously wants to make plays for his team."
Key is the teammate of one of Ohio State's top-tier targets in the 2021 class, offensive lineman Jager Burton, and the two of them had plans to visit Columbus together in the last weekend of April – with Key telling Eleven Warriors ahead of that scheduled visit how much he was looking forward to meeting Brian Hartline for the first time in person.
That trip was obviously canceled due to the COVID-19 pandemic and the recruiting dead period put in place, but that hasn't stopped the Buckeyes from showing interest in Key.
"He's been offered by 14 or 15 D-I teams – Oregon, Tennessee, Kentucky, Louisville, Virginia Tech, Michigan State, Maryland. There's been a lot of talk from the Ohio States and Clemsons of the world about him as well," McPeek said. "Obviously, not being able to go to those camps and showcases this summer where those coaches can see him might hurt, but at the end of the day, he's got the ability to play at those schools."
The Buckeyes have not yet offered, but McPeek says "they've asked a lot of questions about him. They've shown a lot of interest in him. Obviously, that's up to them and their recruiting staff on if they wanna do it or not."
There's a long way to go in the recruiting process for Key, who is bound to see a host of offers eventually come his way – though with the loss of the spring evaluation period, those offers may not come until he's in the middle of his junior season. 
Wherever he does end up in college, McPeek believes Key, who is ranked in the top 200 overall, No. 21 as an athlete and No. 1 in the state of Kentucky, will be successful as he's already been set up for success. 
"Dane Key is, No. 1, a really good human being. Comes from a good family – his dad (Donte Key) played at UK, and he's also our linebackers coach," McPeek said. "Personally, I think he can play at that level. He's got the ability, and he's absolutely a great person. And he loves football. He's a grinder, and he wants to do things right."
Smoot on the rise
Another class of 2022 player listed as an athlete is in-state Springfield High School's Te'Sean Smoot, a 6-foot, 170-pounder who is considered a dual-threat quarterback but is likely to be a cornerback or safety at the next level.
Like Key, Smoot is still early in his career and will need to have a big junior season to start drumming up more interest from additional Power 5 schools. He holds just six offers thus far, with his biggest offer being from Kentucky.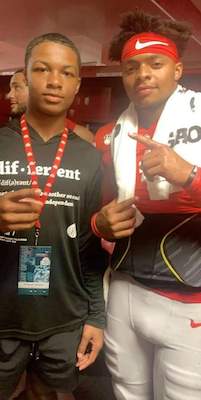 And also like Key, the loss of the spring evaluation period and the summer camp circuit is going to hurt Smoot, but the young Ohio standout is still building relationships all over the Midwest.
"I think my recruitment is going pretty good," Smoot told Eleven Warriors. "I have six offers and a lot of other schools showing me a lot of interest, and most of them wanted me to come to camp so they could see me throw and offer me then. But camps were cancelled this year so I couldn't make it happen. But I think once schools come and see us play or see the film of the first couple games of junior year, then my recruitment will take off."
Pittsburgh, Minnesota, Cincinnati, Northwestern and Iowa State are some of the notables showing interest in Smoot, and he says Buckeye coaches have visited Springfield a couple times to show their interest. 
At this point, Smoot is unlikely to receive an Ohio State offer. Again, that could change if he blows up as a junior. In the meantime, he is continuing to build comfort with the Buckeye staff, which has been evaluating him as a quarterback and defensive back.
"Our relationship is pretty good," Smoot said. "Coach (Kevin) Wilson is the main guy who I talk to usually, and me and (quarterbacks coach Corey Dennis) have talked before. They said I'm someone they're gonna keep in contact with and build a relationship with.
"They said they liked my IQ and ability to make plays. They like my play action and how I can carry out fakes to draw defenders; that I have a strong arm and can make every throw. I'm projected as a quarterback but can be an athlete."
Former Buckeye Johnson hired at IMG
Kevin hit on this in today's Skull Session, but football powerhouse IMG (Fla.) Academy has brought in a familiar face for Ohio State fans to be its next defensive coordinator. 
Former linebacker Pepper Johnson was hired on Monday, following up a brief stint in the short-lived XFL by molding the next wave of blue-chip college prospects.
We are so excited to have Pepper Johnson join the Brotherhood as our New Defensive Coordinator @PepJ52 #brotherhood pic.twitter.com/GHTnQA9dCL

— (@CoachBA1010) July 6, 2020
That includes, of course, Ohio State's borderline five-star defensive end commit Tunmise Adeleye, who will now have someone familiar with Columbus and the Buckeyes' traditions to speak with – not that Adeleye needs much of a lesson in Ohio State's history, as that was one of the big draws for him to the program.
Plus, as Kevin pointed out, it's not exactly a bad thing for the Buckeyes to have a former player who has a tree in Buckeye Grove to be the defensive coordinator for a football factory that sends multiple players to College Football Playoff contenders every single year.
---
Dane Key photo: Tom Loy/247Sports