All week ahead of Ohio State's game against Penn State in November, Tegra Tshabola and his family knew what to expect when they made their visit to The Shoe.
Up to that point, it was by far the Buckeyes' most important game of the season, so Ryan Day and his staff sent out letters to recruits and their families making it clear that "this is one of those games where we're not gonna get a lot of face time."
"We'll spend a little time after the game, but that'll probably be it until Sunday morning," Day said leading up to the game. "They're not looking for a lot of one-on-one time."
So when Tshabola and his family strolled into the game, that's what they were expecting. But Day threw them a curveball, walking up to them during the pregame warmups and speaking with each of them. It was a conversation that lasted only 90 seconds, or maybe two minutes, but it still wound up becoming perhaps the biggest momentum swing in Tshabola's recruitment.
"I don't really remember what we talked about, but he talked with my family a lot," Tshabola told Eleven Warriors this week. "He talked with my family the most – my brothers and my dad, he talked to them the most. He basically asked me how the day was going and how the ride was up there, and then he had to go about his business.
"It was really impactful because at all the other big schools that I've visited, you cannot talk to the head coach before the game. The head coach is the busiest one on the entire staff, so the fact that he came up to me and talked to me with all that going on just really showed me how much I really meant to him and how interested he was in getting me on campus. It was really impactful to me."
It was a reflection of Day's meticulous nature as the front man of Ohio State's program, and it offered up a snapshot of how Tshabola would be led if he chose to become a Buckeye.
"He's a type of guy that cares a lot about the little things," Tshabola said. "He makes sure everything gets done all the time. He talks to us about everything and doesn't skip over anything. On our Zoom meetings, it's not a quick meeting. He talks about the little things you need to fix and get better. He talks about academics and all of those things. He's a guy that really cares about the little things."
My family and I have done a lot of thinking and we decided to end my recruiting process and I have decided to commit to The Ohio State University.@OhioStateFB @ryandaytime @CoachCookOL @CoachTomBolden @CoachDanBolden and the whole #BuckeyeNation #GoBucks. Oh yea and O-H. . . pic.twitter.com/qRam11PLXG

— Tegra Tshabola (@tshabola_tegra) April 23, 2020
There are instances of that littered throughout Tshabola's recruitment, of moments that made an impact on him early and planted seeds in his mind that committing to Ohio State was the right move.
The first came during a practice at Lakota West a year before Tshabola had even been offered by the Buckeyes, as Ohio State offensive line coach Greg Studrawa met the hulking lineman well before his career and recruitment truly took off. 
"He was there before everything blew up. He said that if I kept going in the direction that I was going in that I would be really good," Tshabola said. "He said that if I kept going on that path that I was on that I had a chance to be great, and I listened to that all the way up until this year, and I guess he was right."
"It was a chance I couldn't miss"
Those things may seem minor on the surface, but they weren't small in the mind of the state's second-ranked rising junior, and exactly five months after that Nov. 23 game against Penn State, Tshabola became the second player in the Buckeyes' class of 2022 on April 23, announcing his commitment on the first night of the NFL draft.
Tshabola took us through that night a bit this week, saying he had been pretty confident in his decision to join the Buckeyes "for about a month," and that confidence only grew throughout the week. 
"But I didn't wanna put it all out there. I didn't want anyone to start talking," Tshabola said. "So I talked to my parents and my high school coaches and coaches at Ohio State. It just happened to be that night of the NFL draft. We got on our Zoom meeting with Coach Day, and I let him know."
On a Zoom call with Day, Greg Studrawa and assistant offensive line coach Kennedy Cook – whom Tshabola says he speaks with the most frequently on the staff – the 6-foot-6, 320-pounder, ranked No. 69 overall and No. 6 at offensive tackle by 247Sports, grabbed the opportunity to become the second player in the 2022 cycle to commit to the Buckeyes in as many days. 
"Just the fact that I had a chance to be on the short list of guys to commit to Ohio State, it was a chance I couldn't miss," Tshabola said. "I was really excited about that."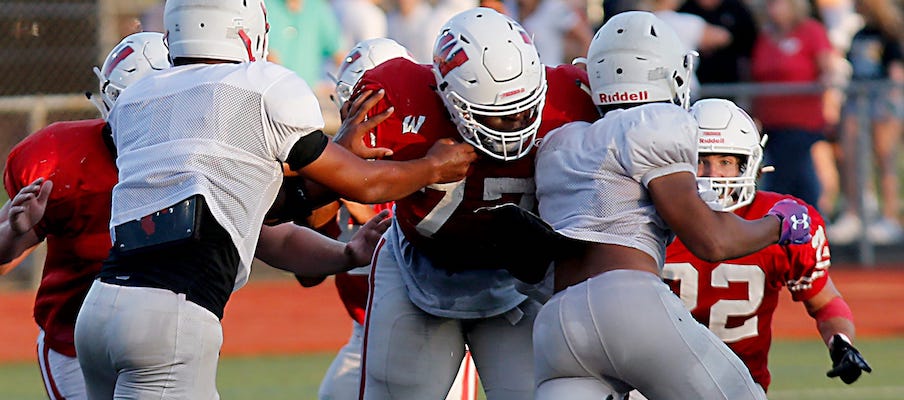 The player who Tshabola joined in the class is not just a future teammate in Columbus but also a future teammate at Lakota West, as cornerback Jyaire Brown has transferred there to play out the rest of his high school career.
The two of them represent two-thirds of a three-man class of 2022 commitments that currently features only Ohio players (Dayton's C.J. Hicks is the other) with Brown's transfer home to the Buckeye State. And with players like Strongsville's Blake Miller, Marysville's Gabe Powers and Cincinnati native Dasan McCullough each being strong possibilities to join them down the road, the Buckeyes' core of the class could feature an Ohio-heavy theme to get things started. 
For each of those three committed Ohioans, life since committing has been smooth sailing all around, and for Tshabola, it's come with some recognition around town.
"It's been pretty good," Tshabola said, adding that Buckeye fans have been very welcoming. "People recognize me from around here. They always ask if I'm the guy that committed to Ohio State, and I say yeah. People on the team really like me now. They liked me before, but they really try to hang out and stuff after practice and stuff like that.
"People around here are really polite. They ask me a few questions, but people have been really good. And it feels pretty good to get this recognition. People are recognizing me deep down in Cincinnati. They say they watch my film. A lot of people say they watch my Hudl. It's been pretty cool."
Tshabola's recruitment is technically not over yet because his parents want him to stay in contact with other schools. Similar to what Brown told us, that's because the two of them are still so young and something funky could still happen over the next two years. Tshabola is adamant he won't be thoroughly exploring other options, though he did add that bigger schools like Oklahoma and USC still reach out.
"I truly believe that he could coach in the NFL and make a lot of money"
In part because of the Buckeyes' approach to recruiting their commits as if they're uncommitted, Tshabola's commitment remains solid.
"I always stayed in constant contact with them. The coaching staff they have is second to none," Tshabola said when asked why he committed so early and why he chose Ohio State. "They're always calling and asking how you're doing, how your family's doing, how workouts are going. All that stuff. 
"They want you to contact them all the time. They want you to stay connected. And they've been helping me a lot. They send me videos and stuff to watch so I can fix my technique. No other school did that, so I was like, 'This is where I need to be. These are the people I need to surround myself with.'"
Always a blessing to compete. Cant wait till July 11 pic.twitter.com/783ooh57G0

— Tegra Tshabola (@tshabola_tegra) June 19, 2020
Two of the key people he wants to surround himself with are Studrawa and Cook, who are expected to be largely responsible for helping turn him into a successful college player and potential NFL lineman. 
Tshabola believes that there is no one better to lead him in that quest than Studrawa, whom he considers to be a pro-caliber coach.
"Coach Stud, his record shows with all the guys he helps put in the NFL," Tshabola said. "He has almost an entire starting line in the NFL that came from Ohio State. I try my best to soak up everything that he says. You have nothing to worry about when you have Coach Stud as your head coach. You know he'll give you 100 percent, and you know Coach Cook will give you 100 percent. I try to listen to them as much as I can, and I speak to them on a weekly basis."
Tshabola says he and Studrawa will hop on Zoom meetings at some point soon to dig further into the technique side of being an offensive lineman, fine-tuning footwork and handwork to improve him as much as possible before he arrives in Columbus. 
"The things he teaches to offensive linemen are NFL-caliber," Tshabola said. "I truly believe that he could coach in the NFL and make a lot of money, but he decided to stay over in Columbus. And that's a huge blessing for me so that I can just soak in everything he says. He can teach any offensive lineman anything – hands, feet, eyes, all that stuff."