The Hurry-Up is your nightly dose of updates from the Ohio State football recruiting trail, keeping tabs on the latest from commits and targets from around the country.
Johnson "passionate about people"
On October 5, as the Buckeyes prepared to host Michigan State in a battle under the lights, two Ohio State fans spoke with Eleven Warriors in the south end zone – as the players were about 10-15 minutes away from running out of the tunnel in pregame introductions – about the reasons for why they admire Larry Johnson.
A day or so prior was the first time this couple had met the defensive line coach, but Johnson spent nearly an hour speaking with them about faith, family and an array of other topics. As quickly as they could get those stories out of their mouths, there was Johnson, walking through the tunnel as the couple shouted to him "Larry! Larry!"
Johnson flashed a big smile, waved, walked over, shook their hands to say a quick hello and then headed to cross the field toward the Buckeyes' sideline. Even just that small interaction went miles in their views of him. 
On Wednesday morning, in a teleconference with reporters, Kerry Coombs shared a better story about Johnson.
"I think you have a staff of guys that work incredibly hard at recruiting. I don't know anybody that works harder at recruiting than Larry Johnson." – Kerry Coombs
For less than a week, Coombs had been back at Ohio State in a coach's capacity, and on January 23, a Thursday night when the Buckeye basketball team hosted Minnesota, Coombs was in attendance for part of the game before he left to head back to the Woody Hayes Athletic Center.
As he walked to his car, he saw a nearby pickup truck pull into the parking lot, and there was Johnson – unloading himself from the back of the tailgate. In the car was a defensive line recruit and his family, on a visit during the January contact period, and Johnson had volunteered to sit in the back because there wasn't enough room for him to sit in the cab.
"There ain't no seat back there. He is getting out because he was riding with that family over there," Coombs said. "I've never seen anything like that."
To Coombs, who had been away from Johnson and the Buckeyes for two years, it was testament to, and a re-confirmation of, what he has known about Johnson as a recruiter and relationship-builder for a long time.
"I think you have a staff of guys that work incredibly hard at recruiting. I don't know anybody that works harder at recruiting than Larry Johnson," Coombs said. "I just don't. He's got a great way. To watch him with a family when a defensive lineman comes into the facility (is impressive)."
Coombs' praise of Johnson comes on the back end of him landing another high-caliber recruit, Tunmise Adeleye, as the latest piece of a three-man defensive haul that is as impressive as any program in the country in the 2021 class.
The secret, so to speak, in Johnson's ability to recruit well comes down to a key quality.
"I'm just passionate about people," Johnson said. "It's really about building a relationship and then showing that you care and that you're invested in a young man for the rest of his life. That's so important in recruiting. It's not used car sales. You're talking about peoples' lives. That's why I try to stay as honest as I can – not try; I am honest as I can and share my thoughts. 
"To me, it's really about relationships, and there's passion for what you do. There's an ability to invest in peoples' lives. That's what drives me every day. I get up in the morning and have a chance to speak to young people and their parents about what we can do for them in the future."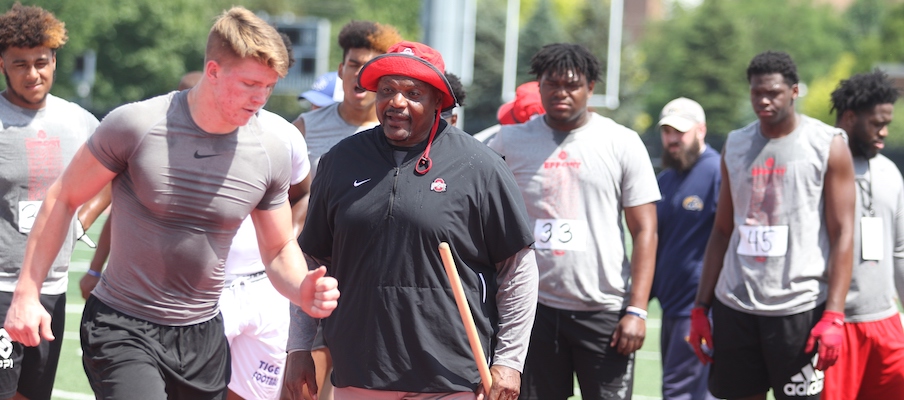 There were a few other driving forces in Adeleye's recruitment, and we will get to those later this week at Eleven Warriors. But Adeleye is the latest example of a player who was sold on Johnson's approach and what he can do for his future. 
"Coach (Mattison) and Coach Johnson, they really care about the kids," Adeleye told us. "They care about me, they care about my future. They want to develop me on and off the field as a man of character and as an elite defensive end on the field. It's the whole package."
Johnson says he is consistently trying to make sure he never stays complacent with his approach – both from an on-field player development standpoint and in regards to trying to improve as a relationship-builder. That's the same sort of message he preaches to current players and his recruits – keep striving to get better.
So, in other words, it's imperative that he practices what he preaches, otherwise risk coming off as a fraud.
"When you build a brand, people wanna see that brand," Johnson said. "So every day, I don't think I'm sitting around not preparing. So I do everything I can to find ways to enhance what we're doing every year.
"There's no question about it, when you've done it so well for such a long time with great people. … I try to do that every year at every level as a coach – learn something new or do something different that I have not done before. That's part of growing as a coach. Coach (Urban) Meyer always says if you're good at something, enhance it. That's what I'm trying to do every year – enhance it every year to make our players better."
"I really have never seen anything like it"
Johnson, of course, is not the only recruiter on a roll right now. Coombs is also coming off quite the weekend after landing his fourth defensive back in the last five weeks, Jantzen Dunn, after a wild Saturday night in recruiting land.
Dunn was the second 2021 player to join the Buckeyes' heralded class in a five-day span, following in Adeleye's footsteps for a hot recruiting run that continues to be a national storyline.
Coombs credits the Buckeyes' recruiting success to the staff's group recruiting effort, and he says what they are putting together is unprecedented.
"I have just been so excited to watch and be a part of the way business is being done," Coombs said. "It is a fantastic thing, and I really have never seen anything like it."
Positionless recruiting
On Wednesday, Coombs also discussed defensive back recruiting more in depth when asked about the types of guys the staff wants to bring into the program.
The latest commitment from Dunn was not just exemplary of the Buckeyes' recruiting momentum. It was also the latest example of the type of player the team is targeting on the recruiting trail. 
Ohio State is further and further putting an emphasis on players who can fill multiple spots. 
Basketball has evolved to a point where players are no longer nearly as valuable if they can't play multiple positions. Instead of getting pigeon holed into playing just point guard, small forward, center, etc., the sport as a whole (at least professionally) has moved to positionless basketball, and that's a similar approach that the Buckeyes have been taking with many players on the recruiting trail. 
For Adeleye, he's a player who can be developed as a pass rusher off the edge, or he could be kicked inside to be a run stopper. For Dunn, he has range, closing speed and athleticism to become a safety, but also the length, footwork and physicality to become a cornerback.
During his time with the Titans, Coombs and his group of cornerbacks and safeties ran just about every type of coverage available. Though the first-year defensive coordinator says he doesn't expect things to change from a scheme perspective, and that he wants to keep the one-high safety look as the foundational piece in the Buckeyes' secondary, he has said that there will be "some coverage additions" in the 2020 season.
One possibility could be leaning more on two-deep safety looks in the future, which would make a lot of sense as to why they are targeting guys like Dunn, Andre Turrentine and Kamar Wilcoxson, each of whom have the ability to play cornerback and drop back as safeties. 
"From a body type, what you're looking for across the board is five positions in the back end," Coombs said. "You're looking for guys that are long, can run, they're not afraid to tackle and be physical and that can cover in both man and zone concepts. You're looking for complete players, but I think the key word for me would probably be versatility. We're looking for guys that can play at multiple spots. 
"I think that's really important because that gives you a lot of opportunities to play more guys and play them in different situations. I think the game's becoming more situational as it goes, and so we wanna make sure we have guys that are versatile, fast, athletic, but most importantly that they fit the culture of the program."
And that last part is something Coombs emphasized first when discussing the program's recruiting strategies. 
"I would say that the keys for us in the kinds of players that we're looking for is, first and foremost, how they fit into the culture of our program, and I don't wanna undersell that at all," Coombs said. "I think this is true at every position, just finding the right kid is important – not just physical talents, skills or abilities but because of what's gonna be required of them here. I think those things are important."