Ohio State added to its already-special 2021 recruiting class by landing the commitment of four-star strongside defensive end Tunmise Adeleye of the IMG (Fla.) Academy.
Adeleye is one of the elite talents in the country at his position. Let's take a look at what he brings to Ohio State on and off the field and his impact on the Buckeyes' class:
On the field
Adeleye's frame certainly suggests that he could become a versatile pass-rushing defensive end who can kick inside, though he says he's purely a pass-rushing defensive end.
On tape, the 6-foot-3, 240-pounder certainly shows off the abilities that make him the country's No. 4-ranked strongside defensive end and No. 41-ranked overall player. 
Continue the legacy. pic.twitter.com/eC2MMAthzj

— (@TunmiseAdeleye) March 7, 2020
Adeleye's pass-rushing is his best strength, especially when he comes off the edge, but during his junior season he often kicked inside, showing that he's valuable when he shades inside because he has enough core strength and quick-enough hands to shed blocks. That shedding ability is something he does well and does often, and he also gets good push up front.
However, during his junior season he showed that he has a quick first step, but the consistency was not there (more on that in a moment). At times, he can get pushed off the ball against stronger offensive lineman because he still needs to improve his technique and get better at getting leverage, and that's where Larry Johnson should be able to earn his money by developing Adeleye.
When Adeleye does get pushed off the ball, he typically makes up for it with good, consistent pursuit – which often comes after he does well fighting through the double teams that often come his way – and another of his best abilities, seeing the game well and having quick play recognition. 
It's very interesting to see where Adeleye will be following his senior season. Just about every day in practice, he will be going one-on-one against another one of Ohio State's biggest priorities, offensive tackle JC Latham.
Latham is a fellow top-50 national recruit, and he's ranked No. 6 at offensive tackle (though that is expected to increase down the road after he was ranked No. 3 overall and No. 1 at OT in the latest 247Sports rankings update). Those battles between Latham and Adeleye throughout the fall should be exciting to watch for those around the program, and it could significantly help their individual development.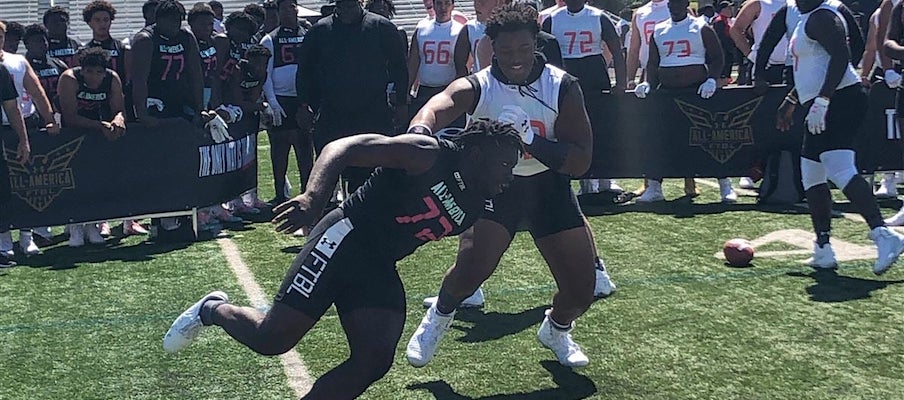 Off the field
Prior to the second semester of his junior year, Adeleye transferred from Tompkins High School in Katy, Texas to the IMG Academy in Bradenton, Fla., immediately going from being ranked in the top five in Texas to being ranked inside the top eight in Florida.
He told Eleven Warriors that the main reason he transferred was so that he could showcase more of what he could do between the lines. He's gone from a 3-4 scheme at Tompkins to a 4-3 system at IMG where he will be used more off the edge instead of the propensity for him to slide down to a shade inside the guard.
"The school I was at previously ran a scheme that didn't allow me to show the world what I'm capable of," Adeleye said in a March interview.
He then proceeded to showcase the confidence that made him one of the highest-priority recruits at Alabama, Oklahoma, Florida and Texas A&M (the other four programs, in addition to Ohio State, that he had locked in unofficial visits to prior to the coronavirus outbreak canceling all recruiting visits for the spring).
"You're hearing it here first – now that I'm at IMG, I'm finishing this season with 25-plus sacks," Adeleye said.
The reason he feels so confident? In a little more than a month at IMG, he learned how to better manage his time to make the most out of his training on the field and in the gym, as he worked extensively with IMG defensive line coach Ernie Logan to increase his vertical, improve in hand-to-hand combat drills and become more explosive in an area he already believes might be his best asset and one that he has continually worked on to become more consistent – getting off the ball.
"I believe with all my heart that no one in the country has a first step as explosive as mine," Adeleye said. "No one in the country has been working as hard as I have these past couple of months. I feel like all my work in the dark will be seen under the Friday night lights."
In the class
After not landing a top-tier defensive end with star power in the 2020 class – something that Johnson had become accustomed to with the Bosas, Chase Young and Zach Harrison in previous years – that became the Buckeyes' key missing piece (other than running back) in the cycle.
The Buckeyes won't have to worry about that this time around.
Five-star defensive end Jack Sawyer, the nation's No. 3-ranked overall player, committed to Ohio State in February 2019 when almost the entire 2020 Buckeyes' class had not yet even committed. (Sawyer already being in the fold probably helped make it so that a truly dominant pass rusher wasn't as major of a need in the 2020 cycle.)
But now Ohio State has doubled down, picking up two huge commitments of high-end pass rushers in this class by pairing Sawyer with Adeleye. 
Add in the nation's No. 7-ranked defensive tackle, Mike Hall, and the Buckeyes have 60 percent of its defensive line haul now committed. They will look to sign a bare minimum of four D-lineman, but five is the number they are truly shooting for.
That includes nabbing another pure 3-tech, and Quince Orchard (Md.) four-star Marcus Bradley looks like the likeliest candidate for that spot. Damon Payne of Belleville (Mich.) High School is also in the mix, but he's slid down the board a bit.
"I believe with all my heart that no one in the country has a first step as explosive as mine. No one in the country has been working as hard as I have these past couple of months." – Ohio State defensive end commit Tunmise Adeleye
Tywone Malone, from New Jersey's Bergen Catholic, is another player the Buckeyes are taking a keen look at inside, though Malone is a traditional nose guard.
The highest-ranked remaining target? Five-star defensive tackle J.T. Tuimoloau, the No. 2-ranked overall player in America whom Ohio State has gained a lot of momentum to land.