WEST BLOOMFIELD, Mich. – Six inches of sloshy snow rains down on the roof of West Bloomfield High School, the building's front entryway gazing out to a massive parking lot, built to shuffle in and out the 1,700-plus students here, that right now is left vacant by a morning snowstorm that canceled school.
A two-story Ferrari dealership sits just two miles down the street. A bright red sports car – not quite scarlet – that's kept cleaner than the one Ferris Bueller stole on his day off is sitting on display in the top window that overlooks the four-lane traffic on Orchard Lake Road. 
Just around the corner from here, five minutes away from the school in a lake-adjacent house with an almost-full length basketball court in the yard, lives the best football player in the city, the highest-ranked running back the state has seen since Kevin Grady starred for East Grand Rapids in the mid-2000s. A running back ranked even higher than a kid from Flint named Mark Ingram and a dude from Detroit they call Mike Weber. 
All of this is home for Donovan Edwards. It has been for nearly two decades for a young man who turned 17 just eight days ago. 
Michigan is trying its best to keep it that way. Ohio State is doing all it can to convince Edwards to pick up stakes.
"You can go to Timbuktu, and people will talk their trash. You can go to Ohio University, and they'll talk their trash. You block it out. You go and you get your degree and you have a great career at that place."– West Bloomfield head coach Ron Bellamy
Jim and Jay Harbaugh know how important it is to keep Edwards in-state. They made that obvious ever since the latter offered Edwards a full ride to Ann Arbor as a 14-year-old, with West Bloomfield head coach and former Michigan receiver Ron Bellamy pulling a stunned Edwards out of class to relay the news. Even for a kid whom teachers and coaches knew would be a special athlete – maybe even become one of the best in the state – since he was an 8-year-old at Sheiko Elementary School, the news of his first-ever scholarship offer still had Edwards stunned.
The Harbaughs' recruitment of Edwards had begun during his freshman season, when Jim made the 45-minute drive northeast from Michigan's campus to check out eventual Penn State linebacker signee Lance Dixon, and as happens so often in recruiting, another kid caught his eye. No matter what Ohio State fans or San Francisco 49ers fans say about Jim Harbaugh, he has an eye for talent, and he was on Edwards early. 
Bellamy was on him even earlier.
When Bellamy was student-teaching at West Bloomfield in 2012 and doubling as the Lakers' head football coach, he would spend time at Sheiko, where Edwards' third-grade PE teacher, Colleen Miller, pulled Bellamy aside to tell him of Edwards' talent. 
"I remember saying, 'Who is this bad ass kid?'" Bellamy said. "I remember (Colleen) saying, 'Hey, you need to put your arm around that kid 'cause if you don't show him that you want him, every school in the state of Michigan is going to want him.' And, sure enough, that's what it was.
"He played little league and everyone knew who he was. He was this man-child, and a lot of kids who are like that don't turn out to be the player that they were in youth football. But he has."
Fast forward eight years, and that man child was totaling 300 yards on six carries in JV games as a sophomore. 
"He looked like a Madden Create-a-Player," Bellamy said. "It was a joke."
After two games, Bellamy and his staff moved him up to varsity, where he starred for the Lakers and caught the attention of Tony Alford, who offered Edwards when he made his way to campus for the Buckeyes' game against Tulane in September 2018, soon after he had moved into the starting running back role.
Blessed to receive an offer from THE Ohio State University #GoBucks pic.twitter.com/Rv3mVXJmXc

— Donovan Edwards (@DEdwards__) September 22, 2018
As a junior, Edwards racked up more than 2,000 all-purpose yards (combining about 1,300 rushing with 700 receiving on 50 catches) as a junior at West Bloomfield, flashing his home-run ability at receiver and the capability to be the bell cow back when needed. Edwards can plant his foot in the ground, accelerate on a dime and use his sub-11.0 speed in the 100-meter dash to break off long carries, and he can use the same size and strength he showcases on overpowering runs to outmuscle cornerbacks and linebackers for 50-yard touchdown catches. 
Want a player comp? Clemson's Travis Etienne. That's who Syracuse's Evan Foster, one of Bellamy's former players at West Bloomfield, compared Edwards to after playing against Etienne for three years and called them "identical," Bellamy says, with Edwards having "a little more wiggle."
The ability to mesh all those skillsets isn't normal, and that's what has Edwards continuing to climb charts, where he's the third-ranked running back in America and a top-40 overall recruit in the 2021 class. That's what earned Edwards scholarship offers from every powerhouse college program in the U.S. not named Clemson, and that's what has Bellamy making NFL comparisons. 
Except they don't compare. Bellamy coached Baltimore Ravens linebacker Matthew Judon, and Bellamy was high school teammates with retired Pittsburgh Steelers safety Ryan Clark – both of whom are Pro Bowlers. Those are just two names Bellamy throws out. Neither were as talented at this age as Edwards is. 
"I've never seen that," Bellamy says, pointing to a stone-cold, game-faced Edwards.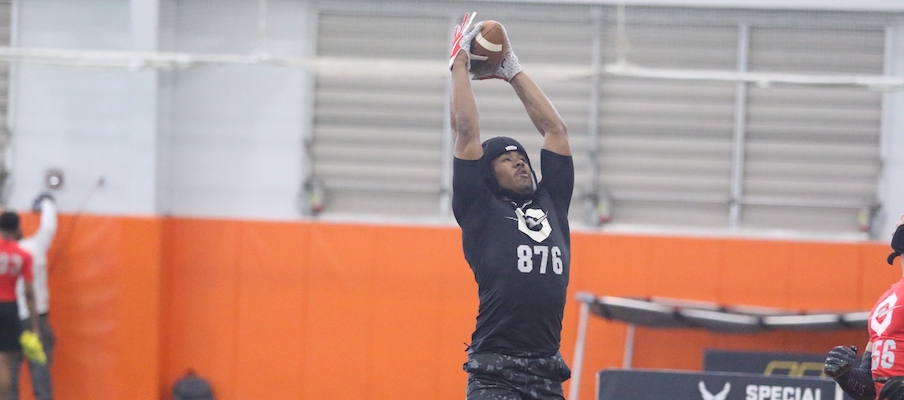 Even though Edwards was only in grade school, Bellamy knew the importance of getting Edwards to West Bloomfield. Private prep schools Orchard Lake St. Mary's, Birmingham Brother Rice, Detroit Catholic Central and Detroit Country-Day all lurked in the waters like West Bloomfield's "Lyle the Crocodile" mascot waiting to snatch Edwards up. But there was West Bloomfield, the public school slapped right on the map in the middle of all of them. 
Bellamy was a football star at Archbishop Shaw in Louisiana. He knows the allure of the history and the pull of the prestige that private school football programs bring with them, and those four were no exception, with a combined 52 state championships among them. 
Those state titles are especially shiny for young star football players who looked at a West Bloomfield program that wasn't winning nearly enough before Bellamy took over in 2010 or immediately thereafter
"The reason we weren't winning is because the best players in our community were going to different schools," Bellamy said. 
Bellamy put a stop to that. After the Lakers struggled in his first four seasons, they have won at least nine games in five of his past six seasons at the helm. That includes three straight deep playoff runs in the last three years, reaching two quarterfinals and the program's first-ever state championship game.
Though he wasn't a factor as a freshman during the title game run, Edwards is the brightest star that Bellamy got in on early. As he was trying to build his football program, Bellamy had to recruit Edwards.
"Donovan was a little different because he wasn't just a good high school player. I saw greatness in him. I truly did," Bellamy said. "It's one of those things where if you don't take care of home, somebody else will. I had to formulate a relationship with him early. We got him in our youth football program, and I still felt like that wasn't strong enough. … It's one of those things where I had to put my arm around him a little bit and kind of make sure that we saw each other often."
Bellamy took care of home. The Harbaughs are trying to do the same.
In that sense, Michigan equals West Bloomfield, the nearby school hoping to keep the wolves barking but not biting. Ohio State, Georgia, Alabama, LSU? They're the powerhouse private schools hoping to be enticing enough to pry Edwards away. 
As for Bellamy's role in all of this? You can stop believing what might seem like a slam dunk for Michigan. 
Bellamy and Edwards are very close. If Bellamy wanted to, he could probably influence Edwards enough and push the homegrown kid into maize and blue. But he doesn't want to do that and very clearly isn't going to do that.
During more than three hours spent with Bellamy and Edwards, there are plenty of quotes gathered that could be dropped on the next line to hammer home the following…
Bellamy is a Michigan man. He loves that school and loves being from that program. He wants Michigan to beat Ohio State every year.
Bellamy has incredible respect for Urban Meyer and grew that same level of respect for Ryan Day as Day quickly and consistently showed his chops as a coach and as a man.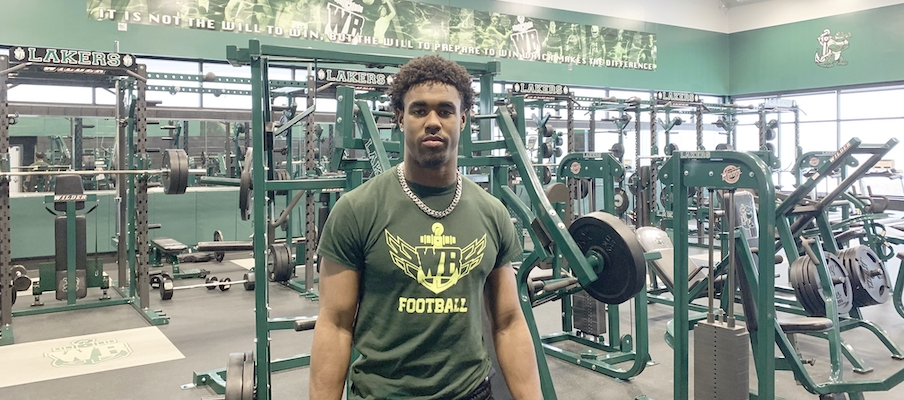 If Edwards winds up at Michigan, Bellamy will be happy with the decision as long as Edwards is happy with the decision. If Edwards winds up at Ohio State, Bellamy is going to catch a lot of heat from fans. He'll gladly take it if that means Edwards is in the best place to succeed. 
He already got a taste of it last week, when Crystal Ball predictions to Ohio State were dropped from two of 247Sports' most trusted and accurate analysts – Steve Wiltfong and Allen Trieu. 
After that prediction became public, "fans were being fanatics" as Bellamy puts it, and an in-state high school coach told Edwards how upset people in the state would be if he didn't choose Michigan – that people in the state would disown Bellamy and the Wolverine staff may stop recruiting players at West Bloomfield – Bellamy was heated and immediately jumped on the phone with Edwards after hearing that.
"I've gotta protect Donovan from people just over-selling him," Bellamy said. "I immediately called him after, and I was like, 'D, that's not how it is. Don't ever worry about me. Don't ever worry about other people. They can talk their trash. You can go to Timbuktu, and people will talk their trash. You can go to Ohio University, and they'll talk their trash. You block it out. You go and you get your degree and you have a great career at that place."
Ohio State and Michigan are absolutely not the only two programs in play here for Edwards. But if he chooses Georgia, Alabama, LSU or any one of the hard-charging programs such as Texas, Oklahoma, Oregon or USC, it won't be anywhere close to as big of a deal as if he chooses Michigan or Ohio State. At least not for the vast majority of you reading this.
His talent is such that if he picks home over Ohio, he instantly becomes 1) The perfect player for Josh Gattis to use as a three-down back in the run game and as a pass-catcher 2) The second half of a backfield that absolutely could compete with Ohio State down the road if Edwards and five-star quarterback J.J. McCarthy get some pieces around them. The Wolverines already have a top-10 offensive tackle (Giovanni El-Hadi) and have momentum to add at least two more of the state's best on the offensive line (Rocco Spindler, Garrett Dellinger, Rayshaun Benny, Caleb Tiernan; all Ohio State targets). 
They're a long way off from putting together a recruiting class or a team that can compete with the Buckeyes, but an Edwards commitment would certainly be a major move on the chess board toward that. He's the type of commitment that could attract other major recruits to join him. 
If he picks Ohio over home, he could be one of the centerpieces of an offense that will desperately need a running back of his star caliber by the time he were to hit campus as a 2021 mid-year enrollee. He's the type of player that fits in perfectly for a Day-orchestrated offense with C.J. Stroud or Jack Miller at the helm, fitting Edwards in seamlessly as a guy he can utilize in so many creative ways that it feels scary to pair him with the Buckeyes' crop of receivers. 
Ohio State has pulled off plenty of big recruiting wins over the Wolverines for Michigan high schoolers in the last decade: Mike Weber, Michael Jordan, Damon Webb. 
This one feels like it would be just as big as any of them because of Edwards' talent, but bigger than any of them because of the Bellamy connection to Michigan. 
And because of those two things – talent and context – if he picks Michigan or Ohio State, it's a move that would add fuel to a rivalry that is already running on a full tank.
Edwards admits there has been pressure to stay in Michigan, but in the end, he has to make the decision that's best for him and the future he wants in the NFL. 
"It's a lot of heat because it is my home. I got two of my closest friends that go there and one that's about to go, so it's a lot of heat," Edwards said. "It's more of the fans. The fans are crazy. I don't get too much attention from family or coach Bell or any of my friends because they don't care (where I go). They just want to see me be successful at the end of the day. It's way more the fans where it's like are y'all for real?"
It's hard to blame them. When you have the keys to a Ferrari, you want to keep it in your own garage before taking it for a spin.